Queen's University Belfast welcomes students from USA and from all over the world. We have 17,000 students from over 80 countries, 3,500 staff and 100,000 graduates worldwide. We're one of the UK's leading universities with a heritage dating back over 150 years.
24,000+
Total students studying with us
150
Students from Cameroon
Upcoming digital events
We will be meeting with students at a range of digital events over the coming months and invite you to speak with us there. You will find information about our upcoming events below.
University Event / Webinar

University Event / Webinar

University Event / Webinar
You can apply to study at Queen's from anywhere in the world. The grades required for admission to Queen's will vary according to your chosen course of study.
View entry requirements on your course of choice by using the search tool, then check your comparable grades below, to determine eligibility.
Search Courses
Entry Requirements
The application procedure varies for undergraduate and postgraduate students, so we publish separate information for each. You'll also need to be able to provide evidence of a specified level of ability in the English language.
The following qualifications will be considered for direct entry to undergraduate programmes:
Students who have completed 12 years of education in China and attained the Secondary School Leaving Certificate with good grades must complete an approved Foundation programme or GCE A Levels for progression to undergraduate degree programmes.
The Gaokao Chinese University Entrance Examination will be considered, along with performance in the Senior High School examination for entry to Stage 1 of our undergraduate programmes (excluding Medicine and Dentistry), with a minimum score of 75% overall average in Gaokao and 75% in all subjects. Subject-specific requirements must be met. Where A-level Mathematics is a course requirement, both Mathematics and Physics must be taken as part of the Gaokao, and a score of 80% in each subject will be required. If a subject is a specified as a requirement at GCSE grade C, a score of 75% in this subject in Senior Secondary school HUI Kao (Graduation Certificate) will be accepted. If Grade B in GCSE is required, a score of 80% in the subject in Senior Secondary school HUI Kao will be accepted.
Progression to Stage 1 of an undergraduate degree programme at Queen's (with the exception of Agricultural Technology, Medicine, Dentistry and Social Work) is guaranteed for students who successfully complete the INTO Queen's International Foundation Programme at the required standard.
Students who have completed one or two years of university study in China may be eligible for admission to Bachelor degree programmes, if relevant subjects have been studied and strong grades have been achieved.
Applicants who have already completed A-Levels/a recognised Foundation programme or the first year of a relevant degree programme in China, but who do not meet the academic or English language requirements for entry, may wish to consider INTO Queen's International Year One. Successful completion at the required standard offers direct entry to the second year of selected undergraduate degree programmes in Management, Economics, Finance and Engineering.
Between 30 and 36 points in the International Baccalaureate Diploma (IB). Information on required grades.
Please note: Grades required vary depending on the programme of study. Further guidance on the entry requirements for each degree programme can be found in the Undergraduate Coursefinder.
Entry to graduate diploma or taught masters programmes usually requires either a UK upper second-class (2:1) or a lower second-class (2:2) undergraduate degree. For most courses, your major subject or content of your Bachelor degree may also be considered. Please check our Course Finder for specific entry requirements.
Applicants from China should hold a good four-year bachelor degree from a recognised, well ranked university with an average grade of at least 70-85%.
| Type of institution | UK 2.1 Hons standard | UK 2.2 Hons standard |
| --- | --- | --- |
| Tier 1 | Final average 75% | Final average 70% |
| Tier 2 | Final average 80% | Final average 75% |
| Tier 3 | Final average 85% | Final average 80% |
Tier 1: Prestigious Universities (Double First Class Universities and Top 100 Academic Ranking of World Universities). Tier 2: Other Recognised Universities and Independent Colleges affiliated to a Tier 1 Institution (as defined by Queen's). Tier 3: Other Independent Colleges recognised by Ministry of Education and Self-Study Degrees.
Supporting Documentation
When submitting your application, please ensure that you upload copies of official transcripts for completed programmes as well as those currently in progress. Final Bachelor Degree and Graduation Certificates for programmes already complete should also be provided.
Applicants should upload official English translations of their qualifications documents, for example, official translations (signed and stamped) issued by the degree-awarding university/institution in China.
We will also accept online verification reports (in English) of the degree certificate, transcript and the qualification certificate issued by CHESICC (China Credentials Verification service) – please see https://www.chsi.com.cn/en/service/ for further details. There is a fee for this service.
Borderline Cases
We will consider students who have completed their degree with lower grades than those outlined in their offer letter. For many postgraduate taught programmes, Chinese graduates will normally be accepted with a final average mark of up to 2% below the condition stated in the official offer letter, assuming that performance in key modules is of an appropriate standard.
Sometimes, it may be possible to exercise flexibility in the case of applicants who have fallen more than 2% below the target grade when final results are known. In these cases, the decision will be at the discretion of the Academic Selector.
On completion of your degree, you should forward a copy of the following documents to intl.student@qub.ac.uk to confirm the award of your qualification and the overall grade:
Official transcript (final version including all your grades)
Bachelor degree Certificate
Graduation Certificate
It is only on receipt of these documents that we will be able to confirm your acceptance.
INTO Queen's Preparation Courses
For those interested in Computing, Finance and Management courses, but who do not meet the entry requirements, you may wish to consider a a pre-masters Graduate Diploma offered by INTO Queen's.
PhD Study
Students interested in undertaking a PhD at Queen's University need good grades in their Bachelor and Masters degree programmes awarded by a recognised university, in addition to a strong research proposal.
English Language Requirements
Applicants will normally need to demonstrate a level of English equivalent to 6.5 IELTS or 90 TOEFL IBT (Internet based test). However, some degree programmes have higher or lower requirements (please check individual courses for programme requirements). The full list of acceptable English Language qualifications is available here.
Improve your English language skills to prepare for further academic study or the level required for your degree.
Academic English
For students who need to increase their IELTS level in order to progress to university.
Pre-sessional English
For students who are academically qualified and hold an offer from Queen's but need to improve their English language skills to the level required for their degree.
How to Apply
We'll help guide your application to Queen's, whether you apply directly or via UCAS.
INTO Foundation Courses

Prepare for your university degree with tailored, academic pathway programmes from INTO Queen's. You'll benefit from university-style teaching for subject-based modules and high academic standards.

Then, when it comes to progressing to your chosen degree, INTO will support you with your university application.

Courses include:

International Foundation courses in Architecture, Business and Engineering, providing a pathway to the first year of a wide range of undergraduate degrees.
International Year One courses in Management and Finance, Engineering disciplines, and Computer Science, allowing direct entry to year two of Undergraduate degrees.
Graduate Diplomas that prepare you for direct entry to selected Master's courses in Finance, Management and Social Sciences.

Undergraduate

Most students make their applications through UCAS (Universities and Colleges Admissions Service) for full-time undergraduate degree programmes at Queen's. The UCAS application deadline for international students is 30 June 2021.

Postgraduate

Applications for Postgraduate Taught Masters and PhD programmes must be made using the University's online application system. There is no application fee to apply for Postgraduate programmes.

All Masters degree programmes at Queen's begin in September each year.

Postgraduate research programmes can begin at different times throughout the academic year. The start date has to be agreed with your PhD supervisor.

Applications should be submitted online via the Postgraduate Applications Portal for admission to the vast majority of postgraduate programmes.

More information on how to apply for postgraduate programmes.
Queen's offers lower tuition fees and living expenses than many other similarly well-regarded universities in the United Kingdom. The fees you will pay will vary depending on the course you choose and the level of study.
Undergraduate tuition fees
Postgraduate Taught tuition fees
Postgraduate Research tuition fees
Fees shown are for Fee rate 1. Laboratory based courses and other courses have different fee rates. Check the relevant course page for Tuition fee costs. All tuition fees quoted are for the academic year 2021-22, and relate to a single year of study unless stated otherwise. Tuition fees will be subject to an annual inflationary increase, unless explicitly stated otherwise. If you receive an offer of admission, you will be provided with details of the tuition fee payable in your offer letter. View all International Tuition Fees
The lowest cost of student living in the UK
Northern Ireland has the lowest student cost of living in the UK (Which? University, 2018), making Belfast a great city to live in for international students compared to other UK cities.
Total for UG (classroom based)
£14,000

Tuition

£4,500

Accommodation

£613

Going out

£328

Food/Drink
* Costs are for 1 year of study or two semesters.
Queen's is a world-class university with a thriving international community. One of the oldest Universities in the UK and Ireland, we have a strong global reputation for our high quality teaching and research.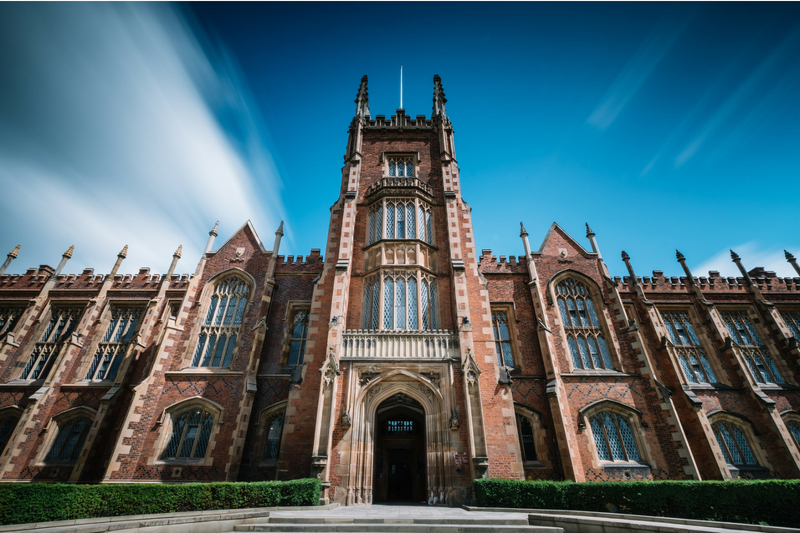 The world-leading research by our academics contributes to the latest thinking in how we tackle the great global challenges of our age, such as health, food, conflict and technology. Our state-of-the-art education and research facilities are some of the best in the UK and Ireland.
---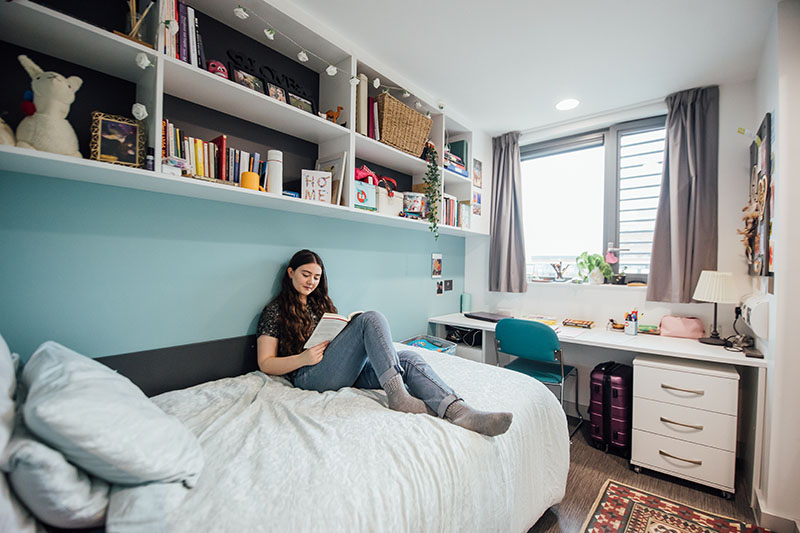 Our international students are guaranteed a place in our accommodation, which means you can be confident you'll be living somewhere safe, comfortable and affordable. We provide a supportive community, events and pastoral care, 24/7 safety and security and well-being support.
---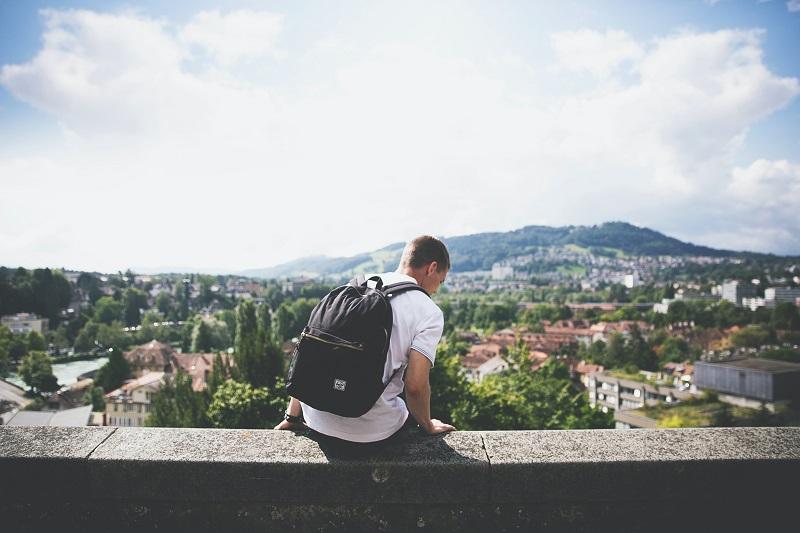 As a student at Queen's, you'll gain skills and knowledge valued by employers all over the world. Whether you plan to pursue opportunities here in the UK, or further afield, our links with many industries, specialist career resources and international network can take you anywhere.
Affordable travel
Belfast has two airports, sea crossings from England and Scotland, and a direct rail link from Dublin. You can fly direct to Belfast from over 20 European cities and a number of North American locations.
Sed ut perspiciatis unde omnis iste natus error sit voluptatem accusantium doloremque laudantium, totam rem aperiam, eaque ipsa quae ab illo inventore veritatis et quasi architecto beatae.
It won't be long until you feel at home here. There's plenty of ways to meet new friends, develop life skills and find support when you need it.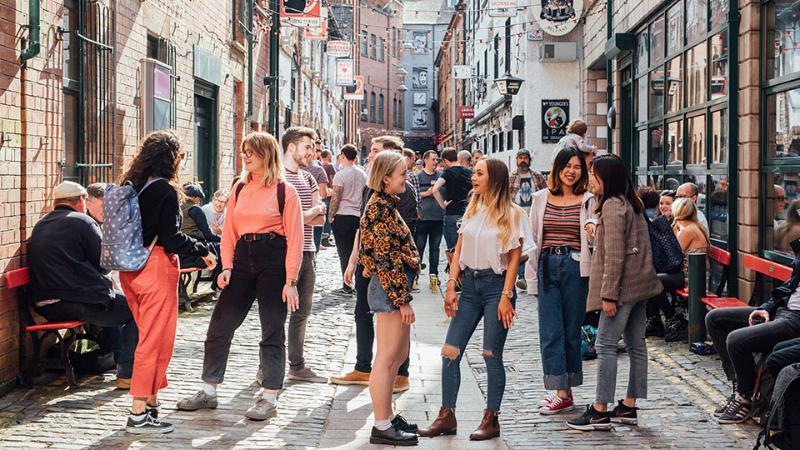 Students at Queen's get the best of both worlds - a safe and easy to navigate campus with the wider city of Belfast nearby.
Known as the "Queen's Quarter", the area surrounding our campus is the most vibrant district of Belfast. Here, you'll find everything from museums and art galleries to world cuisine, all within easy walking distance.
What our students say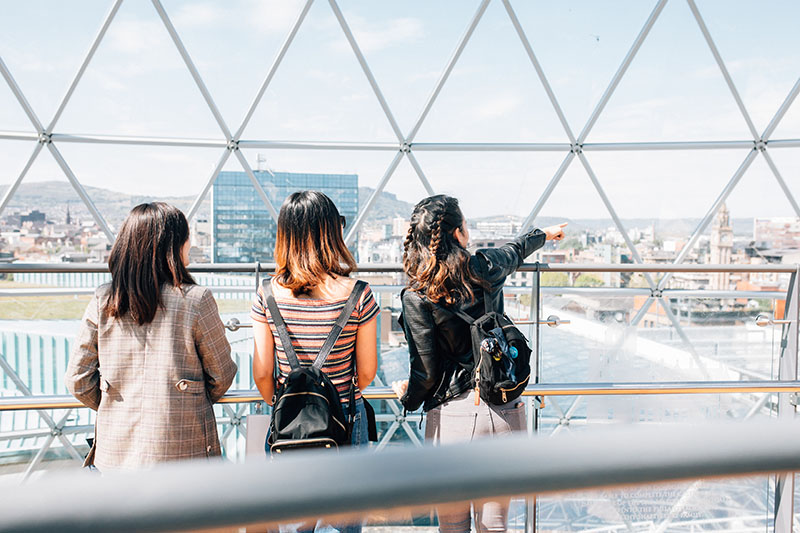 Not too long ago Carmen was trying to decide which university to pick as her Firm Choice.
---
Are you travelling to Belfast for the first time in your life? Don't miss one of our overseas pre-departure seminars for everything you need know.
---
Helpful information
We're famed for our warm welcome and there's a strong support network and sense of community on campus. We'll support you every step of the way through our wide range of support services.
Whether you need help with your visa application, a welcome at the airport, academic or English Language support throughout your studies, advice on finances or career guidance – we can help.
Chat to current students
Supporting you every step of the way