Master's student completed exams while in quarantine in India
25-year-old Karthik Kumar is set to graduate with a Master's in Electronics with Professional Internship from Queen's.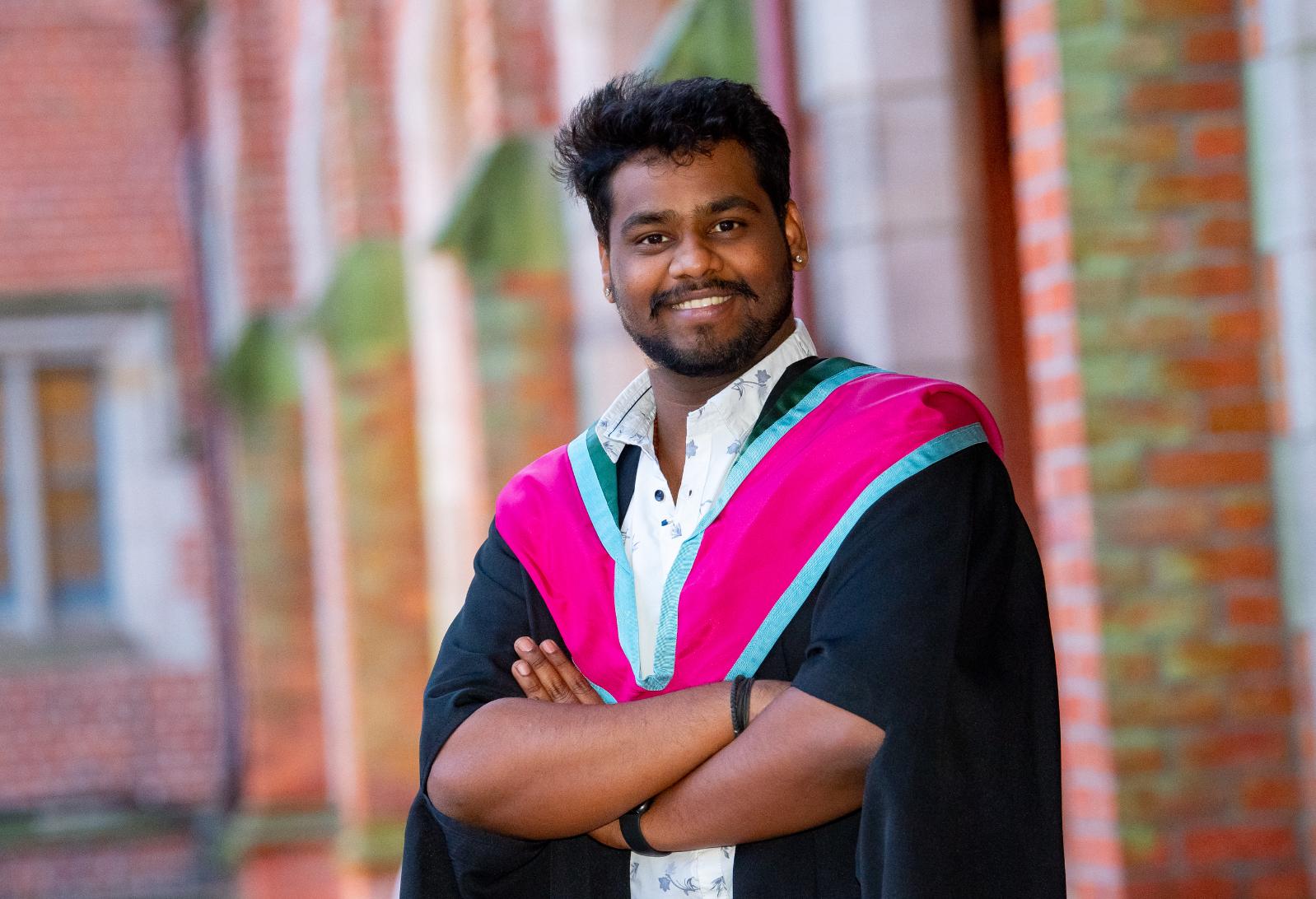 Karthik came to Belfast in 2019 to start his Master's and whilst he felt a little homesick he threw himself into life at Queen's, making friends and soaking up the culture of Belfast and university life.
He kicked off his studies and became a course rep and a student mental health advisor. He became secretary of the Electrical Electronics Engineering and Computer Science International Students society, organising events for international students, and secured a year long placement with Sensata in Antrim.
However, just when the pandemic hit, and Karthik was getting his head around continuing to study during a strict lockdown, he got news from home that his father had fallen ill.
"I received a call from India that my Dad had been diagnosed with a cardiac arrest. The borders to India were closed and no flights were available from the UK to India. This was the start of the biggest battle of my life: one side, my Dad was in the ICU and on the other, I needed to concentrate to do well in my exams."
It was a tough time for Karthik but two months later, he managed to get on a flight to India. He spent 14 days in quarantine completing his exams before finally being able to go and see his father in ICU.
"I saw him lying on the bed in ICU. I spoke to him and was surprised to see he was showing signs of recovery."
Karthik's father was discharged from hospital the following week and he spent a month with him while completing his final projects.
"I owe my thanks to my school staff, my placement coordinator and of course my supervisor. They all supported me through my hard times and I was able to clear all my exams and even my project. As it was time to start my placement with Sensata and my Dad continued to recover day by day, I made the hard decision to fly back and join the team in Antrim."
Karthik spent the new few months enjoying his placement until he got the news out of the blue that his father had suddenly died. "It was the worst day of my life and hard to believe as I had just spoken to him 20 minutes before he died."
Karthik was able to make the journey back home for his burial and spend time with his family before returning to Belfast: "All the rituals were done to my Dad and it was the hardest decision for me to fly back again and resume the life I had in Belfast. As we say, whatever happens life must go on. And I came back and completed my placement and cleared all my modules."
He wanted to mark something new at Queen's and decided to celebrate the 10 day Hindu festival Ganesha Utsav for the first time in the history of any UK University.
Not only did he get the support and permission to run the celebration but Queen's provided funding so that over 100 international students were able to take part in the first post pandemic non virtual event at Queen's in September.
"When I look back at everything that has happened in just two short years, I can't believe I'm now graduating with my degree and fulfilling my parents dream; holding the degree certificate with lots of happiness but missing the very reason for this happiness, my Dad. I hope he is seeing this wonderful moment from heaven, feeling happy and proud of me." 
Media
For media inquiries, please contact comms.office@qub.ac.uk