Science Summer School 2021
Science Summer School
August 2021
The Science Summer School is an exciting FREE two day programme of practical laboratory activities and learning - a perfect place to enhance your science skills and confidence for uni or college.
Who is it for?
The Science Summer School is designed to address the gap in Year 14 A-Level and Level 3 BTEC laboratory-based learning. So, if your studies were impacted by the pandemic and you had limited or no practical science laboratory learning during your recent two years of study, this is tailor made for you!
You will get valuable 'hands-on' science laboratory experience to boost your knowledge and skills, helping you embark on the next stage of your higher education journey with greater confidence in September within a range of disciplines such as science, medicine, dentistry, pharmacy and nutrition.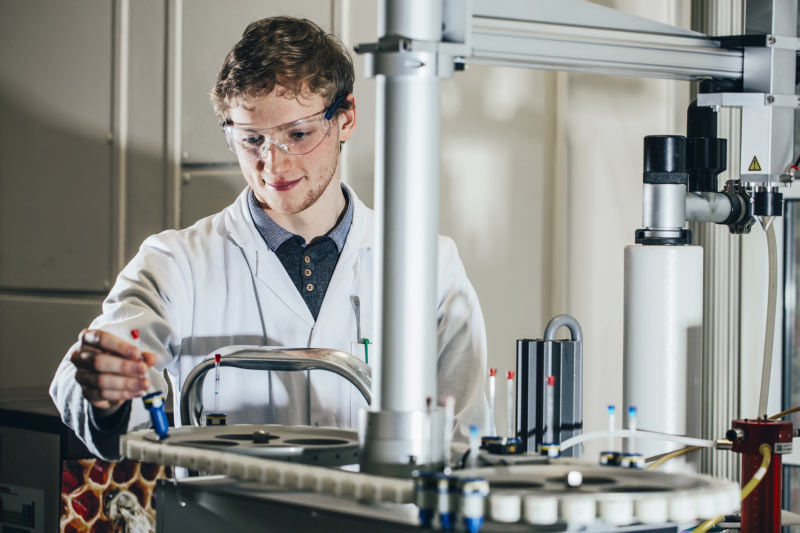 What to expect?
Day One (9.30am – 3.30pm)
You will cover:

Induction & Laboratory Safety
Preparation of Standard Solution – Weigh out accurate masses of sodium ethandioate and use this to prepare a standard solution
Titration – Determine the per percentage of iron in commercial iron tablets by titration against standardised potassium manganate(VII).
Colorimetry - Determine the percentage of iron in aluminium foil by colorimetry and prepare a calibration curve and plot results using Microsoft Excel (linear regression)
---
Day Two (9.30am – 3.30pm)
You will cover:

Synthesis of Aspirin - Prepare a pure sample of aspirin using standard organic chemistry techniques (reflux, recrystallization) and calculate the percentage yield for their preparation.
Purity of Aspirin - Determine the purity of their aspirin sample by melting point determination, thin layer chromatography and FT-IR spectroscopy.
---
Lunch will be provided each day
You will be taught by experienced science lecturers in small classes learning from within industry standard educational settings. Not only will you develop hands-on practical laboratory experience but you will get a chance to get to know others who have the same interest and passion for science as you.
"It is fantastic to see such an event running in Northern Ireland, and even more so that it is being done in collaboration between FE and HE providers. We know the impact of lost learning during the pandemic, and especially the importance of practical sessions to chemistry students/teachers. Indeed our recent report The Future of Practical Science Lessons outlines exactly this and how practical chemistry is pivotal to inspiring the next generation, which will in turn ensure we have a chemical sciences workforce to meet the global challenges needed for society to succeed. Sarah Robertson
Director of Education and Professional Practice
Royal Society of Chemistry
How to Register
The Science Summer School is available in 3 of Northern Ireland's FE Colleges – Northern Regional College, Belfast Met and South West College covering a wide geographical area. Select the date and location that suits you! Registration is essential and places are limited.

| | | | |
| --- | --- | --- | --- |
| Date | Campus | College | Register |
| 23–24 Aug | Coleraine | | |
| 25-26 Aug | Coleraine | | |
| 31 Aug-1 Sept | Coleraine | | |
| 2-3 Sept | Coleraine | | |
| 16-17 Aug | Titanic Quarter Belfast | | |
| 18-19 Aug | Titanic Quarter Belfast | | |
| 23-24 Aug | Titanic Quarter Belfast | | |
| 25-26 Aug | Titanic Quarter Belfast | | |
| 30 Aug-1 Sept | Titanic Quarter Belfast | | |
| 1 Sept -2 Sept | Titanic Quarter Belfast | | |
| 16 – 17 Aug | Enniskillen | | |
| 16 - 17 Aug | Omagh | | |
| 18 – 19 Aug | Enniskillen | | |
| 18 – 19 Aug | Omagh | | |
| 23 – 24 Aug | Enniskillen | | |
| 23 – 24 Aug | Omagh | | |
| 25 – 26 Aug | Enniskillen | | |
| 25 – 26 Aug | Omagh | | |