Worried Belfast is too far from your family? Don't be. With cheap airfares and super speedy flight times, your nearest and dearest won't be able to resist a visit (or three).
The lure of the jet-set life
Yes, I know getting a flight to Belfast isn't quite like getting a flight to the Costa del Sol but your mum can still do that Facebook check in post boasting that she's about to jet off.
Cheap flights
Your mum won't be able to use the "it's too expensive to visit" excuse! Flights are super cheap – my family have taken flights over to Belfast for just a tenner before! Praise Ryanair's cheap flights!
The quick transfer from airport to uni
It doesn't take long to get from the airport to the main campus –in fact it's as little as 15 minutes! Warning: that doesn't leave much time for the emergency room clean before your mum arrives!
Free accommodation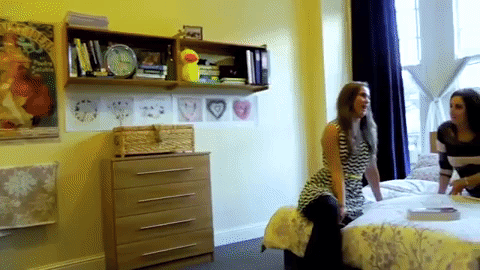 Yes, you heard that right – free accommodation. Guests are welcome to stay overnight in Queen's accommodation. It does mean sleeping on an air bed for the night while you give up your bed for your mum, but she's worth it.
Cheap accommodation
First easyHotel in Northern Ireland officially opens in Belfast https://t.co/VJbhDi1lbR
Don't want to put up with each other's snoring in the night? There are loads of cheap hotels around campus such as Ibis and Holiday Inn, and an EasyHotel has just opened in Belfast!
She can walk everywhere
Despite being a capital city, Belfast is surprisingly compact. Therefore, there is no need to be jumping on endless tubes, trains and buses when mum comes to visit. The most it'll take is 30 minutes to walk into town from Elms BT9.
She can explore the city's history
Many British people's knowledge of Northern Ireland is restricted to what they heard on the news many years ago. If your mum comes over, she can take a City Sightseeing bus around the city to learn a bit more about a peacetime Northern Ireland. Did you know, for example, Belfast is now the safest region in the UK to live in the UK?
She can take in the sights
Northern Ireland has a long history of shipbuilding which can be experienced at the fabulous Titanic Museum. The Titanic Experience is a must visit to learn about this fateful voyage.
She can take in some fresh air
Even though Belfast is a capital city, it still feels very green. The walk up to Elms BT9 is along the tree lined Malone Road and you can also explore the 28 acre Botanic Gardens which is just behind campus. Any keen cyclists can hire out Belfast Bikes and cycle along the 11-mile long River Lagan towpath for a bit of healthy mother/child bonding session!
She can shop till she drops
From shopping centres and high streets filled with big brands to indie boutiques, mum will be spoiled for choice when it comes to shopping in Belfast. Don't miss Victoria Square houses House of Fraser, Apple, L.K. Bennett and more, or St George's Market, selling arts and crafts and craft foods.
The Food
Northern Irish food is brilliant stuff. From Tayto Crisps, to beef stew to a whole host of native breads, there's tonnes of food to enjoy.
Free tea and coffee each night
After an exhausting day sightseeing, whether you're walking, cycling or just eating, then you deserve a good cuppa. Good news, every night at Elms BT1, BT2 and BT9, you'll find free tea and coffee, and maybe even a biscuit or two (or three)!
She'll see how happy you are
Nothing makes a mum happier than knowing that their child is happy! Well, a quick trip over to Belfast will continue to reassure them that you're having the time of your life.
Read next: Ten Things About Studying in Northern Ireland that Will Stop Your Parents Worrying
Peter Moor

English with Linguistics | 2nd year | Huddersfield, England

I am 19 year old Yorkshire lad, born and bred but now studying English with Linguistics at Queen's. I decided to come to over to Northern Ireland after many holidays visiting family across the country. I am part of the university politics society and the debating society. This semester I'm also doing a French language course - wish me luck! I'm a keen swimmer which is certainly needed when this country has so much good food to offer!
Latest News