Entrepreneurial Peter on right track for graduation
Inspirational Master's student Peter Gillan is getting ready to celebrate in style this week as he graduates First Class Honours in Mechanical Engineering.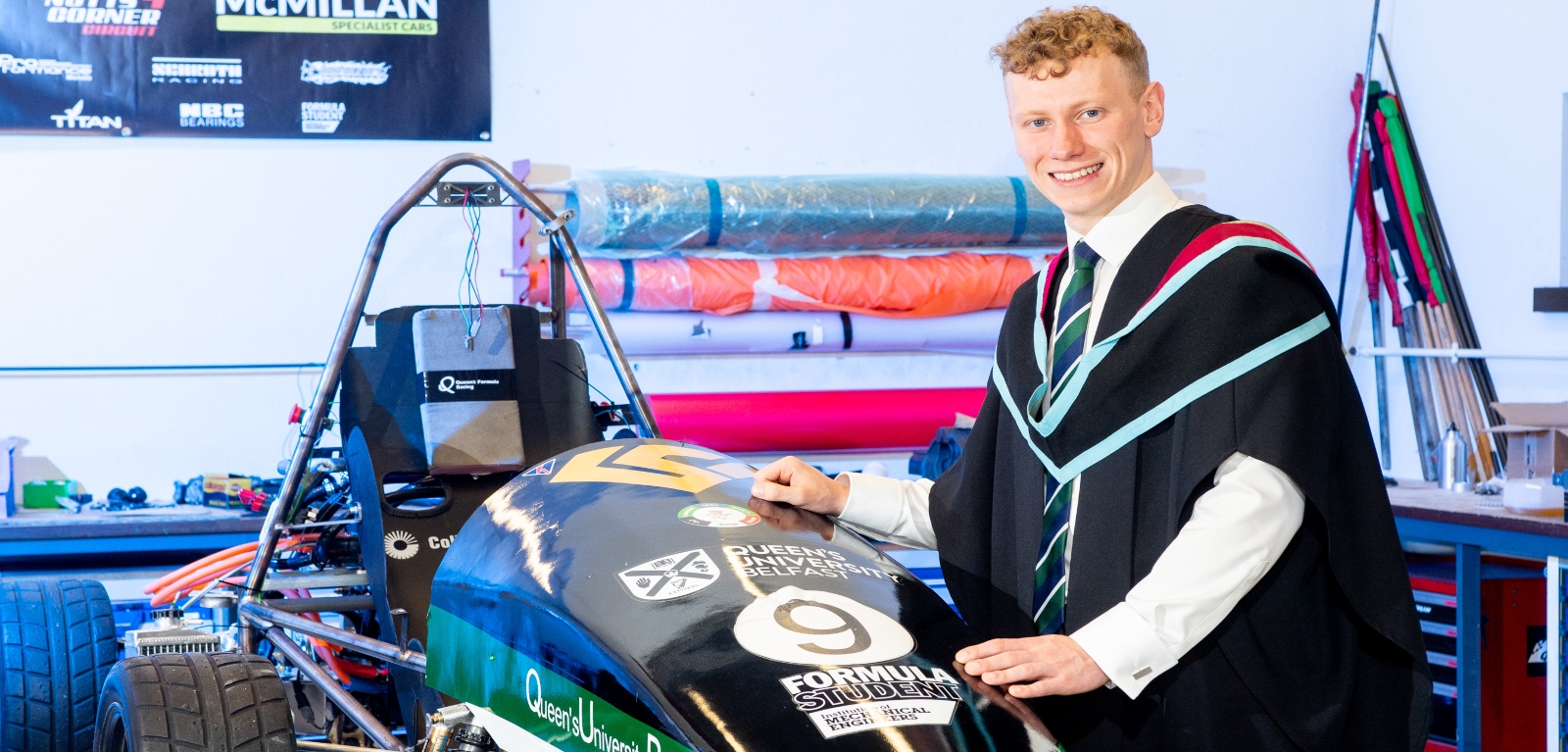 During lockdown, Peter founded a new business Atlas Smart Technologies, which integrates an app with smart dumbbell technology, securing £10,000 in backing from Queen's Students Union's Dragon's Den competition.
Alongside his studies and business Peter also played an integral role in Queen's Formula Racing team – building an electric car which they will race at Silverstone race track this week – setting off the morning after he graduates. He and his teammates will compete against students from universities across the UK at the Formula Student event.
Peter comments: "I've really enjoyed my time at Queen's. It's provided a great balance between academics and extracurricular activities. I learn more by working on extracurricular projects and Queen's has provided the perfect avenue to explore that.

"Queen's Formula Racing has proven to be the highlight of my university experience. There are around 40 people who work together to build a car each year. We race at Silverstone against other universities, providing an exciting environment to develop our engineering abilities.

"I've been involved with Formula Student for five years now. Working on Formula Student helped me put academic theory into practice and has helped prepare me for industry – it has played a huge role in developing my engineering abilities."
Peter adds: "Studying Mechanical Engineering at Queen's allows students to develop a lot of transferrable skills, strongly emphasising problem-solving and logical thinking. This transfers to many different disciplines and opens various career paths.
"A particular highlight of my time at Queen's was studying in the Engineering Leadership program. This is an industry-backed course that aims to prepare engineering graduates for leadership roles post-graduation. Through the program, I was able to work as a warranty engineer for Aston Martin Lagonda. It prepared me to apply for the Royal Academy of Engineering Leader's scholarship, which has proven invaluable in helping to further my personal development."
Peter is now taking a few months off to volunteer in Tanzania, as well as further developing his business, developing a new app – STRONGER. He will then start a new job as Business Analyst for McKinsey & Company in London.
Media
Media inquiries to comms.office@qub.ac.uk