First Class student overcomes health challenges to graduate
Samirah Binte Mohd Amir, a psychology student at Queen's University, faced many health issues while studying for her degree but with determination to succeed, she is now being awarded a First-Class degree.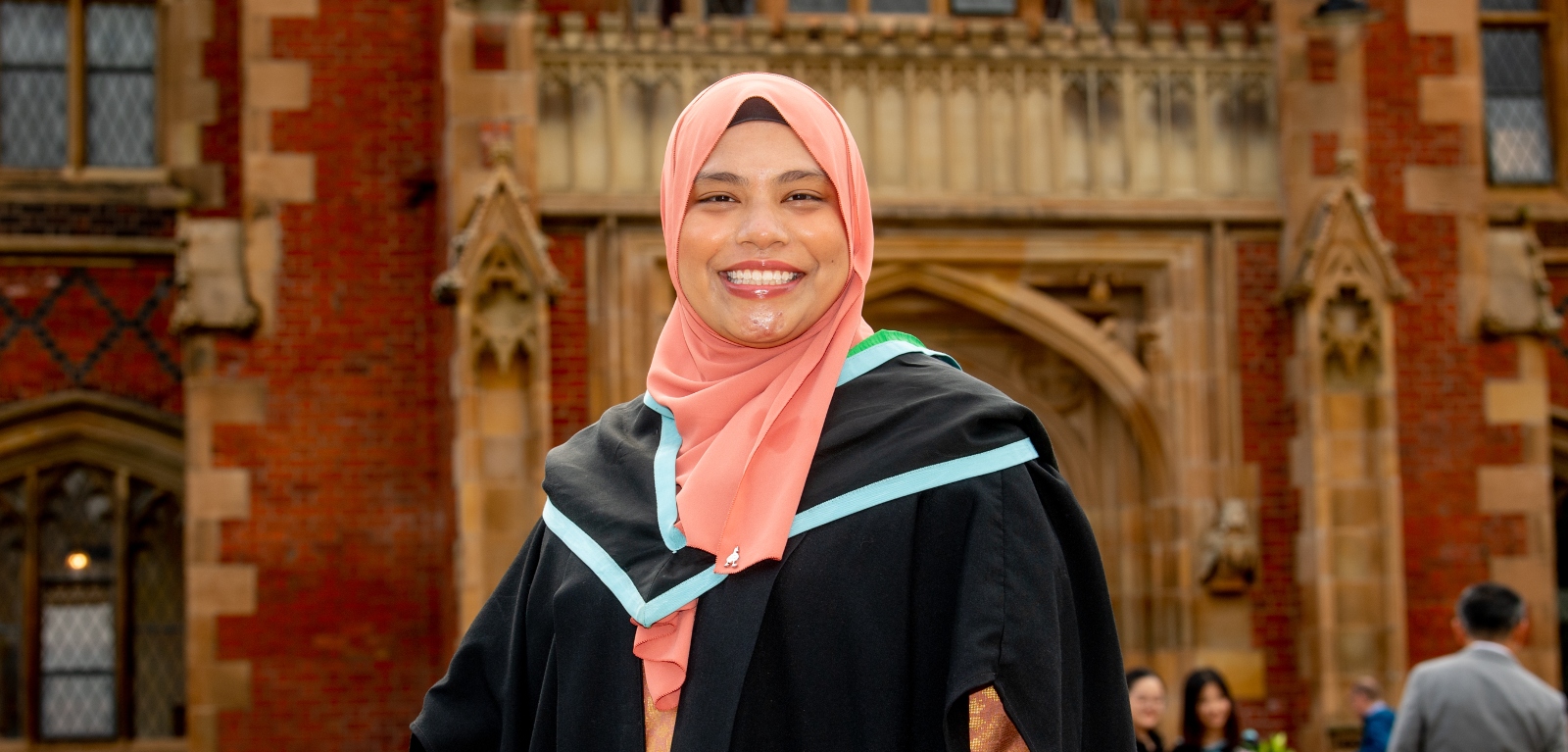 Originally from Singapore, Samirah has Crohn's Disease, Diabetes, Anxiety and Depression and was classified as Clinically Extremely Vulnerable (CEV) during the pandemic.
Despite all these challenges, Samirah studied hard, leaning on the support of Queen's University staff and the University's international community. She was a Peer Mentor in her School, an international student ambassador for the University and was awarded the Spirit of Psychology Award 2022 for her inspirational extra-curricular work.
Samirah said settling into Queen's was easy for her: "There was a lot of student support available. Before school started, we had an international student and staff lunch hosted by the school, which helped me ease in a little bit and meet people in a smaller setting.

"The School of Psychology also had an orientation event where we got to know our tutorial friends in a more casual way through games and team bonding activities and I joined clubs and societies and that helped me feel less homesick."
Talking about the many personal challenges she overcame, Samirah says: "This year, I had a stomach infection which landed me in the hospital twice. That was one of the most stressful periods as I had assignments, a group project and my thesis was due very soon.
"Dr Tim Fosker, the disabilities officer, had a meeting with me to discuss how they can support me, which definitely helped ease anxiety and stress. My Academic Mental Health Tutor also helped me throughout my three years at Queen's. Ms Louise Mitchell supported me by ensuring that I am on track with my work. We had study skills sessions, planned the semester ahead to make sure I do not overwork myself and most importantly, we had coping and wellbeing sessions."
Samirah gives advice to other students considering a move to Belfast: "Living abroad is not just about getting a degree from an overseas university but also about learning about the culture and making new friends. The diverse community in Queen's really helped me learn about Northern Ireland and make many international friends too. My experience here helped me grow as an individual and be more independent. 
"Belfast has a good balance of vibrant city life but at the same time not as fast-paced and stressful as living in other bigger cities, which is great. You can easily travel around Ireland, the UK and Europe from Belfast. People here are very friendly, which makes it less daunting to adapt to a new environment.
"There will always be ups and downs, good and bad, wherever you go, but it is what you do and how you approach these that will make a differ."
Samirah is continuing with her studies and will now begin a Master's in Clinical Psychology at Newcastle University.
Media
Media inquiries to comms.office@qub.ac.uk