New Wastewater Surveillance Programme Monitors COVID-19 at Community Level
Health Minister Robin Swann and Minister for Infrastructure Nichola Mallon today officially launched a major initiative in Belfast that will provide an early warning alert to any upsurge or new variants in relation to the COVID-19 virus.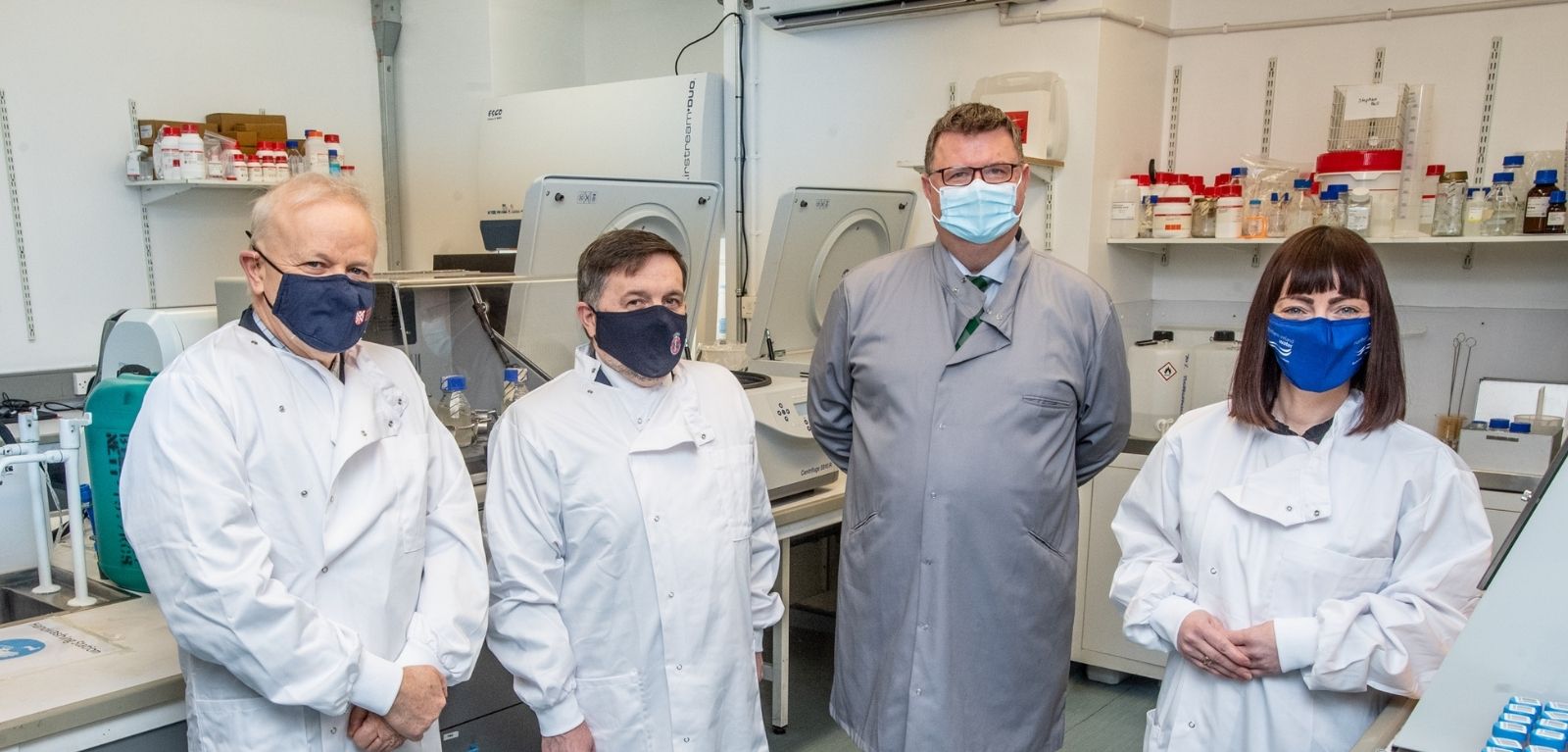 The Ministers visited the Wastewater Surveillance Laboratory at Queen's University that is home to this significant cross-departmental wastewater surveillance programme.
They heard from academics leading the project on how it involves testing water samples that have been collected across Northern Ireland for SARS-CoV-2 at a community level. The results are uploaded to a shared dashboard illustrating patterns of COVID-19 both by geographical area as well as by virus strain.
Professor Stuart Elborn, Pro-Vice-Chancellor for the Faculty of Medicine, Health and Life Sciences at Queen's, said: "This major development by Queen's University and its partners is a very important way to provide surveillance of the population as we move into the next stage of the pandemic when it's even more important that we have a clear overview of how prevalent COVID-19 is across the region.
"This unique programme brings together experts across a range of fields in the public sector and the University. It is a testament to how bringing together our expertise and working collaboratively can make a real difference in better preparing us to tackle challenges that affect us all."
Professor John McGrath, from the School of Biological Sciences who leads the wastewater lab, added: "We know that SARS-CoV-2 levels in wastewater closely correlates with clinically diagnosed COVID-19 cases, and that we can detect both existing and new SARS-CoV-2 variants within samples.
"Wastewater monitoring is a cost-effective strategy for continued SARS-CoV-2 surveillance across Northern Ireland. This service represents a key public health tool to allow us to manage future outbreaks of COVID-19 more effectively."
Health Minister Robin Swann said: "There is no doubt COVID-19 still remains a health risk to the public and is likely to stay with us in some form for some time. The wastewater surveillance programme will play a key role in helping to protect the public by identifying areas where cases have increased and supporting our PHA colleagues to target testing resources where they will be most effective. I am delighted to have seen how it operates for myself and would like to congratulate Queen's colleagues and our other partners on developing a very successful programme and for showing just how effective multi-agency working can be."
Infrastructure Minister Nichola Mallon added: "I would like to commend everyone involved in delivering this significant project that will provide vital information on the prevalence and spread of infection as we continue to respond to the pandemic. Touring the laboratory facilities today provided me with a real insight into the commitment of Queen's and their staff to continue to expand the service, particularly as we move to the next phase of recovery. NI Water has also to be commended for their key role in the commencement and ongoing delivery of the surveillance hub and for ensuring the availability of the samples from their wastewater treatment works.
"The significance of work undertaken by all involved cannot be underestimated and represents a prime example of how cross governmental and sectoral collaborative working can work to benefit all of society."
DAERA Minister Edwin Poots said: "I am delighted that DAERA has been able to play a leading role in establishing this wastewater surveillance programme. In 2020, DAERA and Science Foundation Ireland co-funded a collaborative research project led by Queen's University Belfast and University College Dublin which successfully demonstrated that SARS-CoV-2 could be effectively monitored through wastewater testing and established the foundations of this state-of-the-art wastewater surveillance platform.
"Building on that, in 2021 DAERA obtained Executive funding of £3.8 million Capital and Resource to set up a wastewater collection network across 30 sites and also to establish the Northern Ireland SARS-CoV-2 Wastewater Monitoring Hub at Queen's. Going forward, DAERA will continue to actively support the surveillance programme, working in partnership with Northern Ireland Water Ltd on sample collection and delivery to Queen's."
Angela Halpenny, Head of Environmental Regulation at NI Water, attended the event and commented: "Our purpose at NI Water is to provide the water for life we all rely on to thrive, and never has this been more important than during the pandemic, with hand washing one of the key health protection initiatives.
"It has been a pleasure working on this innovative and collaborative programme across multiple Departments and academia to establish the surveillance programme for the communities across Northern Ireland. The contributions and collaboration from all my colleagues in NI Water across many departments has been overwhelming and I thank all for their support for this key health initiative."
The wastewater surveillance programme is a cross departmental programme involving Queen's University Belfast, Department of Health, Department of Agriculture, Environment and Rural Affairs, Department for Infrastructure, Public Health Agency, Northern Ireland Environment Agency, Northern Ireland Water and Agrisearch.
Media
Media enquiries to comms.officer@qub.ac.uk