Researchers work on £11.2m project to develop next generation of hydrogen buses
World-leading researchers at Queen's are collaborating with industry experts to develop the next generation of single and double deck hydrogen buses, helping in the global fight against climate change.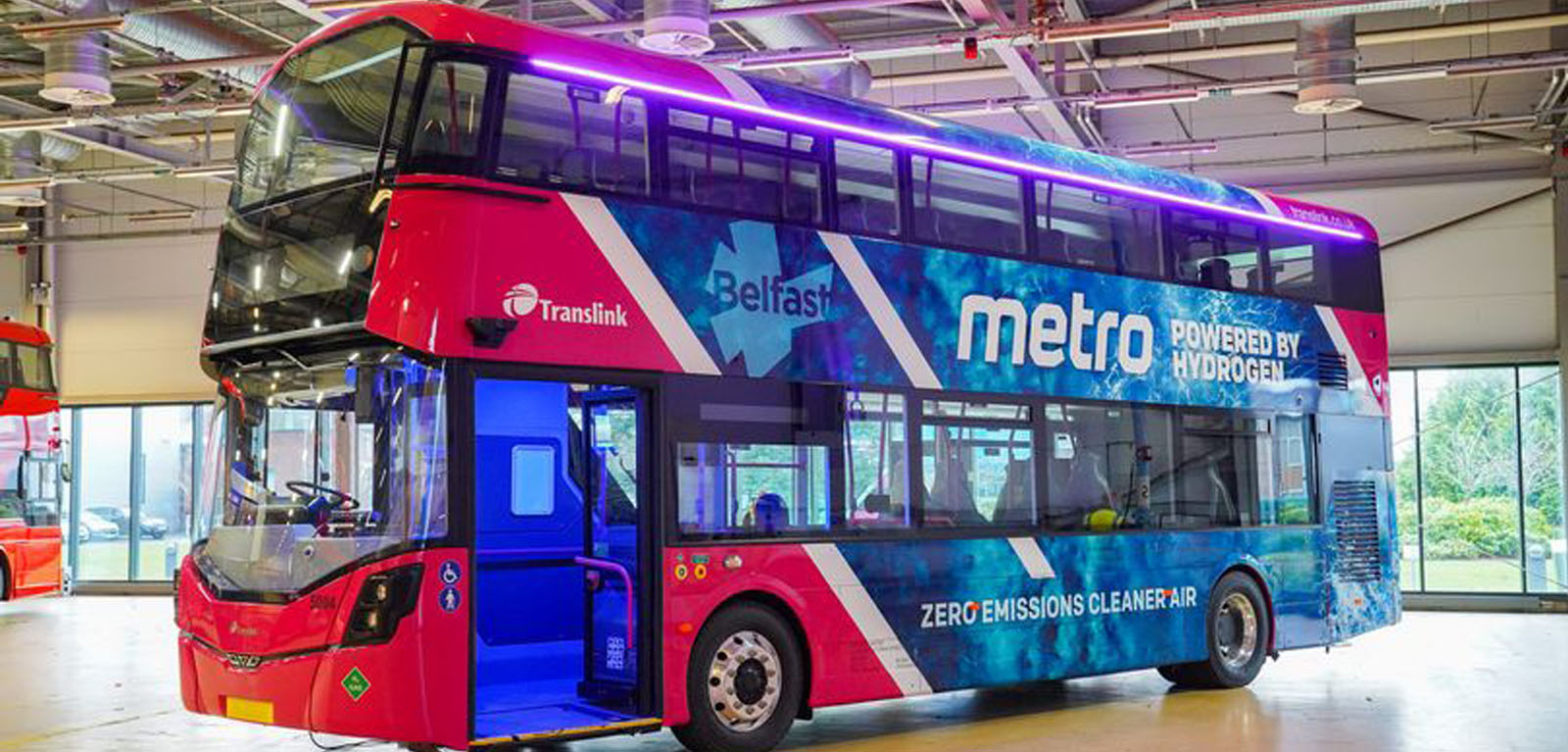 If the UK bus sector moved to zero emission technologies, there is the potential to prevent the release of 3.2 million tonnes of CO2 and avoid nearly 4,000 million litres of diesel imports over the next ten years. The adoption of hydrogen technologies will be a key part of achieving these goals.
The Queen's researchers, based in the Bamford Technology and Engineering Centre (WTECH) Research Centre and the School of Mechanical and Aerospace Engineering, are part of an international team who are working on the £11.2m project, partly funded by the Advanced Propulsion Centre, to help come up with the necessary technology to help make this happen.
The project brings £1.2m of funding direct to Queen's and will create high value research jobs, cementing the university's position as a world-leading research centre for heavy duty hydrogen powertrain technologies.
Longer term the project will lead to the development of a Centre of Excellence in Zero-Emissions Hydrogen Technology in Ballymena, as well as generating new jobs and supporting the development of skills for industry partners Wrightbus, Ryse Hydrogen, Grayson Thermal Systems and Translink.
Commenting on the new project, Dr Juliana Early from the WTECH Research Centre, said: "At Queen's we are delighted to be kick-starting this new project and collaborating with key industry partners to develop innovative and crucial global transport solutions.
"The funding from the Advanced Propulsion Centre allows us to take forward research which will ultimately help reduce emissions but it will also give our economy a welcome boost in terms of funding and jobs.
"Within the WTECH Research Centre, we are essentially training the next generation of experts to develop single and double deck hydrogen bus technologies, and this is critical in responding to the growing calls for our society to move towards a net-zero future. This project places Queen's University and Northern Ireland in a very strong position to become a market leader in the hydrogen sector."
Jon Beasley, Business Development and Programmes Director at the APC, commented: "We are delighted to be supporting Queen's with this vital work to advance the development of innovative powertrains for buses.
"It demonstrates the importance of continued collaboration between universities and industry to further accelerate the automotive sector's transition to a net-zero future and will enable the UK to apply its world-class innovation and experience in decarbonisation of vehicles across the supply chain in Great Britain and Northern Ireland."
Director of Engineering at Wrightbus, Dr Robert Best, said: "Wrightbus has a long standing collaborative research relationship with Queen's University, and critical projects of this type are essential to stimulate R&D, generate employment and reinforce knowledge transfers."
Dr Juliana Early
Dr Juliana Early, School of Mechanical and Aerospace Engineering
Media
For more information, please contact Emma Gallagher, Queen's University Communications Office, emma.gallagher@qub.ac.uk