Professor Woods receives Engineering Excellence Award
Professor Roger Woods has received a prestigious Engineering Excellence Award from the Institute of Engineering and Technology (IET).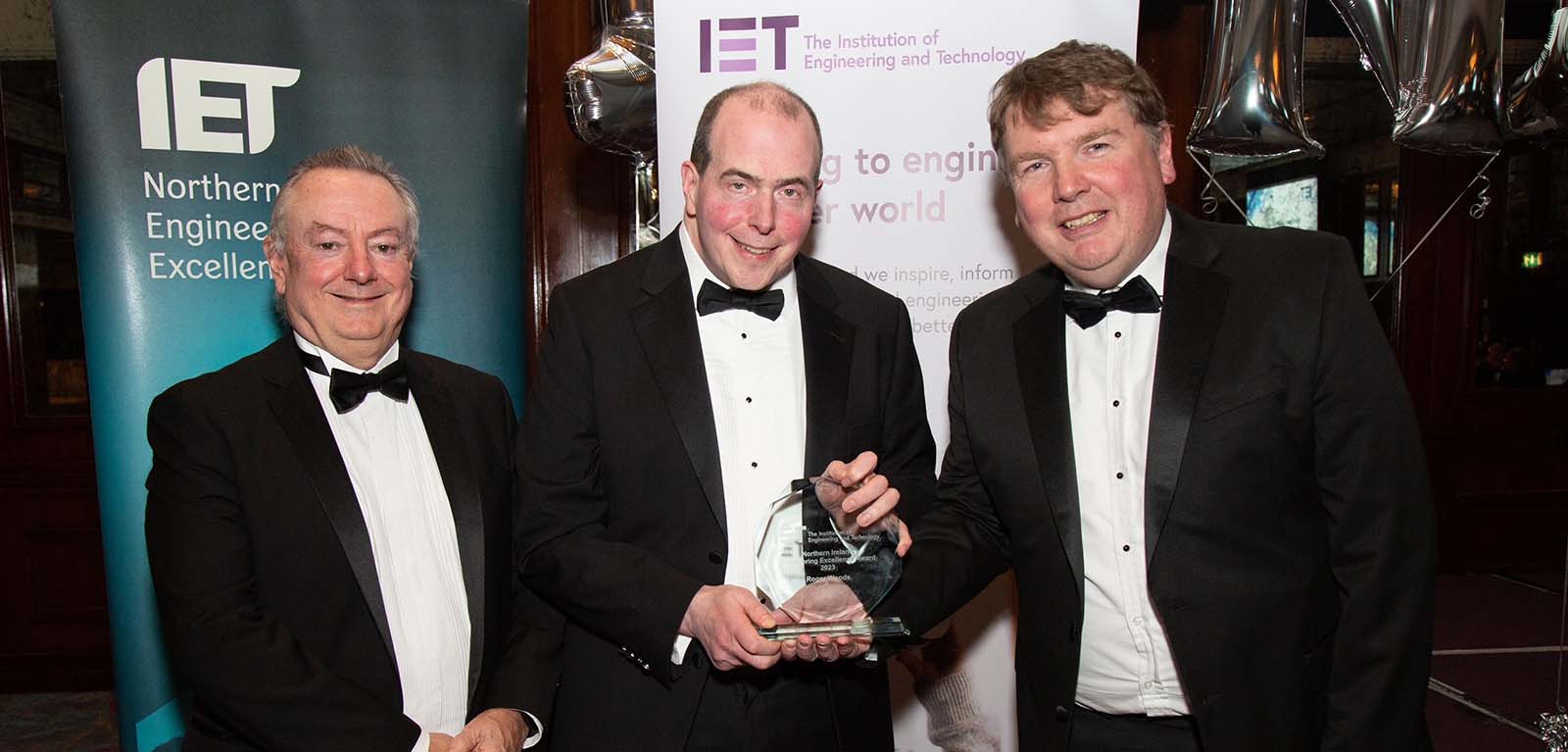 The award was presented at the IET NI's Annual Dinner in recognition of Professor Woods' significant achievements to further the engineering profession in Northern Ireland.
Professor Roger Woods is the Dean of Research for the Faculty of Engineering and Physical Sciences and has been a Professor of Digital Systems at Queen's University Belfast since 2003.
His research portfolio is focused on creating programmable hardware solutions for signal and data analytics. This includes programmable hardware for reducing energy in data centres, innovative programmable solutions for improving security in wireless networks and a data analytics framework for complex manufacturing.
Chairman of IET Mark O'Flaherty said: "We were delighted to make Professor Woods this year's recipient of the Northern Ireland Engineering Excellence Award for his outstanding achievements in promoting engineering innovation and the commercialisation of new technologies, his exceptional contributions to academia and his continued support of the IET and helping to lead and shape engineering policy here in Northern Ireland.
"We hope the efforts of Professor Woods can inspire future generations of Northern Ireland engineers and leaders, just as he has spurred on the efforts of his students, colleagues and friends."
Commenting on the award, Professor Woods said: "I am delighted and honoured to have received this award from IET. As engineers, we are constantly striving to improve and shape the world we live in. Working with colleagues, students and industry partners, we have been deeply committed to furthering engineering through cutting-edge research and I'm thrilled that all of this work has been recognised."
Earlier in his career, Roger commercialised his work through a number of advanced signal processing chips, successfully transferred to industry including recursive digital filter chips with GEC Plessey Semiconductor and a digital TV Phase Correlation chip which won a number of awards, including a technical Emmy.
He has then gone on to develop expertise in data analytics and in 2007, he co-founded Analytics Engines Ltd. to exploit his research in accelerating data analytics. It now employs 20 people developing market-leading data analytics solutions for organisations throughout industry and the public sector and had a turnover of £1M in 2021. He now acts as their Chief Scientist.
Following a traumatic spinal cord injury in 2015, Roger is now tetraplegic but remarkably has continued to make technical innovations. In 2019, he established the £5m, Tier-2 high performance computing facility (NI-HPC) in Northern Ireland, is a major contributor to the £6m Rosehips project looking to drive innovative solutions for structural health monitoring and also leads the e-Futures network which seeks to grow and enhance the UK's impact in the area of electronic systems.
Roger has translated his creativity and passion for innovation across to students by creating an innovative engineering entrepreneurship module, which puts students through their paces in establishing a business proposal to commercialise an engineering product. Some of the teams from this module and one student has gone on to create a company. Professor Woods was awarded the Enterprise Ireland Academic Award for this work in 2018.
In 2022, Roger was elected as a Royal Academy of Engineering Fellowship in acknowledgement of his contributions to entrepreneurship and innovation. This is a highly prestigious award, with new Fellows chosen for their exceptional contributions in pioneering new innovations, leading progress in business or academia, providing high-level advice to government, or promoting a wider understanding of engineering and technology.
Roger also has a long history of closely working with the IET Northern Ireland, most recently serving as Chair of the IET's Engineering Policy Group for Northern Ireland and in the distant past, as both Secretary and Chair of the Younger Members Sections in Northern Ireland.