Vice-Chancellor's Update - June 2019
A few weeks ago, I visited India along with colleagues from Marketing, Recruitment, Communications and Internationalisation, Faculties and the Graduate School.
Queen's has a long-standing relationship with India and we currently have around 200 Indian students studying with us, across all study levels and many programmes. The visit was a useful opportunity for us to engage with a number of our key stakeholders. This included an excellent alumni event, where the affection and commitment for Queen's was evident from the many contributions of our guests including Sir Mark Tully. We also hosted a meeting with the business community, which will allow us to pursue a number of collaborations. We had a number of meetings with Universities, including signing a MoU with Tezpur University in Assam to explore mutually beneficial opportunities over the next five years, specifically in the areas of joint supervised doctoral programmes. The collaboration will also offer opportunities for student and staff exchange for study, research and teaching and will enable scholars from Tezpur University to begin PhD study at Queen's in September 2019. The visit received a significant amount of press coverage, including a piece in The Times of India. There is enormous potential for us in India and a series of key action points will now be taken forward by colleagues across the University to enable us to maximise these opportunities.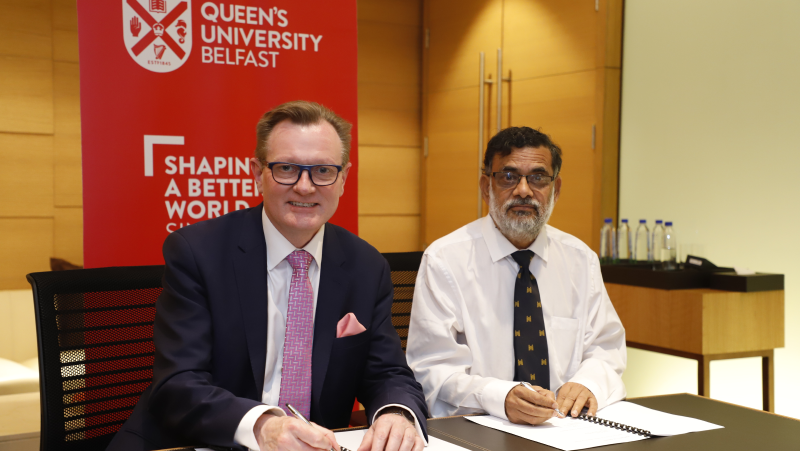 Last month, I hosted my first Head Teachers' Dinner. This important event brought together Head Teachers, representatives from the FE Colleges along with members of the business community to look at how we can all work together to underpin a strong knowledge-based economy in Northern Ireland. Addressing the education and skills agenda is critical to meet the needs of society and to drive our economy, so it is vital that all those from across the education and business sectors work together to maximise the potential of our young people and ensure productivity and job creation.
This builds on our work over the last few weeks with the CBI and The NI Chamber of Commerce and Industry to create a clear view of the needs of NI for skills and the role of the University. Last Thursday, the CBI hosted a round table with the Home Secretary in Belfast, where I was able to set out for Mr Javid the challenges for Universities in Northern Ireland and our skills agenda, including staff and student mobility, international recruitment and our economic impact. On the same day, I also met members of the business community in North Antrim when I spoke at the Ballymena Chamber of Commerce centenary event. At the event, I highlighted our impact in the North Antrim area, including working with SMEs through our KTPs and our significant number of students from Ballymena and the surrounding area. I also took the opportunity to highlight the challenge that the MaSN cap continues to pose in terms of student recruitment.
In previous updates, I have talked about the opportunities presented by the Belfast Region City Deal in terms of innovation and job creation. As you know, Queen's and Ulster University are collaboratively driving projects that will foster innovation in key sectors including data science, creative industries, advanced manufacturing and health. Queen's is leading the development of the Innovation Pillar, co-ordinating the production of Outline Business Cases over the coming twelve months. The Innovation Pillar Board, which has been set up to oversee this work, has now met three times and has undertaken significant engagement through stakeholder workshops and liaison with the Department for the Economy, City Councils and Invest Northern Ireland. Visits have also taken place to Innovation Districts in other cities such as Dublin and London. The Employability and Skills Group, which includes representation from HE, FE and employers, have also met and are focused on ensuring all Business Cases across the various areas have adequately addressed the skills piece. I will continue to keep you updated as work on the City Deal progresses.
I would like to thank everyone who took part in the 2019 Staff Survey. 64% of you completed the survey and provided feedback about your employee experience. Since I joined the University as Vice-Chancellor, my priority has been to engage with as many staff as possible and have enjoyed visiting Schools and Directorates, learning first-hand about your successes and challenges. I am currently undertaking a second round of visits and in recent weeks have visited Schools in each of the three Faculties. Thanks to your feedback from these visits, we have already been able to implement changes and I know the results of the Staff Survey will help us to further shape and improve the employee experience at Queen's.