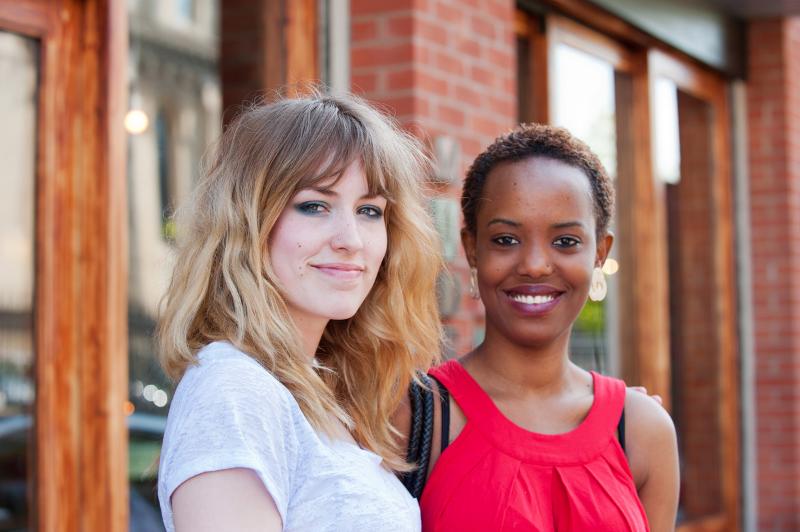 What to consider before you apply
Important factors to take into account when choosing your accommodation
It is important when applying for accommodation for the 2022-23 academic year that you have considered a variety of factors to ensure you have chosen what is right for you.
We would recommend that you consider the following factors:
Lifestyle Options: At Queen's we offer some accommodation which is single sex, quiet living and no alcohol. If you would like to be allocated one of these rooms please indicate this on your application.
Room Type: We have a number of room options: standard, en suite, studios and one to four bed apartments for you to chose from. You can view our images on our Facebook page and on the website.
Cost: Please be aware that our comprehensive, all-inclusive accommodation prices vary from £85 per week up to £195 for 2022-23, making us one of the cheapest accommodation providers in Belfast. Please ensure you consider your budget when applying for accommodation.
Special Requirements: If you have any specific disability needs, please contact

disability.office@qub.ac.uk

for advice prior to submitting your online application.
Read more
Read less
---
Lifestyle Options
Finding the accommodation that fits your lifestyle requirements
Accommodation for students wishing to make a specific 'lifestyle' choice is offered in some locations. Please ensure you check the accommodation details when selecting your preferences.
There is a limited availability for:
No alcohol - consumption of alcohol is not permitted at any time.
Single-Sex - members of the opposite sex are not permitted at any time.
Quiet Living - you are living with students who have chosen a more study focused environment and noise must be kept to a minimum at all times, especially after 11.00pm.
Read more
Read less
---
Application submitted - what happens next?
Find out what are the next steps in the application process
When you submit your accommodation application you will see an acknowledgement page confirming that your application has been successfully received.
You will also receive an email which you should keep for later reference. If you do not receive this email by the following day, please contact us on 028 9097 4403 or accommodation@qub.ac.uk.
Your Offer...
Students will be allocated accommodation when they have been accepted onto a course at Queen's University Belfast. Allocations will commence on 18th August 2022.
We have thousands of applications to deal with and we would appreciate your patience during this time.
Accepting a contract...
Once we have allocated your accommodation, we will send you an offer to the email address you provided on your online acommodation application. Sometimes, our emails will automatically go into your junk mail or spam mail folders so make sure that you check these regularly. Do not use a school email address.
The email will contain a link which will take you to your offer and the Conditions of Occupancy. You should read this carefully as when you accept the offer online, this creates a legally binding contract for the time period stated (usually for the whole academic year from September to June). In order to complete the contract you must pay a deposit of £300 within two days.
REMEMBER: PLEASE ACCEPT YOUR CONTRACT AS SOON AS YOU RECEIVE IT.
Students who have not accepted their offer within the specified timeframe, or who decline the offer of accommodation, will forfeit the guarantee and the offer of accommodation will be withdrawn. If accommodation is subsequently required, a new application must be made, a subsequent offer is not guaranteed.
Read more
Read less
---
Disability / Medical Condition
Find tailored rooms that fit your requirements
QUB currently provide support to students with a wide range of disabilities, including:
Physical and mobility difficulties
Visual impairments
Hearing impairments
Medical conditions
Specific learning difficulties e.g. dyslexia
Mental health difficulties
Autistic Spectrum Conditions
Queen's guarantees accommodation to students who, as a result of their disability, are not able to access public transport or travel to/from the University to their home address on a daily basis and, as a result may prevent them from attending University.
Applications for accommodation must be made by 30th June 2022 AND students must have registered with Queen's Disability Services.
For further information regarding the services available for students with disabilities, please visit www.qub.ac.uk/disability
Should you require any specific arrangements for your accommodation as a result of your disability/medical condition, please make sure that this is detailed in your application for accommodation.
Read more
Read less
---
What To Bring With You
Things you will need when moving into Queen's Accommodation
Read our handy student guide so you can make sure you're bringing everything you need with you and leaving the unnecessary items at home.
29 things you need when moving into Queen's Accommodation
All Queen's Accommodation is furnished.
We provide the following items in your bedroom:
Standard single or double bed with mattress; please note a single bed in BT1 and BT2 is a large single, 3ft 6inch wide and 6ft 3 inch long
Wardrobe with hanging rail and shelving
Desk and chair
Waste paper bin
Curtains and or other window coverings
Desk lighting
We suggest you bring some items with you to help you settle in:
Washing detergent for laundry and dishes
Towels and dish drying towels
Clothes hangers
Crockery including plates, bowls and mugs
Cutlery and cooking utensils, including tin opener, bottle opener
Pans including a couple of saucepans, frying pan, baking tray
Bed linen, including sheets, pillows and duvets or blankets
Hairdryer and toiletries
If you do not want to bring bedding and kitchen items with you packs can be ordered on your online accommodation application before your arrival or purchased when you get here.
If you are bringing any electrical equipment with you please note the following:
Ensure electrical equipment you are bringing is safe and has a rating of less than 1000 Watts
Plugs in UK have three pins
Adapters can be purchased in the airport or in local shops when you arrive
Portable appliance testing (PAT) – we arrange times for you to bring your electrical equipment to be tested for safety
Rice cookers are provided in kitchens upon request
Read more
Read less
---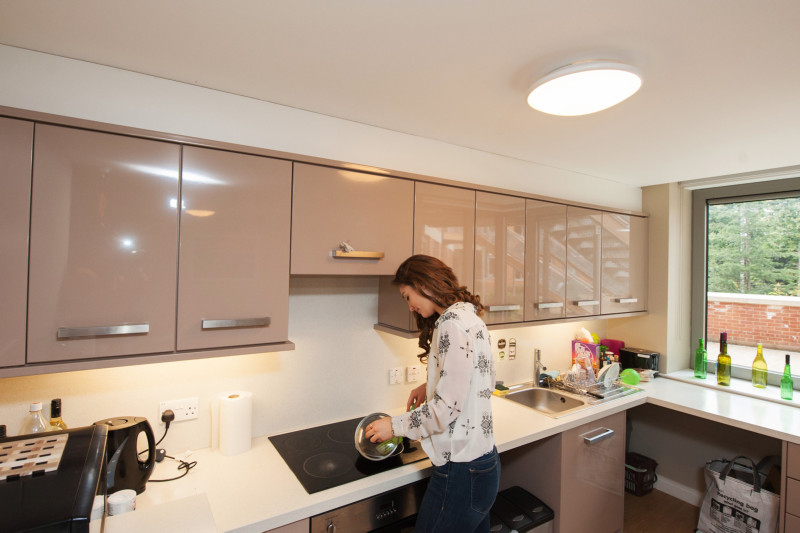 Kitchen and Bedding Packs
Pre-order, or purchase upon arrival, essential items
Kitchen and Bedding Packs can be pre-ordered with your accommodation application or purchased upon arrival.
If you have already submitted your application form and would like to purchase a kitchen or bedding pack then please contact the Elms Reception team on +44 (0) 28 9097 4525 or email accommodation@qub.ac.uk
The kitchen pack includes:
1 x White Ceramic Dinner Plate
1 x White Ceramic Side Plate
1 x White Ceramic Cereal Bowl
1 x White Ceramic Mug
1 x Glass
1 x Table Knife (Please note: knives will not be included in kitchen packs being sold to students under the age of 18)
1 x Table Fork
1 x Dessert Spoon
1 x Teaspoon
1 x Medium Saucepan and Lid
1 x Small Frying Pan
1 x Utensil Set
1 x Can Opener
1 x Vegetable Knife
1 x Oven Tray
1 x Tea Towel
A single bedding pack includes 1 pillow and pillow cover, a duvet and duvet cover, a sheet and a mattress protector. A double bedding pack has the same contents.
In Elms BT1 and Elms BT2, the single beds are large singles (3ft6 X 6ft3). We have a single sheet and mattress protector set available which fit this larger size bed, or you can buy a single bedding pack containing these.
Read more
Read less
---