Staff Accommodation Frequently Asked Questions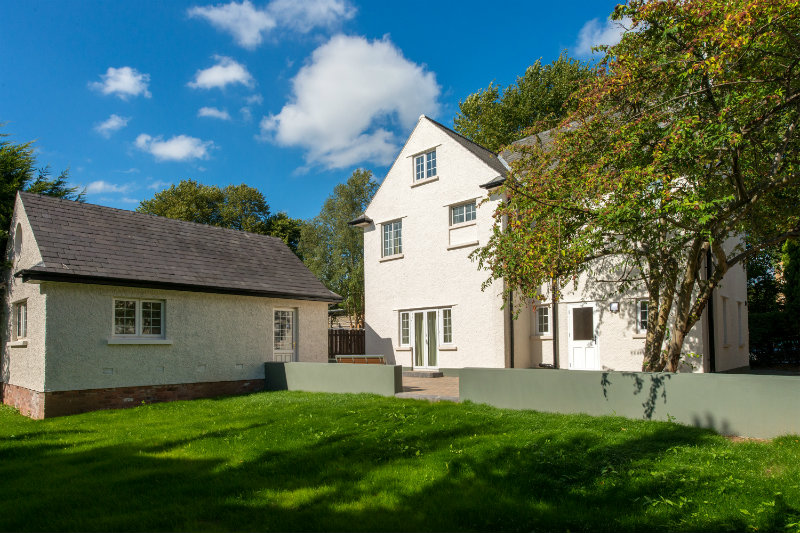 Frequently Asked Questions
Answers to some commonly asked questions
When do I sign the Tenancy Agreement?
We ask that you sign your tenancy agreement when you come to the Accommodation reception to collect your keys. Click here for a Sample Staff Tenancy Agreement for you to read before you arrive, which may save you time when you arrive at reception.
How do I pay my rent?
Rent is due on arrival and then on the 1st of each subsequent month. Rent can be paid by one of the following methods:
Salary deduction. Payment is taken directly from your salary or stipend at the end of each month for the following month's rent*.
e.g. payment on 31 July for rent due on 1 August
You must complete a form in order to arrange this payment and the form will be available when you check-in, or email residentialfees@qub.ac.uk to request one at any stage.
Depending on the date your form is returned to us, you may need to pay the first month's rent at the Accommodation reception in person until the salary deduction system becomes active. We will advise you of this when you return your form.


Direct Debit from your UK bank account. Please email residentialfees@qub.ac.uk for a copy of our bank details*
Depending on the date you make the Direct Debit arrangement with your UK bank, you may need to pay the first month's rent at the Accommodation reception in person until the Direct Debit becomes active.
* The first month's rent can be paid by one of the following 2 options:


By cash, cheque, debit / or credit card at the Accommodation reception. Credit or debit card payments can also be made by telephone. Reception is open 24 hours; Tel. 028 90974525.
Standing order. Please email residentialfees@qub.ac.uk for a copy of our bank details.
In full on arrival. If your stay is for 3 months or less, the payment is required in full on arrival.
Read more
Read less
---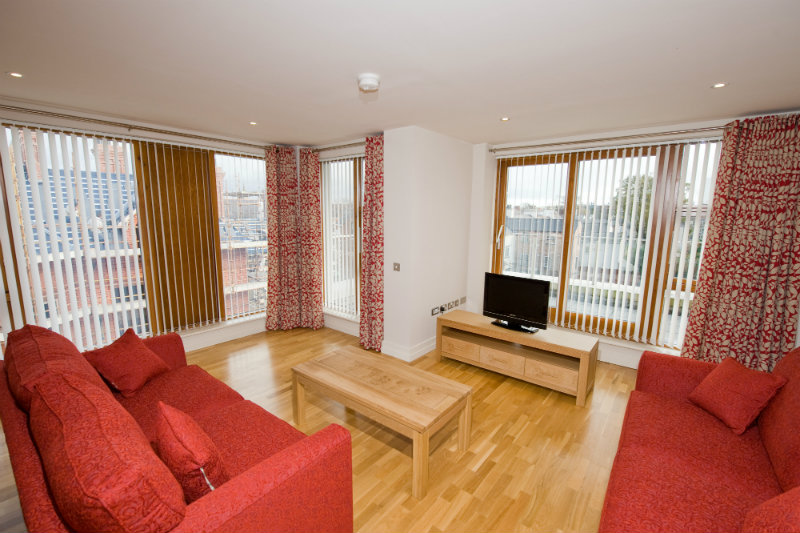 Frequently Asked Questions
Answers to some commonly asked questions
How long can I stay in Staff Accommodation?
The maximum stay permitted is 12 months.
Can I have telephone and internet access?
Internet service and WIFI is available is all Queen's Staff and Family accommodation.
If there is a land-line telephone point available in your property then you can arrange a connection at your expense.
Is there a television provided?
A TV is provided in Stratfield House apartments and the TV licence is included in the monthly charge.
A TV is not provided in all other properties; if you do install a TV you will also need to purchase a TV licence.
Can I have cable or satellite television?
Accessing cable TV is permissible. However, please contact us before signing any supplier's agreement.
It is not possible to erect a satellite dish on our properties.
Do I need to buy a television licence?
By law in the UK you are required to obtain a television licence if you wish to watch live TV on a television, computer of tablet. If you are residing in Stratfield House a TV and licence is provided. Information relating to television licences can be obtained at www.tvlicensing.co.uk
Do I pay for electricity?
Your apartment may have a 'pay as you go meter' and the top-up procedure will be explained on arrival.
Can I bring a pet with me?
We do not allow pets in our accommodation.
Is bed linen provided?
Bed linen and towels are provided and welcome food packs are available if required at a small cost. You will be advised of any charges when discussing your requirements prior to arrival and requirement for packs must be highlighted on your application form.
Read more
Read less
---
Frequently Asked Questions
Answers to some commonly asked questions
Is a cleaning service available?
We provide a cleaning service of all communal areas on a weekly basis. However, it is the tenant's responsibility to maintain the cleanliness of their apartment during their stay.
If you require a cleaning sevice for your apartment, please contact the Accommodation reception; an additional charge is made for this service.
Storage solutions for household items
Belfast Self Storage – 028 90 351313 or Freephone 0800 389 8254
102 Duncrue Street
Belfast
BT3 9AR
The Dixon Line – 028 90 70 4004
Unit 2
10 Prince Regent Road
Belfast
BT5 6QR
Alpha Self Storage – 028 90 812333
155 Ballynahinch Road
Carryduff
Belfast BT8 8DS
Pickfords Removals and Storage – 028 90 741199
Duncrue Road
Belfast
BT3 9BN
One Stop Worldwide Limited – 0330 333 8784
Unit 91 Steventon Storage Facility
Hanney Road
Steventon
Oxfordshire
OX13 6DJ
contact@onestopworldwide.com
Read more
Read less
---
Transport links – Belfast and Northern Ireland
Transport links – Belfast and Northern Ireland
Arriving by Air
Northern Ireland is served by flights into Belfast International Airport, George Best Belfast City Airport and City of Derry Airport. Scheduled air services operate from all major UK airports. There are many direct flights from major European cities. Major airlines operate scheduled services from the US and Canada to Belfast International Airport via UK and Republic of Ireland airports. Additionally, there are charter flights direct from New York and Toronto to Belfast.
Travelling by Ferry
Northern Ireland has first-class ferry connections with Scotland, England and the Isle of Man. New, high-speed vessels, enhanced on-board amenities, entertainment and shopping, together with lower prices*, make the car ferry a very attractive way to go.
*Check prices with the operators at time of booking.
Port information can also be obtained from the Port of Larne and Belfast Harbour.
Public transport
It couldn't be easier to visit the great attractions and places of interest Belfast has to offer and with a Metro Day Ticket you can really make the most of Belfast.
For just £2.70* you can travel after 9.30 a.m. (available Monday - Saturday or all day Sunday) or for £3.50 you can travel anywhere on Metro all day (available Monday - Saturday) and remember children are half price and senior citizens go free!
You can buy your Metro Day Ticket from the driver on the bus, at the Metro Kiosk, Donegall Square West or the Belfast Welcome Centre, Donegall Place.
Fares are subject to change.

*Available for purchase between 9.30am and 3pm Monday - Saturday and all day Sunday.
iLink is the new integrated smartcard from Translink which provides unlimited day, weekly or monthly bus and rail travel within 3 specified zones across Northern Ireland.
iLink is available for adults and children and is ideal if you travel by both bus and train to your destination on a regular basis. It is a smartcard which you can top-up again and again, so when you need more travel you simply bring the same iLink Card back to one of our sales outlets and top-up your card with travel for a day week or month.
Translink operates the Ulsterbus, Metro Bus service and NI Railways integrated public transport system - you can reach every corner of every County in a couple of hours.

For timetable and route information:

Tel: + 44 (0) 28 9066 6630 (Central information line 07:00-20:00)
https://www.translink.co.uk/ * (Promotions, family day trips and student discount information)
Taxis are also an economical option for short journeys. All legal taxis should display taxi licence plates. Taxis are generally meter-reading fares; if a taxi does not have a meter ask the fare to your destination before setting off. In Belfast, taxi ranks are also available; these are generally in the city centre or at some points of entry, and are London-type black cabs
Read more
Read less
---
Life in Northern Ireland
Life in Northern Ireland
Shopping in Belfast
There are three main supermarket chains in Northern Ireland, Tesco, Sainsbury's and Asda, with stores throughout the country:
Health Care in Northern Ireland
There are over 350 GP Practices throughout Northern Ireland. Your local doctor, also known as a general practitioner (GP), provides a wide range of services including advice on health problems, physical examinations, diagnosis of symptoms, the prescribing of medication and other treatments. Each GP practice has a copy of a practice leaflet which will tell you about the full range of services they offer.
For contact details please visit the Health and Social Care in Northern Ireland website - www.hscni.net – GP Practices
For emergency medical attention, phone 999 and ask for an Ambulance. The closest Accident and Emergency hospital to Queen's University is the Royal Victoria Hospital – Emergency Department call 028 90240 503.
Opening a UK Bank account
As a new customer with a UK bank or building society you will be required to select which bank or building society you wish to bank with. Normally you will be required to make an appointment with the bank and provide proof of identity and current address (if renting, the letting agent should be able to produce a letter stating your place of residence).
You will also be required to provide evidence of your employment status to include a copy of your letter of appointment from Queen's University.
Read more
Read less
---
Staff Accommodation Services
Staff Accommodation Services
Staff Accommodation Services
NIE Information
For a step-by-step guide to using your 'pay as you go' Power NI Keypad please click HERE.
GAS PAYEASY Meter Instructions
For helpful information and instructions for the PAYEASY Gas meter such as, how to transfer credit to your meter and using your credit reserve, please click HERE.
Read more
Read less
---