QUEEN'S UNIVERSITY BELFAST
WANT TO CHANGE YOUR WORLD?
POSTGRADUATE STUDY
A WORLD CHANGING GRAD SCHOOL EDUCATION.
Questions about peace, security and justice dominate the discourse of governments, international agencies and civil society. As it emerges from conflict, Northern Ireland can help to answer these questions.
Join us and you'll work with renowned academics at the forefront of their fields and become part of our vibrant community of creative and critical thinkers.
Plus, when you study at Queen's you will graduate earlier than in the US, and from the UK equivalent of an Ivy League college too. Our one-year programs help you reduce the cost of study in a UK city with the lowest cost of living.
'Queen's was ranked 3rd out of 199 universities worldwide/ 2nd out of 44 UK universities for our Graduate School.' (International Student Barometer 2017).
'History, Politics and International Studies at Queen's are ranked in the Top 200 in the World.' (QS World Rankings by Subject 2019).
Why Choose Queen's
Ranked in the Top 200 Universities in the World
(QS World University Rankings 2020)
Our Courses
MA Conflict Transformation and Social Justice
This masters in conflict resolution offers you a unique opportunity to pursue an interdisciplinary degree in conflict transformation and social justice at a world-class university situated in the midst of a society transitioning from conflict.
MA Global Security and Borders
A unique course, not offered anywhere else in the UK or Ireland, through which you'll critically examine how pressing security issues are increasingly being felt at border sites around the world.
MA International Relations
This masters in International Relations aims to enable you to examine, explain and understand what affects our world, from security and terrorism, migration and mobility, to global financial crises.
MA Violence, Terrorism and Security
A dynamic and critical study into peace and conflict studies. It challenges accepted wisdom and opens up debate on the role of violence in relation to political power, all taught in a post-conflict society. Graduates now serve in Law Enforcement Agencies, Border and Immigration Control and National Armed Forces including the US Army and US Air Force.
"Through their strong partnership with Fulbright, internationally-renown faculty experts and institutes, and innovative degree programmes, Queen's creates a unique environment that empowers students to not only study some of the greatest global challenges of our time, but imagine solutions. My course, the Masters in Global Security and Borders programme, is the only of its kind and has caused me to think and see the world differently.."
Marissa Piccolo, USA
MA Global Security and Borders
STUDY CONFLICT AT QUEEN'S
Queen's University offers the only global MA programme on Conflict Transformation and Social Justice.
This is a unique and innovative interdisciplinary programme taught through subject areas that include law, anthropology, English, history, philosophy, politics, psychology, sociology and the creative arts.
You will be taught by academics and practitioners whose expertise is both national and global and who offer research-led teaching in areas of conflict such as South/ Southeast Asia, the Middle East, Southern Europe, South America and Northern Ireland. You will have annual masterclasses with visiting world-leading researchers, diplomats and practitioners.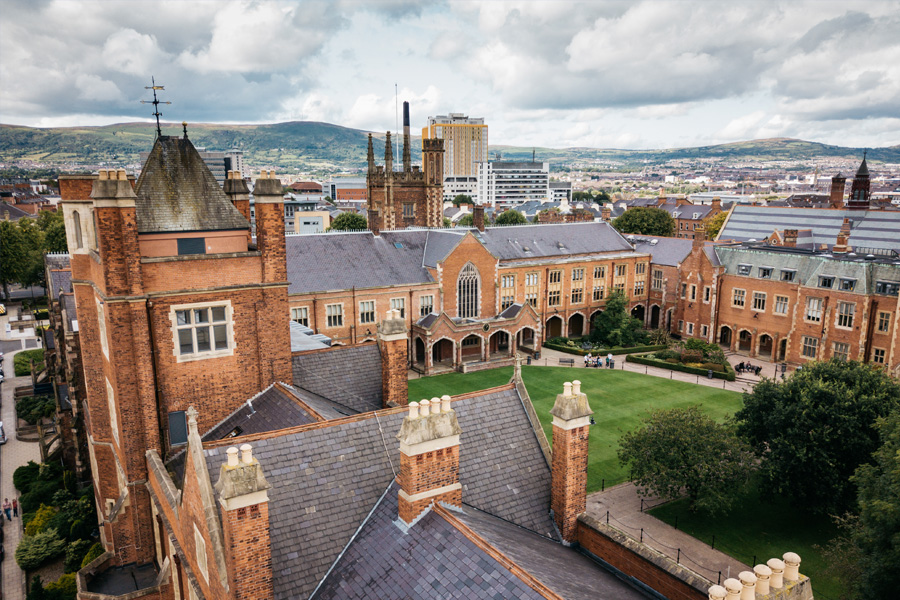 Life at Queen's