Inspirational Queen's student battles rare illness on journey to achieve her dreams
Graduation is set to be an extra special day today for Queen's University student Zara Gibson who battled a rare form of arthritis while studying for her PhD.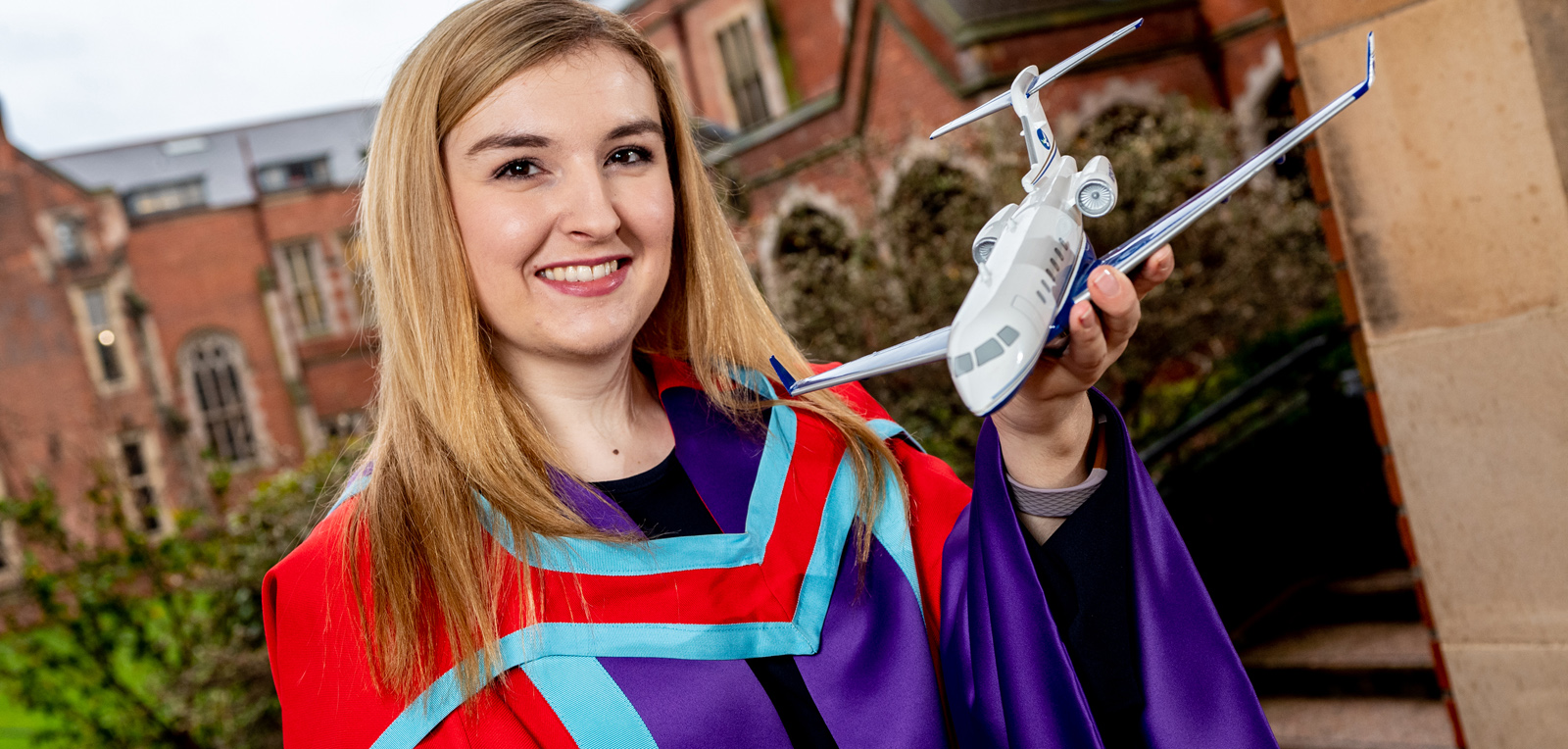 Zara, from Lisburn, originally undertook a degree in Psychology at Queen's and decided to move into the School of Mechanical and Aerospace Engineering to examine if an inexpensive virtual reality system can do the same job as expensive flight simulators when training pilots.
In her research Zara looked at how novices piloted an aircraft using virtual reality, analysing their brain waves, eye tracking and overall performance. Her work showed that virtual reality can be a very useful, safe and flexible tool to monitor performance and how a user processes information.
Zara's journey at Queen's was certainly not traditional, moving directly from undergraduate to PhD and from one school to another to continue her studies. She comments: "I often had doubts I was doing the right thing but those doubts did not last long. Within weeks of starting my PhD I realised that whilst I didn't have the same knowledge and skills as my peers I had an equally valuable set that they found very useful across other projects.
"My supervisors made the transition very easy and if anyone is ever in the same position I would encourage them to take the opportunity, multidisciplinary careers are increasingly important and will provide you with such a diverse and unique set of skills."
As well as taking on a new challenge with her studies, Zara was also diagnosed with palindromic rheumatism – a rare form of arthritis – in the second year of her PhD. She suffered from pain and inflammation in the joints of her hands, knees and feet which negatively affected her mobility.
Zara explains: "My illness is relatively rare and I think in the medical world they still don't understand it, which makes it harder to treat and diagnose. I don't live in Belfast so the commute became difficult as I couldn't drive and walking was also hard.
"All of the staff at Queen's were very understanding, studying for a PhD offers more flexibility in that I was able to work from home on days I wasn't feeling well. I also made use of flexible working hours for when I had doctors' appointments or hospital appointments, starting earlier in the morning or working later in the evening.

"The workspace evaluations were also helpful as I was able to request equipment that would make me more comfortable at my desk. Not only was I able to continue working but it also enabled me to complete my PhD on time and not require an extension or extended leave."
Despite all of the challenges she faced, Zara says her journey was an enjoyable one. She comments: "My favourite part of studying at Queen's was the sense of community and being able to contribute and improve the working environment. I was part of the Athena SWAN initiative for gender equality and was part of the Research Culture Committee within my School. It was very enjoyable having an impact on the development of the School."
The future is looking bright for Zara as she has now taken up a position of as Research Fellow in the School of Electronics, Electrical Engineering and Computer Science at Queen's and has big plans for the years ahead.
She says: "I am delighted to have taken up my new post at Queen's as it means I am now applying what I learnt in my PhD to a real design case. I plan on continuing down this path and become a lecturer in my own right."