Proud mum of six overcomes adversity to graduate with First Class Honours in Nursing
Catherine McLaughlin (37) from Belfast will graduate today (Thursday 17 December) with a First Class Honours Degree in Adult Nursing from the School of Nursing and Midwifery at Queen's University Belfast.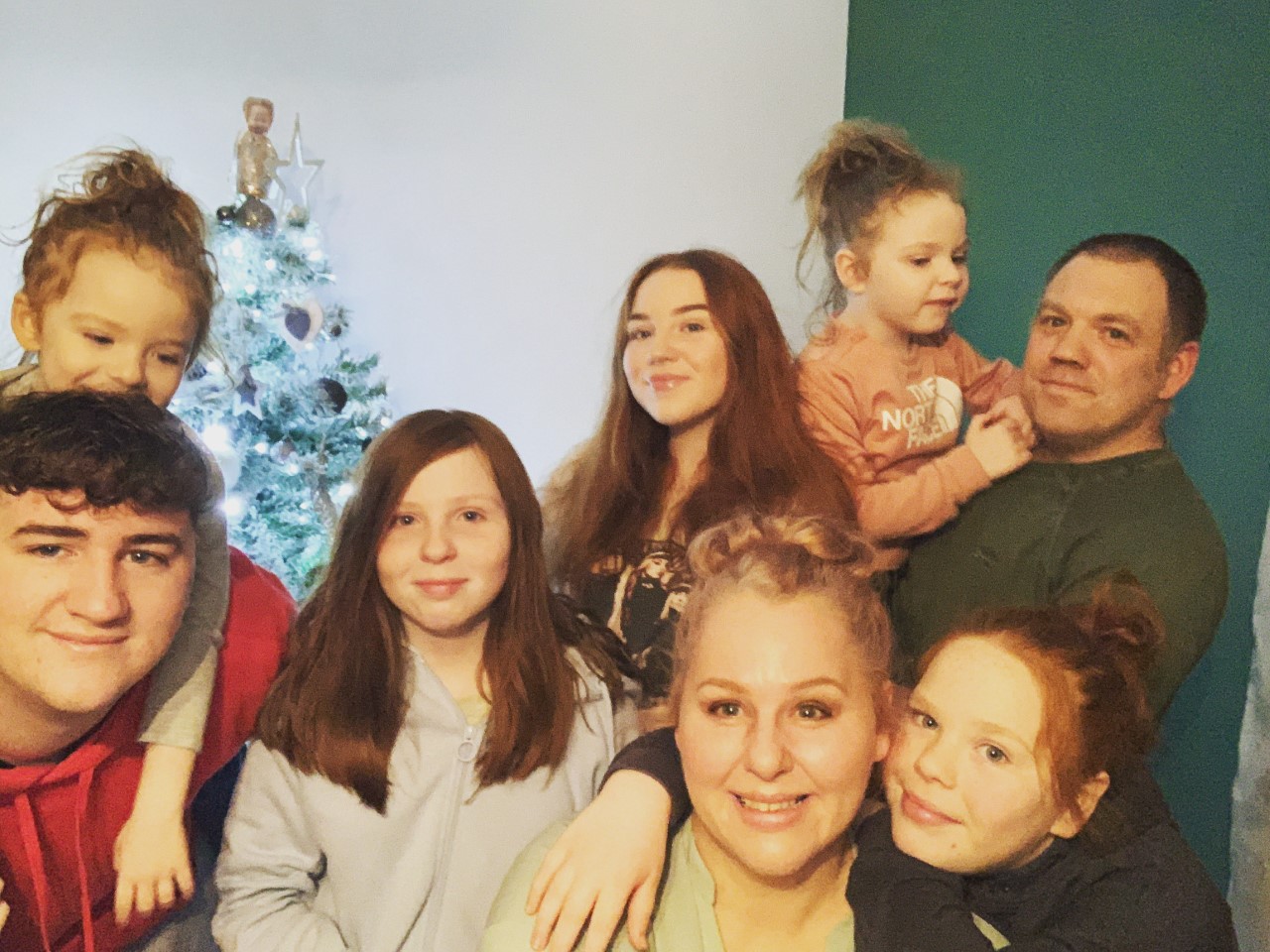 Catherine is a proud mum to her six children: Stephen aged 19, Saoirse aged 15, Aobh aged 13, Caitlín aged 10, Fianna Rose aged 6 and Tomáisín aged 4. Catherine has had to overcome many of life's challenges to graduate today. Her mum passed away from breast cancer when Catherine was fifteen at aged just 32. Three of her children are autistic; her youngest child Tomáisín has a severe developmental delay and her second youngest was diagnosed with type 1 diabetes during her first year of study at Queen's.
She says: "Like so many folk I am sure, I had multiple personal issues that had the potential to stop me in my tracks. In the middle of my GCSEs, my mum had just passed away and I was struggling to keep up. I decided it was too much and left. It had always been my dream to be a nurse or a midwife, as it was my mums.
"At 32, by then married myself and having just given birth to my fifth child, I decided to pursue the career again, so I enrolled onto a health and social care A-Levels course. Within three months of the course, I discovered baby number six was en route. With the support of the college and my family I continued my studies and applied to Nursing and Midwifery at Queen's and was beyond excited when offered a place on their adult nursing course. It was a dream come true!"
Sadly, for Catherine, in her final year at university, her husband and youngest daughter were involved in a very serious car crash, being hit by a stolen vehicle. Bravely, and with the support from her friends, family and the nursing staff at Queen's, she continued to excel and pursue her dream of becoming a nurse.
She said: "The impact of it all saw a great mental and emotional struggle on our family, causing long term issues with my daughter who still struggles with sleep and detachment issues today.
"The positive from this though was that with great support from my family, peers and the School of Nursing and Midwifery at Queen's, it never deterred me from keeping going. I always try to see the positive in everything, keep smiling and keep on keeping on. I feel that's one of the best traits of being a nurse."
Despite being a busy mum of six, Catherine has played a key role during the pandemic. In her final year of nursing, she was asked to join the workforce early due to the increasing number of hospitalisations from COVID-19. She also became an advocate for other nurses to ensure they were kept safe at work.
Speaking about joining the frontline early, she commented: "It was a challenging and unprecedented time; however, I feel there were a lot of positive moments and achievements for me personally. I felt we as nurses needed our voices heard and so I quickly engaged communications with our Head of School regarding student safety and protection. This was also a great concern for the School as much as for the student body. I felt great support from them.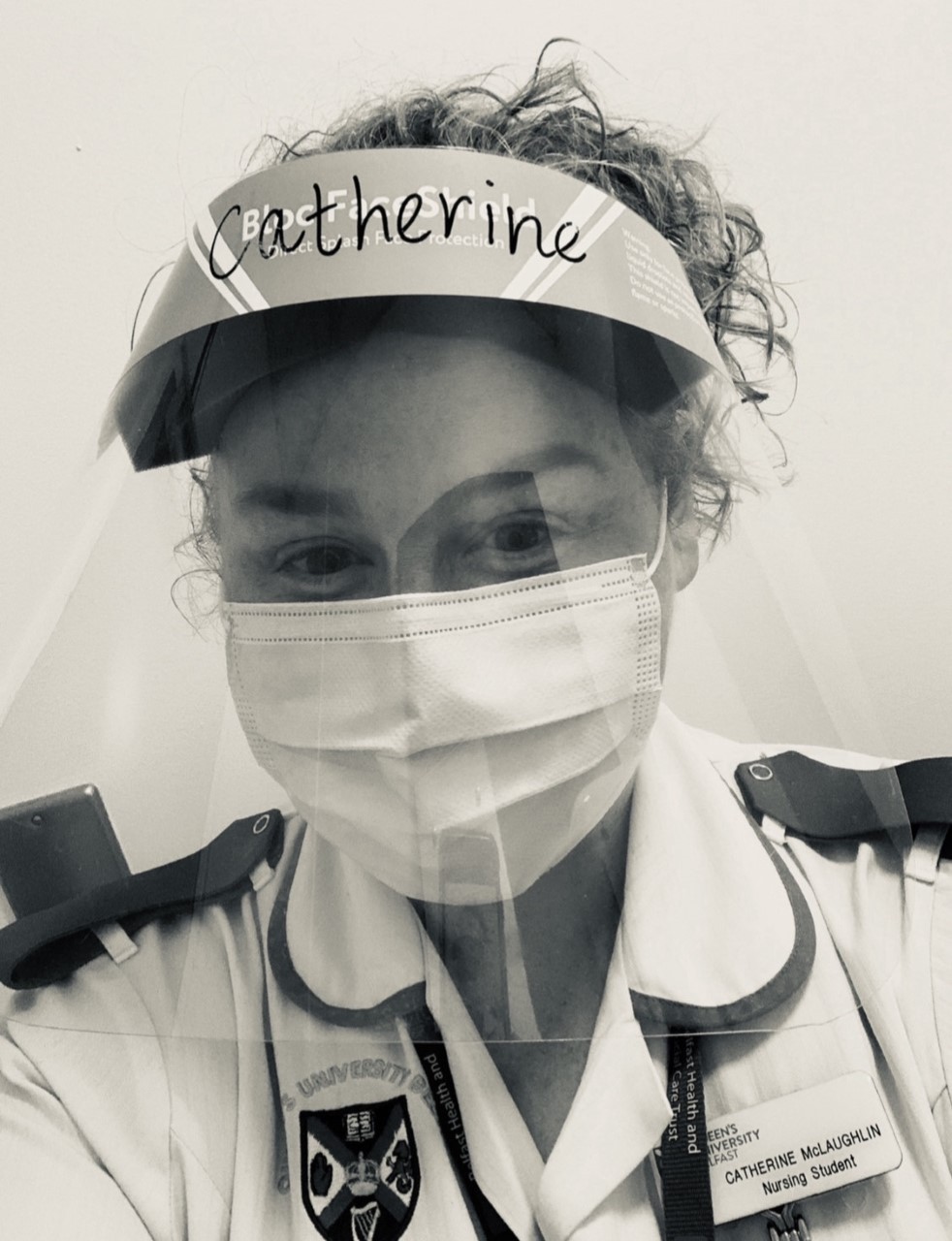 "I set up a student group in response to COVID-19 so that we could engage with the School of Nursing and Midwifery to overcome any issues that might arise as quickly as we could. This was positively received by the School. I was discovering leadership skills within me that I never would have believed existed.
"I also represented the student body on the rapid response team, the education committee and on the Queen's Connections Team (an outreach team to engage and support the mental and emotional health and well-being of students at this difficult time). The Queen's Connections Team was such a valuable support mechanism for students at this time, and I was honoured to be a part of it."
The future is looking bright for Catherine as she is currently working as a Band 5 nurse at in the Surgical Vascular Ward in the Royal Victoria Hospital in Belfast. She said: "I am incredibly proud of myself and excited about graduating. I have had to overcome a lot, but I managed to keep my positivity throughout.
"I am excited about the future and I know my mum would be so proud of me."