Shankill student celebrates fourth Queen's Graduation
Andrew Godden will today (Thursday 12 December) celebrate graduating with a PhD from the School of Law at Queen's University Belfast.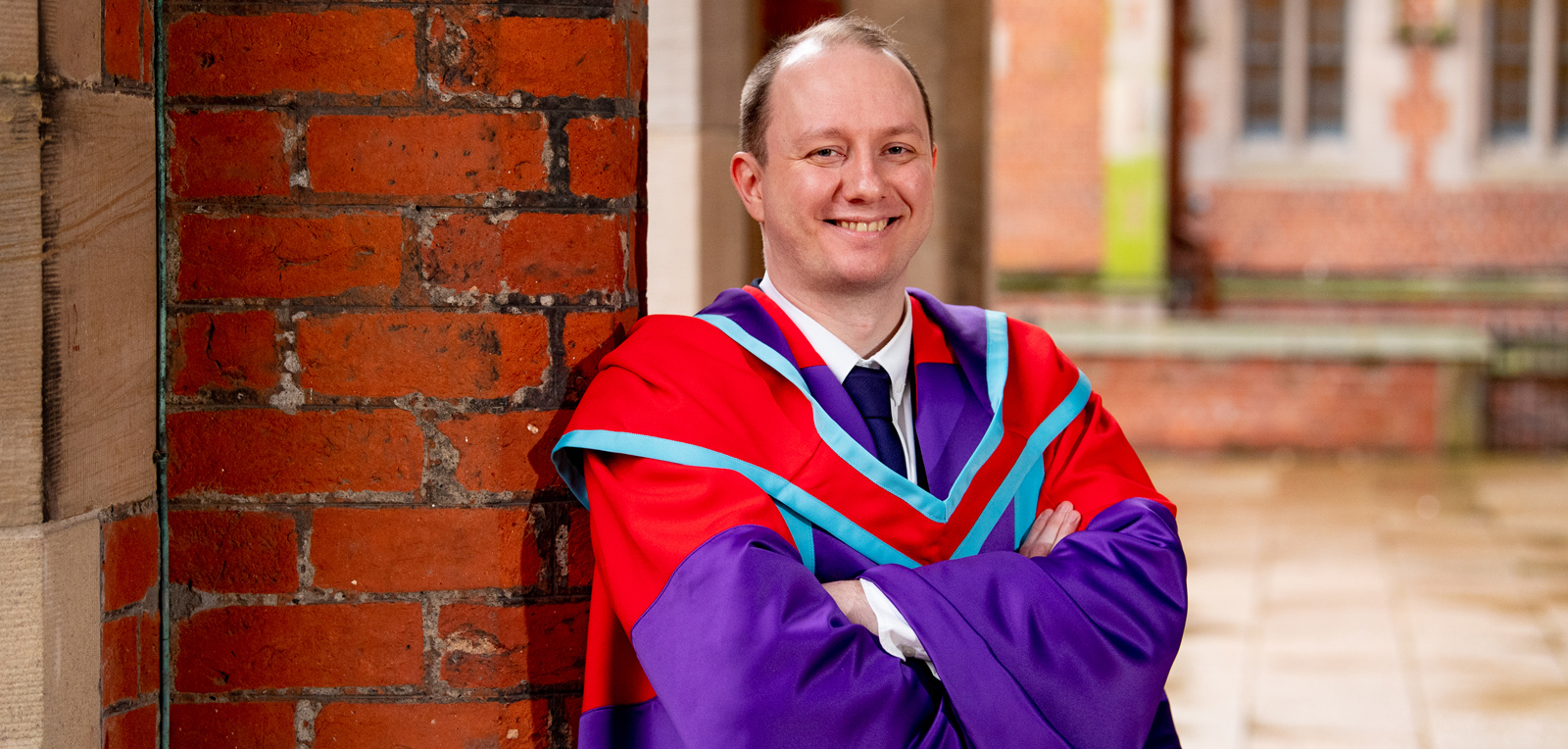 This will be Andrew's fourth graduation ceremony having obtained an Access Certificate (AAA), an LLB (First Class Honours), an LLM (Distinction), and now his PhD at the University.
Speaking about his experience at Queen's, Andrew said: "I never believed that I would have been at Queen's for ten years, but I have enjoyed every moment of it. Every graduation has marked my growth as a student, as a person, and now as a professional. It has been a long road but I have met so many great people along the way and my journey has been incredibly rewarding."
Originally from the Shankill Road in Belfast, Andrew left secondary school abruptly following a bad experience with a teacher and a lack of support from his school. He struggled for three years to find a suitable job and had to work as a part-time cleaner in Belfast City Centre. Following a chance encounter with The Prince's Trust at the height of the economic crisis, Andrew was directed to an educational charity which helped him find his way back into education and to Queen's, through a widening participation course at the University.
Ten years later, Andrew has just taken up post as a full-time Lecturer at the School of Law. In addition, he is now the Access Coordinator for the Faculty of Arts, Humanities and Social Sciences at Queen's, working with further education colleges to provide effective solutions for mature students who want a second chance to succeed in education.
Andrew has also been involved with other widening participation programmes during his time at the University, including the Queen's Senior Academy and the Pathway Opportunity Programme. Recently, he also reconnected with The Prince's Trust and aims to help them spread a positive message about education and the many different options that are out there for young people who are in need of support.
Shortly before finishing his PhD, Andrew established a new prize at the School of Law – The Andrew Mark Godden Prize – to recognise the achievements of young people who have overcome the same barriers that he once faced.
He commented: "I was awarded the James MacQuitty Law Scholarship for my Master's degree, without which postgraduate study would have been very difficult for me. I also received so much help and advice from staff over the years, not only professional but also personal, as a result of which I now have great relationships with colleagues.
"My prize recognises the achievements of the best LLB student from a widening access background. In my experience, students who enter university from less traditional routes often have to overcome additional barriers in order to succeed, so those who do succeed are worthy of special praise.
"The prize was awarded for the first time in October 2019 and, by sheer coincidence, the winner comes from a remarkably similar background to myself, so it is great to be in a position where I am able to pay it forward. I hope that I will be able to make a bigger contribution in the future through my research on poverty and development and my advocacy for widening participation."