Sustainability at Queen's
Queen's Net Zero Journey
The University is delivering a wide range of programs across the Queen's community to embed sustainability and address the Climate Crisis. However, we are very much at the start of our sustainability journey and further action is needed. This is why Queen's University are committed to embedding the Sustainable Development Goals (SDGs) within our next Corporate Plan and our response to the Climate Crisis will involve the roll out of our Net Zero strategy. Below is a quick overview of some of our key activities to date.
University Carbon Management Plan
The University Carbon Management Plan, which commenced in 2010, sets out the University strategic commitment to reduce carbon emissions across the institution, setting a carbon target of 21% by 2021.
This target was achieved in 2017-2018 with a 22.71% reduction in emissions, an important achievement as part of the University's journey to become a net zero carbon organisation.
Over £10 million has been invested to date in over 80 energy efficiency projects and more than half of the electricity consumed by the University is now generated on site using low carbon technology.
This has resulted in reducing our environmental impact, a substantial operational cost saving and provided opportunities and support for research and teaching.
Net Zero Strategy
Queen's University are currently developing the next stage of our carbon strategy.
We have now commenced development of the next stage of our carbon strategy – to achieve net zero emissions - which will be a key pillar in the University's forthcoming Corporate Plan. Our Net Zero strategy will develop and evolve in the coming months with input from our Queen's community and local stakeholders.
Sustainable Travel
Our University Travel Plan sets out our approach to increasing the uptake of sustainable travel to and from the University.
The most recent travel survey results (Feb 2017) show that 69.4% of staff and 86.6% of students travel sustainably, and increase in the number of staff and students choosing to travel to the University by bus, train, bike or foot.
A number of measures have been put in place to increase sustainable travel including substantial provision of cycle parking, lockers and changing facilities, public transport incentives, bike sales and cycle to work scheme.
In 2018 the University was successful in being the first employer in the UK to achieve the Cycle Friendly Employers accreditation, and the first to achieve the Gold standard.
We are currently progressing a number of projects to improve our cycling infrastructure and provision around the Queen's Quarter in partnership with local stakeholders.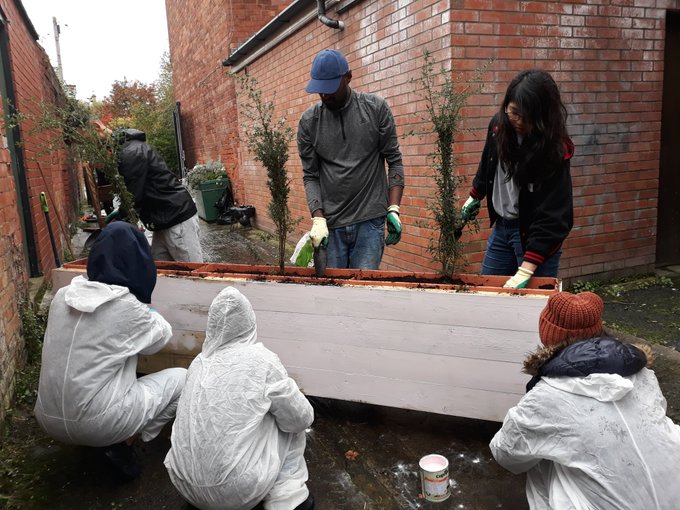 Empowering and Engaging our Queen's Community
Alongside infrastructural changes across the University estate, we have developed a number of programs to enable and empower our University community take action.
Sustainability Champion Network
Our Sustainability Champion Network is a mobilised network of staff and students actively encouraging others to take on positive environmental actions on a day to day basis and creating and delivering sustainability projects in their own areas. Students also have the opportunity to achieve an additional employability accreditation to their degree, through environmental volunteering activities across the campus.
Queen's Green Fund
The Queen's Green Fund was launched in February 2019. The £20k University fund enable staff and students to apply for grants of up to £1,500, to help them bring their green ideas to life on campus, and support the wider objectives of the University's commitment to the environment. Over 40 projects covering a wide range of environmental initiatives from staff and students across the University, received funding, these covered a wide range of initiatives focused on taking action on campus.
Nurture and Grow
Staff, students and residents from the local community have joined forces in an effort to enhance the range of habitats within Queen's community, ensuring South Belfast is providing a home for wildlife and enabling our local community to pull together and take action for climate change.
Working together they have designed, planned, and created a range of biodiversity schemes resulting in a network of biodiversity hotspots and carbon sinks in the local community.
These include the Lennoxvale Tree Nursery (a collaboration with San Souci Residences Association and Conservation Volunteers), Alleyway Transformation Project (led by Volunteer SU) and the Green at Queen's Allotment (student managed allotment at Elms village).
This program was recently recognised by the UK and Ireland Green Gown Awards, winning the Student Engagement Award. For further information, including a short video, visit our Biodiversity page.