Nurture and Grow Programme
Green Gown Award 2020 Winner
Queen's University Belfast are delighted that the 'Nurture and Grow Programme: Connecting People Through Nature' was selected as the winner within the Green Gown Awards Student Engagement Category.
Green Gown Award Winner
Nurture and Grow Programme
Queen's University staff, students and residents from the local community have joined forces in an effort to enhance the range of habitats within Queen's community, ensuring South Belfast is providing a home for wildlife and enabling our local community to pull together and take action for climate change. As part of our application to The Green Gown Awards, a video was created to showcase the range of projects involved: Elms Allotment, Lennoxvale Tree Nursery, Medicinal Garden, Alleyway Transformation Project, DKB Orchard and Bio: Diverse City.
Lennoxvale Tree Nursery
Staff, students and local residents have rejuvenated a vacant brownfield site into a nursery growing native trees – 1,000 trees will be nurtured over the next two years, all of which will be planted within Belfast, as part of the Million Trees for Belfast Campaign. This project was imagined by the local San Souci Residential Group and local students, who are now responsible for the long-term management of the site with the support of The Conservation Volunteers NI.
---
Biodivers: City Project
Biodivers:City is a student led Living Labs project which aim to complete a biodiversity audit of Queen's campus, ensuring Queen's Estates have a firm understanding of the wildlife present within Queen's, allowing habitats within campus to be managed, enhanced and protected. Collaboration from students across the University has been achieved, and funding from Queen's Green Fund that was received for the project will be used to implement the Biodivers:City report recommendations.
---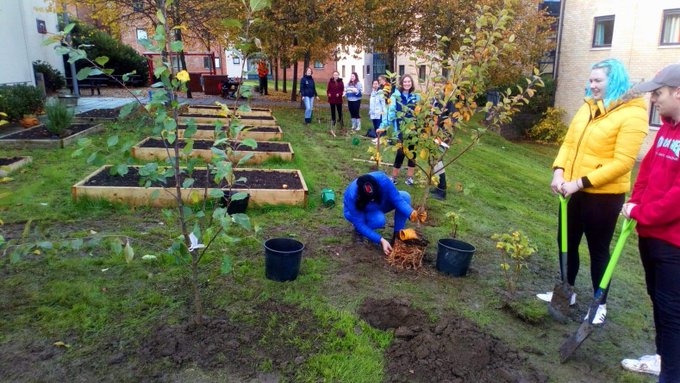 Green at Queen's Elms Allotment
The Green at Queen's Allotment idea was created by a group of student volunteers, who worked in partnership with The Conservation Volunteers to launch the allotment in 2019. They have successfully harvested the first of their vegetables and are currently planning the creation of a polytunnel at the site. To ensure the long-term legacy of the allotment, the students created the Green at Queen's Society.
---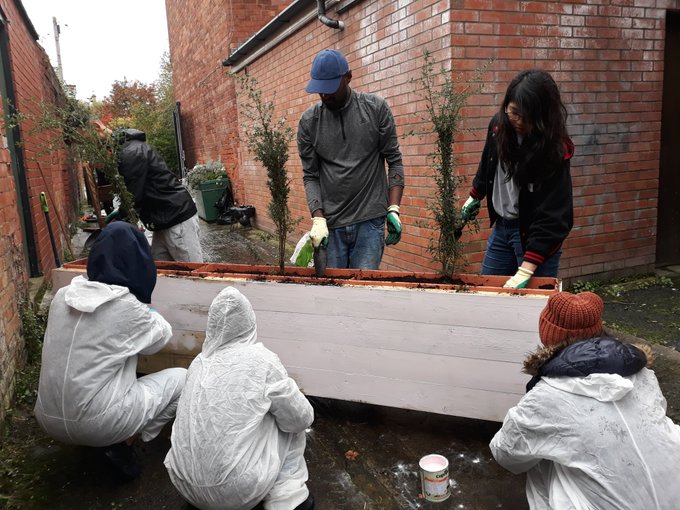 The Alleyway Transformation Project
The Alleyway Transformation Project works with local resident groups to transform unused spaces within South Belfast into vital community spaces with seating and planting. Queen's students, staff and local residents have tided, painted and planted two alleyways – Miracle Way and Caledonia Alley. The volunteers work with Belfast artists to create murals that reflect the local community spirit. Further, the student volunteers and residential groups work in partnership with the 'Live Here Love Here' Campaign to ensure the area is continually maintained and enhanced via clean ups throughout South Belfast.
---
Medicinal Garden
The Queen's Medicinal Garden brought academics, lab technicians and students from our Faculty of Health Sciences together. Academics contributed their knowledge on the plants which are core in their research drugs. This information was collated by a group of staff, students and the Queen's gardening team to determine a list of suitable plants for the medicinal garden. The garden and interpretation board is located on a busy public walkway which links the University's Health Sciences Campus to the City to the Belfast HSC Trust City Hospital site. This information has also been integrated into some undergraduate teaching as part of their lab activities.
---
DKB Orchard
The School of Chemistry and Chemical Engineering recieved £200 from the Green Fund to produce a digital timeline of their apple orchard. The below videos show the annual lifecycle of their apple trees from dormant, in blossom, early fruit, in leaf and fruit ready to be picked.
---
Green Flag
Queen's University Belfast has been awarded a prestigious Green Flag Award in the 2019 Green Flag Awards – becoming the first university in Northern Ireland to be recognised by the scheme. Hosted at Queen's this year on Tuesday 23 July 2019, the Green Flag Awards are judged annually by a panel of experts who volunteer their time to assess the management plans and the applicant sites through a rigorous judging process.
The Green Flag Award is the benchmark national standard for parks and green spaces in the UK. It was first launched in 1996 to recognise and reward the best green spaces in the country and is an internationally recognised certification for environmental quality management for parks and open spaces. Keep Northern Ireland Beautiful, an environmental charity, runs the scheme in Northern Ireland.
The University achieved Green Flag status for its Lanyon site by having a site management plan in place and ensuring compliance with a range of strict criteria including horticultural standards, cleanliness, environmental management, biodiversity, community involvement, and safety standards.
Queen's also received its first Green Heritage Award for the Lanyon site in recognition of the site's celebration and promotion of unique elements of its heritage. Paul Wallace, Head Gardener in the University's Grounds and Gardens team, also achieved special recognition at the awards ceremony, where he was awarded 'Employee of the Year'.
For more on this, click here.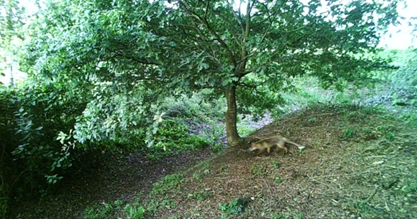 Queen's Wildlife Cameras
A number of Staff and Student initiatives, funded via the Green Fund, are ensuring Queen's Campus is providing a range of species with 'homes'.
Queen's University aims to be a world leader in environmental and sustainable activities by encouraging and supporting environmental behaviour change amongst staff and students.
To achieve this, raising awareness of their local environment is a priority. Queen's Wildlife Camera project, undertaken by the Porters, aims to engage and educate staff, students, and the local community about the importance of 'green' spaces within urban environments.
So far a range of species have been spotted! Can you identify any in the video?