GREEN AT QUEEN'S: NEWS AND UPDATES
Development Weeks: Carbon Literacy Training
We are back with more Carbon Literacy Training.
Our first three programmes of Carbon Literacy Training were so successful that we are offering students the opportunity to participate in a condensed training course as part of QUB Development Weeks.
The course is set to run over the following dates:
Module 1 Online- Tuesday 24th May, 10:00 - 12:00
Module 2 Online- Friday 27th May, 10:00 - 12:00
Module 3, Online- Monday 30th May, 10:00 - 12:00
To sign up to the course, follow the link.
For more information on Carbon Literacy Training, visit our page.
---
Staff Carbon Literacy Training course
QUB Carbon Literacy Team, with the help of Keep Northern Ireland Beautiful, plan to host a summer Carbon Literacy training course for staff at the end of June/start of July.
Carbon Literacy is defined as: "An awareness of the carbon costs and impacts of everyday activities and the ability and motivation to reduce emissions on an individual, community and organisational basis."
Understanding the link between carbon emissions and climate change is an important part of knowing how we can all adapt our behaviour and protect the world.
The dates for the staff carbon literacy course are as follows:
Module 1, Online- Thursday 23rd June, 14:00 - 16:00
Module 2, Online- Thursday 30th June, 14:00 - 16:00
Module 3, Online- Thursday 7th July, 14:00 - 16:00
If you think you would like to attend the course but aren't sure what Carbon Literacy is, then have a look at our page for more information.
Register interest for the course by emailing the sustainability@qub.ac.uk account.
Read more
Read less
---
Irish Green Labs Network Launch
Launched on Earth Day (22nd April), the Irish Green Labs (IGL) Network is a new resource for laboratory professionals on the island of Ireland to engage in conversations on sustainability and innovative green lab solutions. Queen's University Belfast is now a member of the Irish Green Lab Network. This membership, alongside the sustainable lab certification programme LEAF, will allow labs in Queen's to target the negative impacts that lab activities can have on the environment. The specific target climate actions included in the Irish Green Labs membership include Energy, Plastic, Chemistry and Water. This membership will help the labs at Queen's to embed the United Nations Sustainable Development Goals in their research and teaching, overall aiding Queen's in becoming a more sustainable university.
Have a look at their new website here.
---
Repair Café Belfast
Repair Cafe Belfast is a volunteer-led project running pop up events across the city, helping people get their things fixed. The kinds of things which might be fixable at a repair café include small electronics; simple computer problems; toys with broken wheels; torn clothes, missing buttons, broken zips; small items of furniture; bicycles; books; or other household items.
Date: 14th May 2022
Time: All day- book a repair slot on the website
Location: Vault Artists Studios Belfast, 4-84 Tower St, Belfast BT5 4FH
---
Pedometer Challenge
Registration for Queen's annual Pedometer Challenge is now open. The challenge will run for four weeks between Monday 16th May and Sunday 12th June.
The maximum number of participants per team for the Team Challenge is six, including the team captain. Staff are invited to get a team together, complete with team name.
Individual Challenge Registration.
The challenge will run as follows:
Week 1 – Monday 16th May to Sunday 22nd May
Week 2 – Monday 23rd May to Sunday 29th May
Week 3 – Monday 30th May to Sunday 5th June
Week 4 – Monday 6th June to Sunday 12th June
Every Monday, the Team Captains and those participating in the Individual Challenge will receive the link to MS Forms to register the team scores and individual challenge scores.
May is National Walking Month and the Pedometer Challenge is a great opportunity to get out and explore your local area and reconnect with colleagues by taking a stroll over lunch. Walking is an excellent exercise and walking regularly can keep us fit and healthy. Just 20 minutes of brisk walking a day can reduce the risk of a number of health conditions.
Read more
Read less
---
No Mow May
It's 'No Mow May' and all you have to do is put your lawnmower away and let the wildflowers in your garden bloom. This will provide vital nectar for our hungry pollinators.
Have you spotted QUB's no mow areas..?
Plantlife are also asking you to leave your lawn unmown for the month of May and let the flowers bloom on your lawn. Then, at the end of the month, find out how many bees your lawn can feed with the 'Every Flower Counts' Survey.
For more information click here: https://www.plantlife.org.uk/everyflowercounts/.
---
Insight into Management Workshop
We had a great time helping out at the QUB Careers Insight into Management Workshop. Students were debating, negotiating and working as teams on a pollution incident scenario, roleplaying as many different stakeholders, such as the Environment Agency and the media. It's great to see students involved in events again, and hope everyone enjoyed themselves at the workshop.
---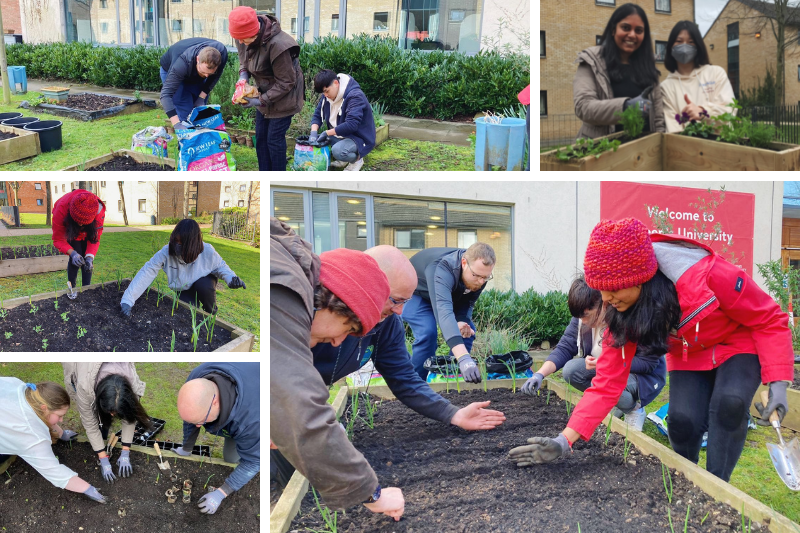 Allotment Training at Elm's BT9
Queen's Accommodation have been consistently hosting allotment training for student gardeners up at Elm's Village. Students have been given the opportunity to do some gardening at the allotment behind the Treehouse in Elm's BT9, with the help of the Conservation Volunteers. Students have completed a number of tasks so far, such as identifying some of the plants already in the allotment, tidying the existing soil patches and adding compost so the students could plant some onion and garlic bulbs. Students have also learned how to use the gardening tools correctly, how to make their own planters for herbs and flowers and recently planted potatoes, carrots and cabbage.
Thank you to Elm's BT9 for organising the training and for The Conservation Volunteers for coming to teach the students all about the allotment.
---
Tree planting at Elm's BT9
On Wednesday 16/03/2022, the Lord Mayor of Belfast helped QUB staff and students and the Sans Souci Residents Association as they planted trees at Elm's Village.
This journey started just over two years ago, when students and Sans Souci residents collected acorns from Belvoir Forest. Since then, local residents and the volunteers at Lennoxvale Tree Nursery on the Malone Road have looked after the acorns and helped them grow into oak saplings, which have been replanted at Elm's Village.
The University is a proud partner of the One Million Trees initiative managed by Belfast City Council. Through this project, Queen's will help with the project's overall aim of planting one million native trees across Belfast by 2035.
The Lennoxvale Tree Nursery is just one of a number of 'Nurture and Grow' initiatives taking place across the University which bring together staff, students and members of the local community. These projects aim to increase local biodiversity and support nature in an urban setting.
---
The Big Spring Clean Up, 2022
On Wednesday 06/04/2022, Queen's staff and students, as well as members of Live Here Love Here and Forward South Partnership collected over 15 bags of rubbish from around the Holylands and Stranmillis areas.
We had a great turnout, with over 40 students coming to help clean up the streets around the Queen's Quarter. And afterwards, everyone came back to The Geography Building to enjoy pizza and a catch up.
Thank you to Mechanical and Aerospace Engineering, Volunteer SU, Live Here Love Here and Forward South Partnership for helping organise this event, we thoroughly enjoyed the day and are so glad we can host in-person events for students again.
---
LEAF (Laboratory Efficiency Assessment Framework)
A pilot lab sustainability program, called LEAF has recently been launched at Queen's University, exploring how labs across campus can become more aware of their sustainability. LEAF is a sustainable lab certification program, helping labs to gauge if they are following sustainable practices in their teaching and research. The cross Faculty pilot has already started, with Professor Alan Stitt as academic lead.
The program will aim to embed good sustainability practises within participating University laboratories, with a view to rolling out across all labs at the University.
The following schools are participating in the pilot:
School of Pharmacy
School of Medicine and Biomedical Science
School of Biological Sciences
School of Maths and Physics
School of Chemistry and Chemical Engineering
For more information on how to get involved, please contact sustainability@qub.ac.uk.
A recent story has been written by one of our senior lab technicians, Maria Rea (PGJCCR), on the importance of making our labs more sustainable. Maria has worked at Queen's as a technician for over 39 years, so has learned to adapt to change as lab equipment and technologies advanced.
Read more
Read less
---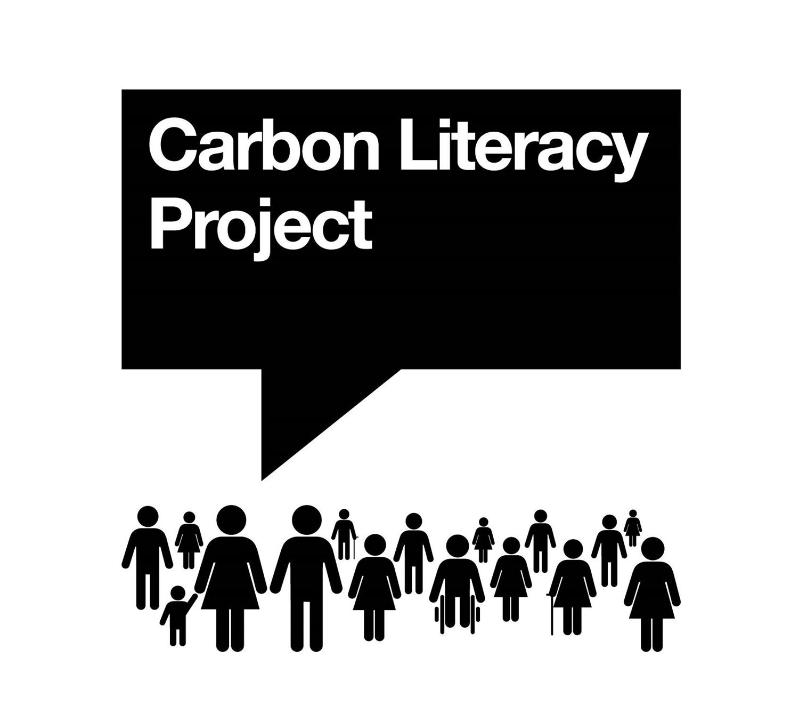 Carbon Literacy Training
Queen's University Belfast and Keep Northern Ireland Beautiful have developed a Carbon Literacy training course tailored to the requirements of students and staff in Northern Ireland. The course is bespoke to Queen's and accredited by the Carbon Literacy Project.
The training offers students an awareness of climate change science, and the climate impacts of our everyday actions, as well as building confidence, knowledge, skills and motivation to empower individuals and organisations to play a crucial role in responding to the climate crisis. Students then complete a Carbon Literacy Evidence form which is sent to The Carbon Literacy Project to become Carbon Literate.
We will be offering a condensed course over the Development Weeks from 23 May – 2 June 2022, with sign ups available soon. Contact sustainability@qub.ac.uk for more information.
We have now successfully completed 3 Carbon Literacy Training courses, with over 150+ students now certified as Carbon Literate.
For more information, click the Carbon Literacy link.
Read more
Read less
---
Big Loop Bike Hub
The Big Loop Bike Hub at Queen's has been up and running since October, gaining traction with staff and students. This is the latest initiative that encourages an alternative method to travelling by car, helping to reduce congestion on campus and lower staff and student carbon footprints across the university. So far this year, additional cycle parking for 124 bikes has been installed across the campus, including new secure cycle parking. The Bike Hub offers a wide range of services, such as: leasing and purchasing refurbished second-hand bikes, safety equipment, puncture repair and more.
For more information, including booking bikes in for services, visit the hub's webpage or call into the Bike Hub itself, located on Level 1 of the Administration Building (opposite the McClay Library).
---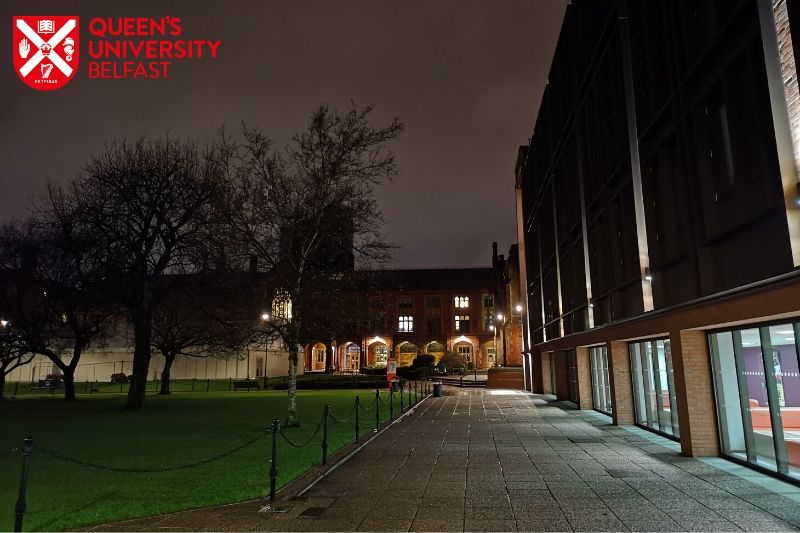 Teams Sustainability Champion Network
To keep up to date on all things Green at Queen's make sure you join the Teams Sustainability Champion Network.
This network provides you with the opportunity to chat with fellow green minded people, ask questions, discover what resources and events are taking place, and finally, read the latest Green at Queen's E-Zine!
---
Planning the Post-Pandemic City Lecture Series
The Post-Pandemic Lecture Series is back! We have some new dates and new topics to announce.
Wednesday 23rd February, 17:00 GMT- Lior Steinberg will discuss his thoughts on Imagining Future Cities.
Wednesday 2nd March, 16:00 GMT- Camilla Andersen will discuss her research on mobility, liveability and urban innovation.
Wednesday 30th March, 17:00 GMT- Alison Sant, from the Studio for Urban Projects, will discuss her new book 'From the Ground Up: Local Efforts to Create Resilient Cities'
To book a place on the talks, please head over to Eventbrite.
Thanks to Dr. Neil Galway from QUB Planning for organising the talks. If you have any questions, don't hesitate to send Neil an email- n.galway@qub.ac.uk. This lecture series is a great way to look at Sustainable Cities from a different point of view, raising awareness for very relevant topics.
---