NEWS AND UPDATES FROM GREEN AT QUEEN'S
Plastics - Friends, Foes and Facemasks
On Monday 14 September, between 12 - 1pm, join experts within the plastics field from Keep Northern Ireland Beautiful and the Polymer Processing Research Centre at Queen's University Belfast to discuss the evolving use of plastics within today's society.
For further information, and to register, please click here.
When BBC's "Blue Planet II" was broadcast in October 2017, the series narrator and naturalist Sir David Attenborough added his voice to calls from people across the world to take plastic pollution seriously and the intervening period has seen increased discussion and debate around plastics and strident calls for plastics, and single use items in particular, to be banned.
Yet, in less than a year, since the virus which causes the respiratory infection Covid-19 was first detected in in the city of Wuhan, China in late 2019, the safety and wellbeing of individuals and entire populations has rested on plastics for the manufacture of a host of personal protective equipment and medical devices and we now face the question of how to protect human life without compromising our ecosystem.
Our reliance on plastics raises challenging technical and ethical questions for us as individuals and societies amid reports of second waves of Covid-19 and increasing risk of outbreaks of other viruses yet to be detected.
But what are plastics? How are they used in keeping us safe? What harm can they do? Why are don't we use something else? How are facemasks made?
To mitigate the risk plastics pose to the environment and address these questions, the School of Mechanical & Aerospace Engineering's Polymer Processing Research Centre is pleased to invite you to an online event designed to support better informed decision making on the use and disposal of plastics and improve understanding of the important role they play in healthcare.
Read more
Read less
---
Go EastSide 'What can we grow in EastSide?'
Join EastSide for the first in a series of webinars which will take place in Autumn 2020 to raise awareness and promote 'green' issues, hosted by EastSide Greenways.
The first webinar taking place on Thursday 17th September at 6.30pm will focus on food sustainability and security with the following speakers attending;
Professor Chris Elliott – Queen's University Belfast Global Food Security
Joy Alexander – DAERA Future Food Strategy
Louise Ferguson – The Larder Food Bank
Grainia Long – Belfast City Council Resilience Commissioner
For more information, and to register, please click here.
The webinars will engage key stakeholders and policy makers on the themes of sustainability and resilience including food, housing, energy and fuel. They will explore the fundamentals of life which are required to create long term social, economic and environmental impact.
Read more
Read less
---
UN Sustainable Development Goals at Queen's: Survey
The University is committed to helping to deliver the UN's 17 Sustainable Development Goals (SDGs). The SDGs are aimed at achieving a better, more sustainable and equitable future for us all by 2030.
We would like to know what you think Queen's can do to further progress its work towards these ambitious and important goals. We're interested in ideas relating to research, teaching and learning, schools and community outreach, the University's buildings and grounds, and much more. If you're a member of staff or a PhD student, please take a few minutes to find out more and to tell us what you think by completing our short survey. The deadline for survey responses is 5pm, Wednesday 16th September.
---
Sustainability and Climate Change Series
The School of Biological Science are launching a new online series entitled 'Sustainability and Climate Change in Northern Ireland'!
This series focuses on the sustainability work being undertaken to tackle climate change and sustainability both within Northern Ireland and globally.
Episode three consisted of Queen's Environmental manager, Sara Lynch, chatting about what Queen's are doing to keep their staff and students carbon footprint down.
You can watch this episode here.
---
Sustainable Fashion: Second Hand September
It is Oxfam's Second Hand September Campaign! They want to encourage you to think green this September, and embrace sustainable fashion by buying in second hand stores.
The Guardian's top picks of the best online places to buy second hand kids clothes, discounted high end, vintage and more can be found here.
---
Use your Reusable Cup at QUB!
If you are back working on our beautiful Queen's campus, or if you are planning to get back over the coming weeks, make sure you return with your reusable coffee cup!
Junction, Hope Café and Clements at the MBC are all currently open and all accept reusable cups.
Reusable containers are "safe" to use during the pandemic, as long as they are "washed properly", according to scientists. More than 100 scientists from across the globe have signed a statement intent on providing reassurance to the public that it is safe to use reusable items such as cups and bottles, provided they are thoroughly washed.
---
Grow Your Own (GYO) Competition
Staff and Students who have taken part in Queen's GYO competition are now getting to enjoy all their wonderful fruit and vegetables!
A special well done to the student Green at Queen's Society who have just completed their first harvest of Elms Allotment – they have produced garlic, onions and potatoes for QUB staff and students.
All staff and students who have taken part in this competition are winners but do stay tuned to find out who the best growers in QUB are - prizes will be given!!
You can track what your colleagues are up to by joining the QUB Sustainable Champions Teams Group!
---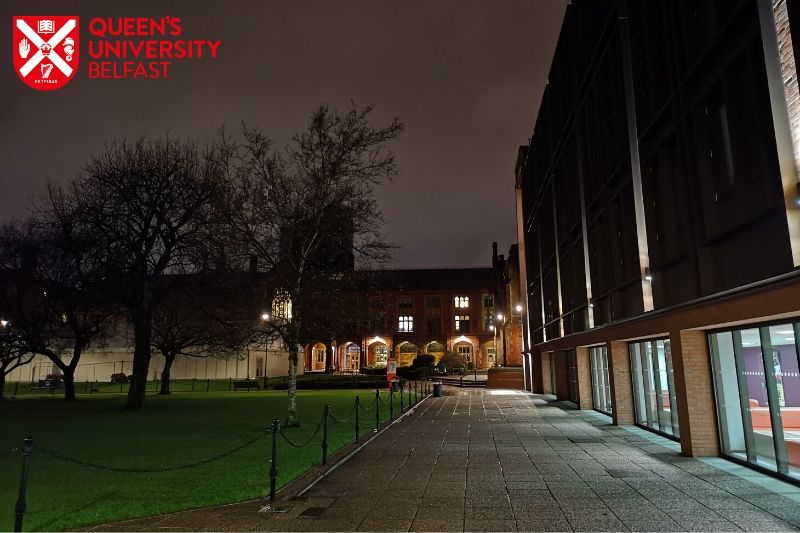 Teams Sustainability Champion Network
To keep up to date on all things Green at Queen's make sure you join the Teams Sustainability Champion Network.
This network provides you with the opportunity to chat with fellow green minded people, ask questions, discover what resources and events are taking place, and finally, read the latest Green at Queen's E-Zine!
---
Climate Conscious Living
Are you working from home and looking for top tips on how to green your lifestyle?
Check out our Climate Conscious Living tips here. Or you can see a different tip via the Staff Round Up every Monday!
---
Queen's Green Award - Register your Interest!
Queen's new environmental pilot scheme registration is now open.
The new programme, Queen's Green Award, will help Schools and Directorates create a bespoke long-term action plan focusing on the greatest opportunities for environmental improvement within their area. For more information on the new programme please click here.
To register your interest in the Green at Queen's Programme please email carbonmanagement@qub.ac.uk.
---