Sustainability Campaigns and Events
Queen's Sustainability Campaigns and Events
This page is dedicated to the events hosted by the Sustainability Team during campaigns throughout the year. This is also a great place to highlight the volunteer work that staff, students and the local community undertake as part of the campaigns.
European Week for Waste Reduction
19th - 27th November
As part of the European Week for Waste Reduction, the Sustainability Team, in association with Belfast City Council, hosted a number of events in order to raise awareness for the campaign and highlight the need for Sustainable Textiles in a world where purchasing fast fashion dominates consumer trends.
Panel Discussion: 'Does fashion have to Cost the Earth?
22nd November 2022
As part of EWWR, the Sustainability Team and Belfast City Council hosted a panel discussion that allowed staff, students and our community to join key leaders in our fashion and sustainable textiles industry to discuss the topic: 'Does Fashion have to Cost the Earth?'.
Panelists included Dr. Laura Steele from Queen's University School of Management, Kathryn Tims from Wrap, Alison Gault from Ulster University and Becky and Connor from Another World Belfast.
Quotes from our panellists:
'Make a difference by making good decisions' - Alison, UU
'If more of us are doing it imperfectly, we will still be moving forward' – Connor, Another World Belfast
Some take aways from the panel:
Slow down our consumption- have a think before buying new clothing: do you really need it? Where has the clothing come from to get to that shop?
Only buy what we need- don't purchase clothing for the sake of it.
Learn to care for our clothes. Repair clothes where possible- use the skills of a seamstress if you can't sew yourself- this helps support local businesses as well as saving you money needing to buy new clothes!
Ask questions from the brands we buy from- are they being environmental and ethically responsible for the fashion they provide us?
Try Preloved clothing or rent your clothes- https://www.hirestreetuk.com/category/ms-capsules.
Try not to be heavily influenced by marketing campaigns- they are designed to draw you in.
Switch off your notifications from big brands and retailers- don't let them influence what you buy!
Read more
Read less
---
Pop Up shops in One Elmwood
23rd November 2022
Another World Belfast offered a pop-up shop during EWWR, where they priced clothing at either £10 for one item of clothing or £5 per item if you bring an item of clothing to swap. They had a very busy day at the stall with lots of people interested and purchasing items. They have even had some students visiting their Swap Shop on Winetavern Street in Belfast since the event to swap clothes!
Rags Vintage Clothing also offered a pop-up shop during EWWR, with set price rails of £5, £7 and £10. They also offered 20% for the week, which was brilliant for helping people in the run up to Christmas! The day was very successful, with lots of happy students purchasing vintage clothing at massively reduced prices!
---
Holylands Litter Pick
23rd November 2022
In association with SU Volunteer and Community Engagement, the Sustainability Team hosted a community litter pick as part of EWWR. Our Autumn Community Clean-up, which took place in the Holylands and Stranmillis, went incredibly well and all our hard-working volunteers collected 13 bags of waste! We were lucky to have some local residents join in the litter pick, and even had some pizza in the SU afterwards as a reward.
Hear how important events such as our Autumn Clean-ups are from Rachel Vaughan, Project Support Officer on the Sustainability Team, in a new video created by Queen's Staff.
---
Showing of 'The True Cost' documentary
24th November 2022
In partnership with Belfast City Council, the Sustainability Team hosted a screening of the movie 'The True Cost' which delves into the world of fast fashion.
This is a story about clothing. It's about the clothes we wear, the people who make them, and the impact the industry is having on our world. The price of clothing has been decreasing for decades, while the human and environmental costs have grown dramatically. The True Cost is a ground-breaking documentary film that pulls back the curtain on the untold story and asks us to consider, who really pays the price for our clothing?
If you missed the showing, The True Cost documentary is available online via YouTube: https://youtu.be/NHp1ucQvQ9I.
---
Annual Holiday Switch Off
22nd December - 3rd January 2023
At Queen's, we believe that reducing emissions in response to the growing threat of global climate change is imperative. Eevery year, we encourage you to work together more collaboratively to create a sustainable future, by switiching off computers, lights and equipment (where possible) over the holiday period.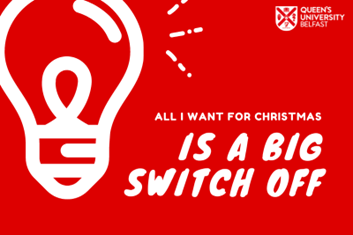 Annual Holiday Switch Off
22nd December 2022 - 3rd January 2023
The Sustainability Team are encouraging you to do what you can to make a difference by switching off before you leave for the holidays. The impact of small changes and actions by a large number of us working together as a staff community can make a big difference.
---
Fairtrade Fortnight 2023
27th February - 12th March
During Fairtrade Fortnight, join us in spreading a simple message: choose Fairtrade now and help save our favourite foods.
Did you know cocoa, bananas and coffee could soon be much more difficult to find on our shelves?
Climate change is making crops like these harder and harder to grow. Combined with deeply unfair trade, communities growing these crops are being pushed to the brink.
But here's the good news. More of us choosing Fairtrade means extra income, power, and support for those communities, as they work to build sustainable and prosperous futures.
So not only is choosing Fairtrade best for people and planet, it could help save everyday treats like chocolate bars, bananas and a warm cuppa!
Stay tuned in the New Year for events happening that you can get involved in!
Green Week
6th - 10th March 2023
Green Week is an annual campaign which aims to raise awareness of the importance sustainability and encourage positive change among staff and students through a week of 'green' activities.
Stay tuned in the New Year for events happening that you can get involved in!
Active Travel Month
The whole month of June
June is Active Travel Month and Queen's encourage staff to go green by cycling, walking or taking public transport into work.
During Active Travel Month, Queen's run a number of events, including 'Bike to Work Week' and 'Walking Week'.