Transport and Travel
At Queen's University, we are committed to reducing our environmental impact. In support of this commitment, a Queen's Travel Survey is undertaken every two years. This survey allows us to understand how we might encourage more students and staff to travel more sustainably to and from campus.
Travel Survey Findings 2018
Travel Guidance and Advice
Active Travel Month
June 2023
June is Active Travel Month and Queen's encourage staff to go green by cycling, walking or taking public transport into work. During Active Travel Month, Queen's run a number of events, including 'Bike to Work Week' and 'Walking Week'.
View the Bike Week programme of events here.
Travel Cards
Staff and student travel cards are available from Translink
Staff Travel to Work Loan Scheme
The University offers salaried employees an interest-free loan towards the purchase of an annual travel card. A loan of up to £2,500 is available to purchase a travel card for the purpose of commuting to work. The loan is repaid via 10 month salary deductions. To download further information, terms and conditions, and an application form, click here.
Request an aLink quote
Translink offers an annual travel card, which includes 20% discount on your specified bus or train journey and free weekend travel.
To request an aLink quote from Translink please click here.
Students
To qualify for discounts on public transport (50% off bus and rail journeys from 6 March 2023), students should purchase a Translink yLink card. For further information click here.
Read more
Read less
---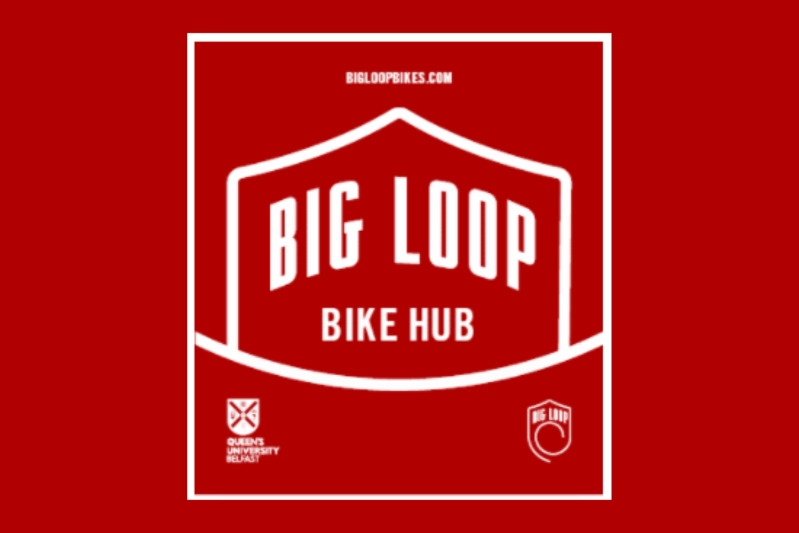 Big Loop Bike Hub
In partnership with the Turnaround Project and their 'Big Loop Bikes' initiative, Queen's University Belfast introduced a Bike Hub
Would you like a bike to get around campus quicker and easier? For £84, you can get a new bike for the academic year and hand it back again next summer!
Our new Bike Hub is located in Level 1 of the Administration Building, opposite the McClay Library. The Hub offers lease bikes, refurbished second-hand bikes, puncture repair, safety equipment and much more.
The Big Loop Bike Hub a range of services for old and new cyclists alike to help you get around campus faster, easier and safer.
Students can lease a bike for the academic year
Staff and students can purchase a refurbished second-hand bike
A range of servicing options are available, including puncture repair, gear and brake fixing and full service availability
Book a service through the Hub's Eventbrite page
A range of cycle safety equipment can be purchased, including lights, locks and helmets
---
Bus

The university is well served by public transport, particularly Metro bus services. For a full list of Metro services, click here.

For up-to-date online timetable information, click here. A breakdown of associated costs can be found here.

ECIT/RVH Shuttle Bus

A shuttle bus, provided by the Faculty of Medicine, Health and Life Sciences, operates between Belfast City Hospital (bus stop at the side of the Tower Block) and Royal Victoria Hospital (bus stop at Royal Maternity). This service is free to staff and students on presentation of a staff/student card. Timetable details can be found by clicking here.

Translink provide a scheduled service between Elmwood Avenue (adjacent to the Students' Union) and the Institute of Electronics, Communications and Information Technology (ECIT), located in the Northern Ireland Science Park. Timetable details on this service can be found here.

Car

Queen's University aims to be a world leader in environmental and sustainable activities by encouraging and supporting environmental behaviour change amongst staff and students. Queen's Sustainable Travel Plan encourages staff and students to consider alternative travel options, including using the train, bus, walking and cycling.

Parking Permits

The University issues car parking permits for a number of parking areas around the campus. The demand for car parking exceeds the provision and the permits are issued annually, subject to the payment of a fee.

To find out how to apply for a permit, or how to update your details, please click car parking permit guide and our dedicated car parking page.

Any queries should be directed to ext. 5005 or parking@qub.ac.uk