What We Are Doing
The activities, policies and strategies Queen's University Belfast are adopting to work towards a carbon neutral, sustainable future.
MANAGING YOUR WASTE EFFECTIVELY
Managing your consumption and the amount of waste you produce, as well as looking at reducing, reusing and recycling, are elements that are paramount to reducing your Carbon Footprint. Here at Queen's we have a rigorous recycling process, with many specific bins to help manage our waste streams.
BIODIVERSITY AT QUEEN'S
Queen's University strives to improve biodiversity on campus and within the local community. Students, staff and community members collaborate regularly to help maintain the grounds in and around campus, as well as improving areas around Elm's Village BT9.
TRAVEL SUSTAINABLY AT QUEEN'S
Our University Travel Plan sets out our approach to increasing the uptake of sustainable travel to and from the University. The most recent travel survey results (2018) show that 69.4% of staff and 86.6% of students travel sustainably, and increase in the number of staff and students choosing to travel to the University by bus, train, bike or foot.
A number of measures have been put in place to increase sustainable travel including substantial provision of cycle parking, lockers and changing facilities, public transport incentives, bike sales and cycle to work scheme. In 2018 the University was successful in being the first employer in the UK to achieve the Cycle Friendly Employers accreditation, and the first to achieve the Gold standard. We are currently progressing a number of projects to improve our cycling infrastructure and provision around the Queen's Quarter in partnership with local stakeholders.
THE QUEEN'S GREEN FUND
The Queen's Green Fund was launched in February 2019. The £20,000 University fund enables staff and students to apply for grants of up to £1,500, to help them bring their green ideas to life on campus, and support the wider objectives of the University's commitment to the environment.
Over 40 projects covering a wide range of environmental initiatives from staff and students across the University received funding and these covered a wide range of initiatives focused on taking action on campus.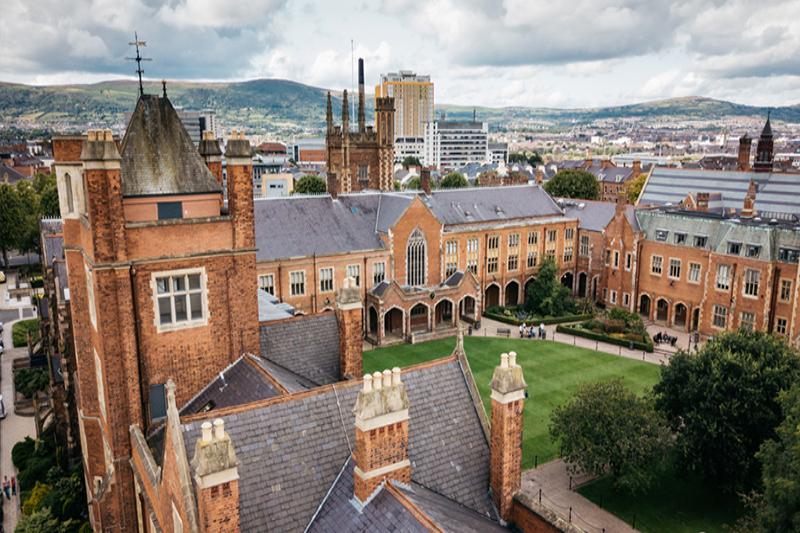 CONSTRUCTION MADE SUSTAINABLE
Queen's University is committed to ensuring sustainability is incorporated into every aspect of its operations, teaching and research. The Estates Directorate ensures all development projects are designed to a high, sustainable standard. All projects greater in value than £1 million are designed to a BREEAM Excellent standard, whilst refurbishments achieve a BREEAM Very Good rating. Development projects at Queen's take into consideration many aspects, including sustainability, energy performance, water efficiency and biodiversity.