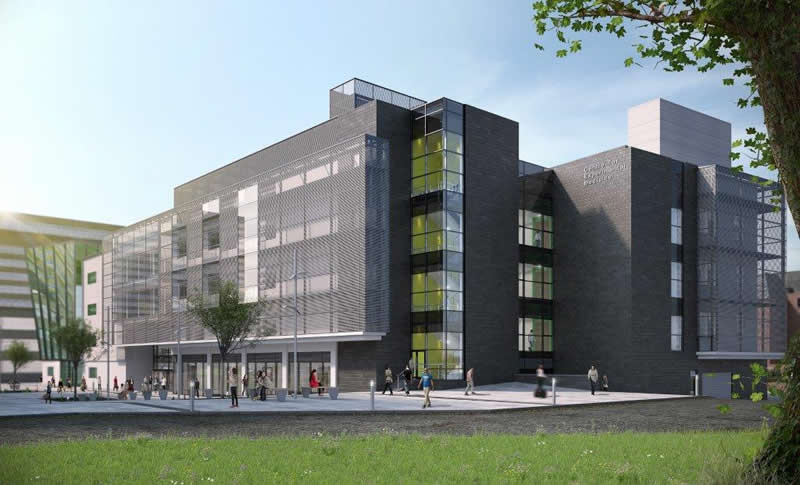 Health Sciences Campus
Updated 15/06/2018.
NORTHERN IRELAND MOLECULAR PATHOLOGY LABORATORY
Possible Impact: Construction traffic. Deliveries will use the service road to the rear entrance of the HSB to gain access to the site. All HSB staff should be aware of the construction traffic when accessing the storage enclosures at the rear of the HSB.
Possible Impact: 5 car parking spaces at the rear of the Health Sciences Building will not be not available for the duration of the works.
Removal of existing fittings and alteration works to first floor Laboratory.
Possible Impact: Some noise and vibration from pneummatic tools and hammers.
PHARMACY REFURBISHMENT PHASE 2
Possible Impact: Completing hoarding and altering parking and access arrangements. The attached drawing shows the location of the compound which will affect parking and access routes.
Internal strip out of Pharmacy Building and McClay Library.
Possible Impact: Limited noise from strip out works on ground floor hub room and on levels 2 and 3.
WELLCOME-WOLFSON INSTITUTE FOR EXPERIMENTAL MEDICINE
Possible Impact: There may be reduced access to the atrium, any restrictions will be agreed in advance with building users.
BELFAST HEALTH AND SOCIAL CARE TRUST WORKS
Mental Health Project, Jubilee Road, Belfast City Hospital site (Completing December 2018).
Possible Impact: One way traffic flow is still in place along the access road to the Health Science Building for deliveries to the rear of the building. Construction works are ongoing.
HEALTH SCIENCES CAMPUS CHP
Contractor setting up for Combined Heat and Power (CHP) enabling works contract; Investigation of services routes in basement of the MBC and external cable ducts; Contractor may commence excavations in services area to rear of the MBC.
Possible Impact: There may be short periods of noise and minor disruption. Some parking spaces on the Dunluce Avenue side of the MBC will become unavailable due to contractor's temporary compound.