Sign Language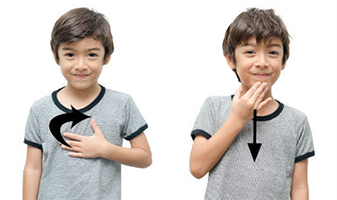 In Britain the term sign language usually refers to British Sign Language (BSL). BSL is a complete language with a unique vocabulary, construction and grammar. In Britain there are over 87,000 people whose first or preferred language is BSL.
The Language Centre currently run a Sign Language programme which includes classes at beginner and post-beginner levels. Enrolment for the Sign Language Classes will open 3 times per year for classes starting in January, April and October.
Both BSL levels 1 and 2 consist of 3 modules or units. Students are free to register for 1, 2 or 3 modules as and when they wish. Please note that in order to receive a FULL Signature certificate for BSL Level 1 or 2, students MUST successfully complete all 3 modules in numerical order. The following classes will be available in semester 3 and will commence week beginning Monday 24 April 2023.
| | | |
| --- | --- | --- |
| Module | Day and Time | |
| BSL101 | Wednesday 11:00-13:00 | Course Info & Register Here |
| BSL102 | Wednesday 14:00-16:00 | Course Info & Register Here |
| BSL103(A) | Tuesday 16:00-18:00 | Course Info & Register Here |
| BSL103(B) | Tuesday 18:00-20:00 | Course Info & Register Here |
| BSL203 | Tuesday 17:30-20:00 | Course Info & Register Here |