Sign Language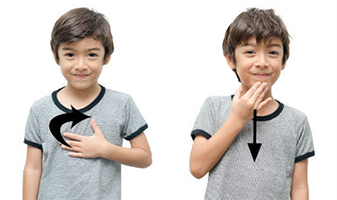 In Britain the term sign language usually refers to British Sign Language (BSL). BSL is a complete language with a unique vocabulary, construction and grammar. In Britain there are over 87,000 people whose first or preferred language is BSL.
The Language Centre currently run a Sign Language programme which includes classes at beginner and post-beginner levels. Enrolment for the Sign Language Classes will open for enrolment in September, and classes which begin in October will run throughout the year.
Both BSL levels 1 and 2 consist of 3 modules or units. Students are free to register for 1, 2 or 3 modules as and when they wish. Please note that in order to receive a FULL Signature certificate for BSL Level 1 or 2, students MUST successfully complete all 3 modules.
| | | | |
| --- | --- | --- | --- |
| | Please click here for further information and to register. All classes are the identical and we use A, B, C to distinguish between classes on the schedule. | | Please click here for further information and to register. All classes are the identical and we use A and B to distinguish between classes on the schedule. |