How to find your computers MAC address
To access the QUB network, you must first register your computers MAC address, using a QF22 form .
For details on how to do this, please see below.
The most important information required on a QF22 is your computer MAC address.
To find your computers MAC address, you need to enter the BIOS. To do that, restart your device and as it starts,
continually tap the F2 key on the keyboard.
Your BIOS page will look like one of the following: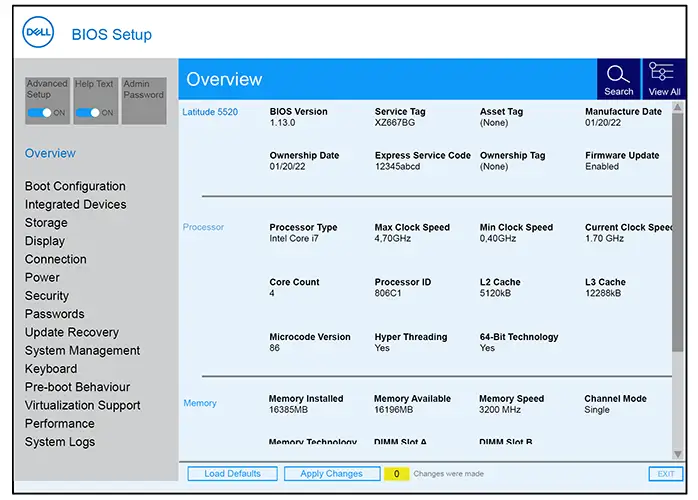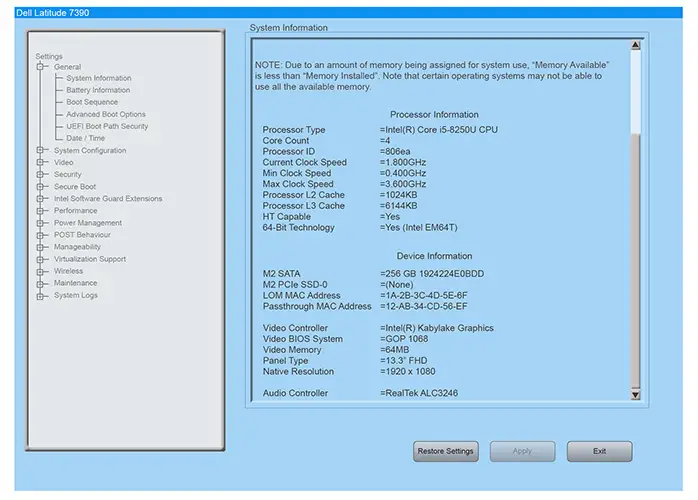 If your BIOS is the 2nd version, you will first need to select "system Information" from the left hand pane.
Then, in the right hand pane, in either version, scroll to the bottom of the page.
Your computer may have two MAC addresses. They will be labelled as LOM MAC and/or Passthrough MAC.
Carefully note down whatever MACs are shown. Then, click exit and your computer will reboot as normal.
Once you have found the relevant MAC addresses, please go here to fill out your QF22 form for network access.
N.B. This form can only be accessed whilst on campus, connected to Always-On VPN, or connected to Citrix .
Tips for filling in the QF22 form
The computer inventory number can be found on the silver and blue sticker attached to the laptop.
The MAC address for a docking station is printed underneath it.
If you are registering a docking station and it doesn't have an inventory sticker, use the same one as the laptop.
To add more than one MAC address to the form: In the section "Additional devices", click the button that says " would you like to add additional devices?". Then click the + symbol and add the other MAC addresses there.