Your time, your space ... your Library!
Your time … is important to us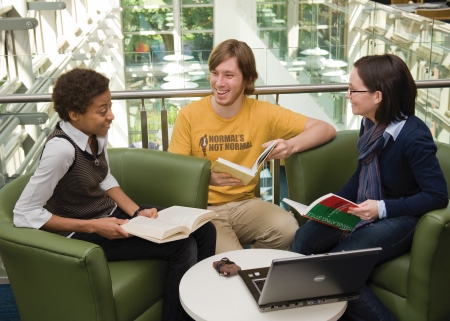 When you are busy, time is precious - and your time is important to us.
As everyone has settled back into being back on-campus, it is easier than ever to make contact with us in the Library. Whether you need help finding a book, access to an online resource or need directions within the building, there are two ways to make initial contact quickly:
At Enquiry Desks: we promise, during staffed hours (9.00am-9.30pm) that someone will be there for you within 2 minutes of your arrival at a Library services point.
Online by LibChat: we promise that we will reply to your query within 20 seconds.
Last year we delivered on both these promises and met our targets 100%.
All staff at Enquiry Desks and on LibChat are part of a wider, connected Library team. If they can't answer your query, they will know who best to refer you to. So, if you need help – just ask!
Your Library space … in person and online
We understand how important the Library is for accessing books, journals, study spaces and IT facilities. Last year we promised that our Libraries would be open for 100% of their advertised opening hours and we delivered on this promise.
Whether you are working in the Library or from off-campus, you can rely on core Library systems being available for you to access. We promise that these core systems will be available 99.5% of the time – last year we ensured that core system availability was 100%.