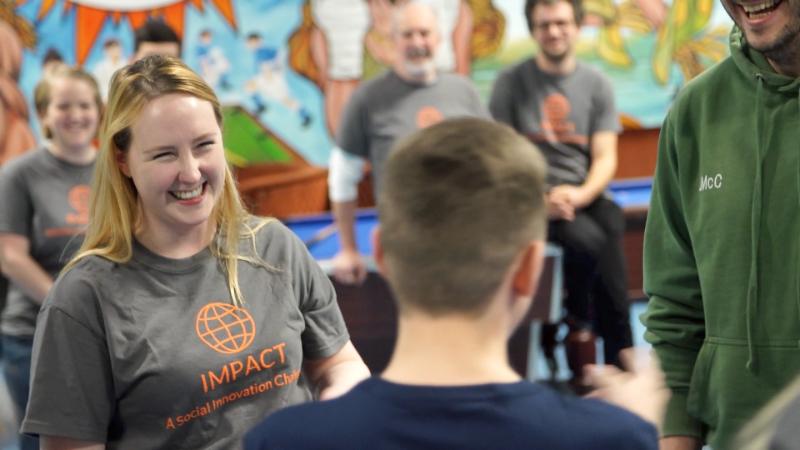 Development and future readiness
Enterprise and Innovation
We are committed to encouraging and supporting innovation, entrepreneurship and enterprise with our students. From Design Thinking; harnessing the collective expertise of students to collaboratively work to design solutions, to individual 1-2-1 business mentoring support for students who have ideas they want to grow into a business, we deliver a wide range of creative support in our hub.
Impact: A Social Innovation Challenge
"IMPACT is a great programme that can have a serious impact on the local communities. It is good to know that Queen's University is trying to build up Belfast. Programmes like this make me proud to be from QUB."
- Student feedback.
IMPACT creates the opportunity for postgraduate students at QUB to use their research, skills and creativity in multi-disciplinary teams to impact the community around them and create solutions to real-world social issues. In Semester 1, we partnered with St. Peter's Immaculata Youth Centre in West Belfast who posed the challenge of 'How do we raise the educational outcomes for young people in Divis?' Watch our short film to see how the project went and the impact it's having both for postgraduate students and for the wider community.
We ran a second IMPACT programme in Semester 2 with our project partner, the Turnaround Project. Turnaround works with young offenders to reduce the reoffending rates. We worked mainly in The Graduate School and in Hydebank College.
ENTERPRISE AND INNOVATION PROGRAMMES
IMPACT
Impact: A Social Innovation Challenge
Are you interested in using your research and skills to impact the world around you? Impact is a social innovation challenge where multi-disciplinary teams of students partner with a local charity or organisation who is facing a particularly tough challenge. You will visit the community and hear directly from them about the challenges they face and, using a Design Thinking method, come up with innovative solutions to their problems. At the end of the programme you will pitch your solutions back to the community and funding will be available for the winning solution to be realised.
This is a real-life challenge where your participation will have a direct positive impact on a community close to Queen's. Sessions will be held in The Graduate School, in the community and in a Prototyping Studio. You will also complete a Foursight Questionnaire to understand how your thinking style works best in innovation and be awarded Route A Graduate or Researcher Plus.

Impact: A Social Innovation Challenge Application Form
Read More