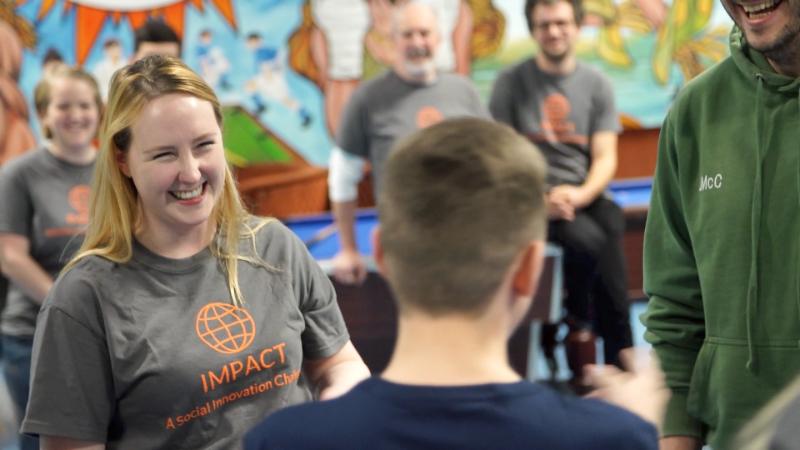 Development and future readiness
Enterprise and Innovation Programmes
We are committed to encouraging and supporting innovation, entrepreneurship and enterprise with our students. From Design Thinking; harnessing the collective expertise of students to collaboratively work to design solutions, to individual 1-2-1 business mentoring support for students who have ideas they want to grow into a business, we deliver a wide range of creative support in our hub.
Impact: A Social Innovation Challenge
IMPACT creates the opportunity for postgraduate students at QUB to use their research, skills and creativity in multi-disciplinary teams to impact the community around them and create solutions to real-world social issues. In Semester 1, we partnered with St. Peter's Immaculata Youth Centre in West Belfast who posed the challenge of 'How do we raise the educational outcomes for young people in Divis?' Watch our short film to see how the project went and the impact it's having both for postgraduate students and for the wider community.
We ran a second IMPACT programme in Semester 2 with our project partner, the Turnaround Project. Turnaround works with young offenders to reduce the reoffending rates. We worked mainly in The Graduate School and in Hydebank College.
"It's a great programme that can have a serious impact on the local communities. Also good to know QUB is trying to build up Belfast... Makes me proud to be from QUB." Student feedback.
Thought Leaders: Inspire
Interested in learning from, and meeting, local disrupters and innovators? Then come along to The Graduate School on the last Thursday evening of each month for Thought Leaders: Inspire.
We invite innovators, disrupters and shapers impacting both on a local and a global scale and connect them with our postgraduate students. The series aims to inspire through listening to the stories of thought leaders and being encouraged with innovative ways to engage with the world around you using your research & skills.
Keep an eye out on our social media for information on our next speaker!
Please contact pg.skills@qub.ac.uk with any questions.
Impact: A Social Innovation Challenge
Are you interested in using your research and skills to impact the world around you?
Impact is a social innovation challenge where multi-disciplinary teams of students partner with a local charity or organisation who is facing a particularly tough challenge.
You will visit the community and hear directly from them about the challenges they face and, using a Design Thinking method, come up with innovative solutions to their problems. At the end of the programme you will pitch your solutions back to the community and funding will be available for the winning solution to be realised.
This is a real-life challenge where your participation will have a direct positive impact on a community close to Queen's. Sessions will be held in The Graduate School, in the community and in a Prototyping Studio. You will also complete a Foursight Questionnaire to understand how your thinking style works best in innovation and be awarded Route A Graduate or Researcher Plus.

Impact: A Social Innovation Challenge Application Form
Kick Start Accelerator - Summer School
Are you a student with an innovate idea for a business, enterprise or not-for-profit? Then The Queen's University Kick-Start Accelerator could be for you. The Kick Start Accelerator Programme is a course designed to support all students to grow innovative ideas and test the viability of turning them into an enterprise.
Your idea could be related to your research, or completely independent and it could be just you or a team of people working on it. At the end of the course, you will feel more confident in your entrepreneurial ability and have developed the skills, tools and networks you need to grow a venture.
Content of Course:
Day 1: Inspiration from successful Entrepreneurs & starting your Business Model Canvas
Day 2 & 3: Various streaming session designed for your specific needs. Includes IP, impact measurement & understanding your customers
Day 4: Pitch Practice & Financing your venture
Day 5: Opportunity to pitch to industry experts, funders & investors.
Alongside the programme, you will receive 1-1 mentoring support and we have a Make It Happen Fund which you will be eligible to apply for prototyping and proof of concept funding.

Please contact pg.skills@qub.ac.uk with any questions.
Download your application HERE
Kick Start is facilitated in partnership with The Graduate School and Enterprise SU
Innovation Academy
The Innovation Academy is a joint venture between Queen's University Belfast and Trinity College Dublin. The Academy offers PhD students an opportunity to embrace new, innovative ways of thinking through the completion of a Postgraduate Certificate in Innovation and Entrepreneurship.
The purpose of this certificate is to transform some of the brightest scholars in these institutions into energetic and resourceful entrepreneurial thinkers. The certificate is comprised of several modules, covering topics such as Opportunity Generation and Recognition, Financing Your New Venture and Creative Thinking and Innovation.
The modules focus on problem-based learning within multi-disciplinary teams. The Innovation Academy also encourages students to engage in a real-life challenge facing an organisation, for which they are asked to propose an innovative solution.
Entrepreneurship 1-2-1 Sessions
Both PGTs and PGRs can avail of monthly 30-minute entrepreneurship appointments to support ideas for innovation and entrepreneurship and a range of other advice and guidance.
Whether you have a desire to start something, an idea you want to test, or you're ready to take a leap with an established business plan, this is the place to get personalised guidance, signposting and advice.
Please visit MyFuture to make an appointment with our entrepreneurship mentor.
---

Tier 1 (Graduate Entrepreneur) Visa
The Tier 1 (Graduate Entrepreneur) visa route is for international (non-EU) graduates who have an outstanding business idea that they wish to develop in the UK. The visa allows holders to remain in the UK for an initial period of 12 months to develop their business idea.
This may be extended for a further 12 months subject to satisfactory progress on the scheme. You will get one to one support from us to mentor and support you on the journey of establishing your own business, along with key contacts and networking opportunities.
For more information on the requirements of this programme please visit the International Student Support site.
---

Enterprise SU
We work collaboratively with the team at Enterprise SU, who offer a wide range of support and innovation competitions. To find out which competitions are live please visit the Enterprise SU webpage.


Interested?
For more details on any of the programmes listed, or about innovation and entrepreneurship at the Graduate School in general, please contact Claire Harris on 028 9097 3568 or pg.skills@qub.ac.uk