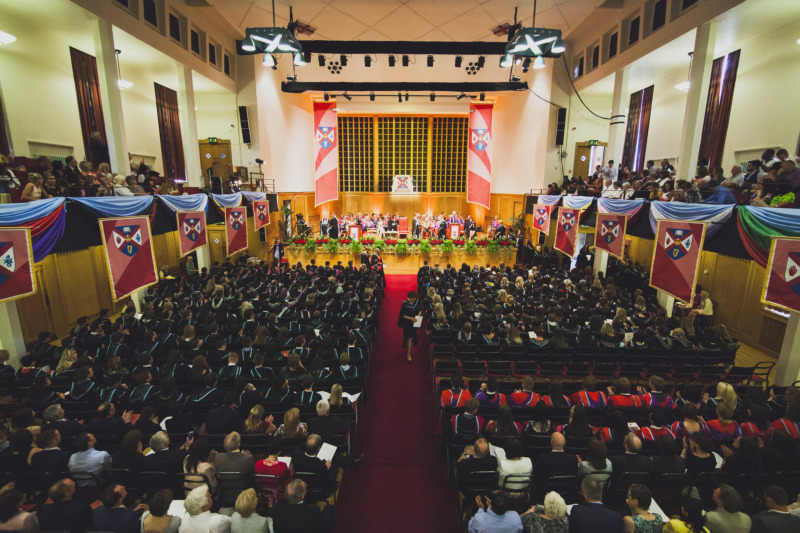 Before graduation
Additional information
Some important additional information for both staff and students which can help in the run up to graduation.
What if a visa is needed to attend the ceremony?

If you have questions about a visa for Graduation for yourself, or your friends and family from overseas, please contact International Student Support iss@qub.ac.uk who will be able to provide you with advice and assistance. If you require a letter confirming your attendance at Queen's for a visa application please contact Student Records.
Smart Card Funds

Once you have been awarded your final classification, you are no longer an active student. Please remember that your Smart Card will soon stop working with regard to entering access controlled buildings (e.g. the McClay Library). Additionally, funds on the cards will be lost so please ensure you use up the credits!
Academic Staff information
Academic Costume Hire from QUB
Your academic costume can be collected from the Gown Store an hour before the ceremony in which you are part of the academic procession.
Your academic costume must be returned to the Gown Store promptly after the ceremony. For those attending more than one ceremony, after all ceremonies relevant to yourself are finished your academic costume should be returned.
Academic Costume Hire from other Institutions (Non QUB Gowns only)
The date for collecting your academic costume from the Gown Store (located in South Dining Hall) is Thursday 5th Dec between 9.30am and 4pm.
Your academic costume must be individually signed for at the point of collection from and return to the Gown Store. You will be asked to produce your staff card at this point. Your academic costume must be returned to the Gown Store promptly after the ceremony.
Gown Store
The Gown Store has now relocated to the South Dining Hall (building next to Whitla Hall).
Hire Costs
The University will cover the cost of the hire of academic costume for all staff participating in an academic procession. This applies to both Queen's costume and costume sourced from other universities.
N.B. Hire fees for academic costume will be charged if it is not returned on time.
Hire of Academic Costume from other Universities
If you require academic costume from another institution, we will endeavour to source it for you. However, it must be noted that in some cases in which our suppier may have difficulty sourcing your costume they may send a generic costume of the country you graduated from. We can also offer the nearest equivalent Queen's University costume.
If you wish to take part in the Academic Procession click the link below to access the request form. Please note staff registration closes on Wednesday 20th November 2019.
Should you require any further information, please contact the Events team: