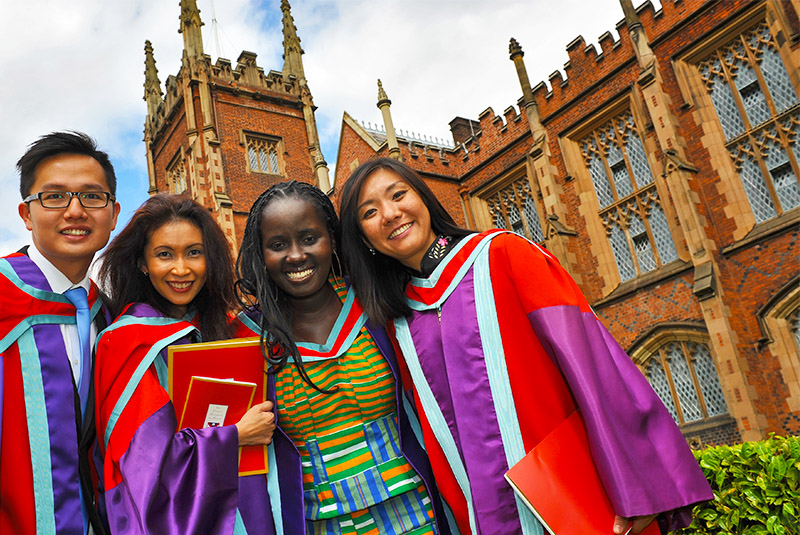 Before graduation
Tickets
Everything you need to know about tickets for guests attending your graduation. This information is very important as without their tickets your guests may be refused entry.
IMPORTANT NOTICE
PLEASE ENSURE THAT YOU HAVE PAID FOR YOUR GRADUATION TO COLLECT YOUR GOWN AND SECURE YOUR TICKETS.
How many tickets do I get?
Graduands will not require a ticket for the ceremony but will need a ticket for the garden party (automatically allocated). Each Graduand has the opportunity to purchase at least three guest tickets.
Guest tickets will be £10 each and will cover entrance to both the ceremony and the garden party. If you select over the maximum number of tickets guaranteed for the ceremony, you will not be charged for these until they have been confirmed to you. Please note that the number of additional tickets available for allocation will be in correlation to the remaining capacity in the Whitla Hall once all students have registered. You will be notified by email whether you have been successful or not. If successful, you will have 24 hours to purchase the tickets.
---
How do I get my tickets?
Graduands will be emailed their tickets to their Queen's email address, 2 days prior to the ceremony. You must have made full payment for your tickets to be emailed to you.
Students should print their tickets and ensure their guests are in possession of their own tickets, as graduands and guests enter Whitla Hall via different entrances and are not seated together.
---
Will my seats be reserved?
Your graduand seat is reserved, please refer to the board at the left hand entrance to the Hall for your specific seat number.
Guest tickets may be General Admission or Reserved seating depending on area, if Reserved then guests will be directed to their seat number indicated on the ticket.
Please note that the Whitla Hall does not have a lift. If your guests have special access or communication requirements, please specify this when completing the Graduation Wizard or email reghelp@qub.ac.uk.
Please see the Student Guests with Disabilities section for more information and guidance.
---
What if my guests do not get additional tickets?
If you are unable to get additional tickets for your Ceremony, guests can watch a live stream of the ceremony from the Student's Union.
You can also purchase screening and garden party tickets from the QFT website, for further information please click here: https://www.qub.ac.uk/home/Graduation/OnGraduationDay/GraduationScreenings/
---
What if my guests are bringing children?
Each guest, including all children, entering the Hall must be in possession of a guest ticket irrespective of age. Everyone who steps onto the stage must be in academic costume and so children can not step on stage. We ask that parents/guardians take into consideration that ceremonies can be long depending on the amount of graduands.