Introduction
The University is planning to provide an authentic experience on campus that includes face-to-face teaching starting in September 2021.
We are optimistic that by September the roll-out of the vaccination programme will have been successful allowing students to enjoy and benefit from the wide range of activities and facilities on campus across our libraries, student spaces, cafes, sports centres and social hubs.
Our first priority is the safety and wellbeing of our students and staff. Throughout the pandemic we have operated within Public Health guidelines and established a wide range of safety measures to protect our students. We will continue to monitor government guidance on Covid-19 and adjust our plans in response to any relevant changes.
YOUR LEARNING EXPERIENCE
We will deliver a connected learning approach with face-to-face teaching being complemented by online delivery as necessary, incorporating flexible digital solutions which enhance student learning opportunities. Teaching will commence on 20 September 2021 for most courses.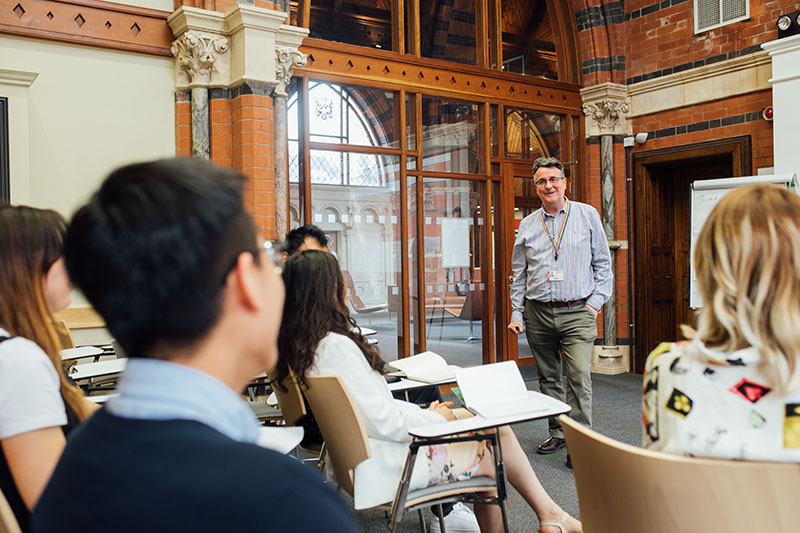 FACE-TO-FACE
We intend to deliver as much face-to-face teaching as possible by September 2021.
We will continue to build on the learnings from 2020 to offer the best mix of in-person on-campus teaching complemented by flexible digital solutions which enhance student learning opportunities.
There will be opportunities to meet lecturers for one-to-one meetings, in-person or on MS Teams, and lab-based learning that can be conducted in-person will go ahead with appropriate social distancing applied.
The balance of face-to-face, interactive online and pre-recorded teaching that each student receives, within any limitations imposed by Covid restrictions, is based on the learning outcomes required from each module as determined by the appropriate School.
CUTTING-EDGE TECHNOLOGIES TO ENABLE CONNECTED LEARNING
Our state-of-the-art digital technologies (such as 'Canvas') will provide a full, interactive learning platform, offering live interaction with lecturers and other students in a safe environment that encourages greater interaction. Most lectures are recorded for access afterwards and many online lectures will be delivered as live and interactive sessions.
SAFETY MEASURES ON CAMPUS
We have established a wide range of safety measures to protect students on campus including on-campus testing centres, social distancing measures, hand washing facilities, one-way systems and mandatory wearing of face coverings indoors.
Our students have also benefited from easy access to safe outdoor spaces both on campus and in nearby Botanic Gardens. Our dedicated student wellbeing team offer access to a range of counselling, workshops and useful resources designed to help students develop and maintain their physical and mental health.
Free Testing will continue to be available to all staff and students, both for those who have symptoms and those who don't, to ensure the campus remains a safe place to live, work and study.
ACCESS TO SAFE ACCOMMODATION
Our accommodation, which has been open throughout the pandemic, will continue to provide a supportive shared living environment.
Study and social spaces within our accommodation sites in BT1, BT2 and BT9 will be available, and a comprehensive residential life programme will be in place 7 days per week.
For those students who are required to Quarantine on their arrival into Northern Ireland as a result of government guidelines and who have booked to stay in university accommodation, will be provided this initial quarantine period free of charge.
Students who are not planning to reside in university accommodation and who are arriving to complete their quarantine before the start of term can be supported with free accommodation as long as they have vacated this accommodation by 13 September 2021.
Any student in University accommodation, who is required to undertake a period of self- isolation as a result of COVID will be provided with support from the accommodation team.
GETTING TO QUEEN'S
You can arrive at either Belfast City Airport (approx.15 minutes from student accommodation) or Belfast International Airport (approx. 30 minutes from student accommodation).
A University airport student 'meet and greet' service will be available during the September arrivals period.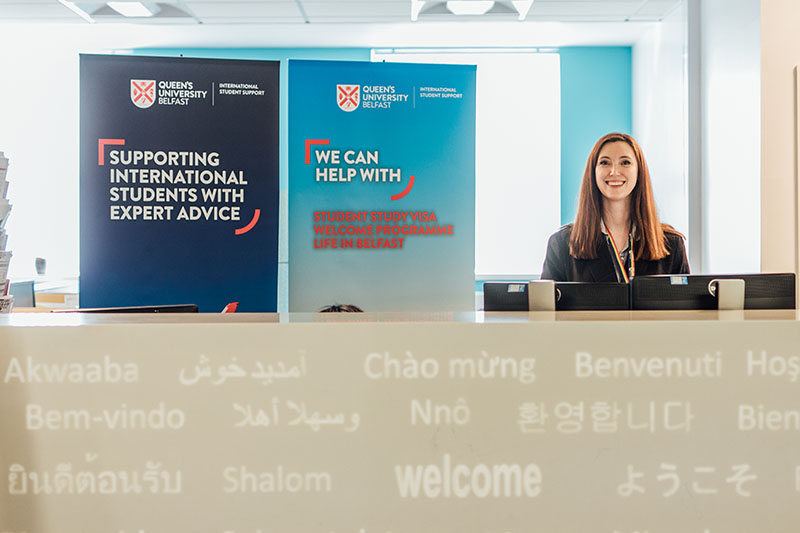 Guidance at every step
Our dedicated support teams will be there to help you navigate your journey to Queen's, and provide help while you are here on campus.
---
Given the changing nature of the pandemic, these commitments are subject to the guidelines that may be in place at the time. For example, if restrictions are increased/eased in the future then facilities and services may not be delivered as described.