The Chief Executives' Club presents 'Levelling Up, What, Why, How' by Andy Haldane, Chief Executive, the Royal Society of Arts. This lunchtime event was held in-person at Riddel Hall on Wednesday 5 October 2022 from 12.00pm to 1.30pm.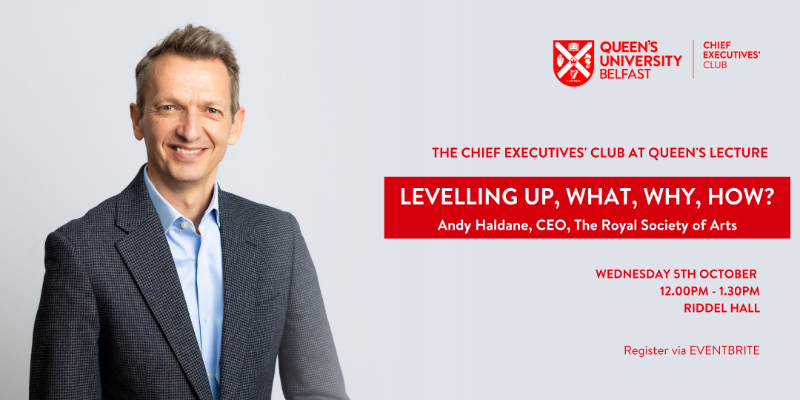 ---
About the Lecture
Published in February 2022, the Levelling Up in the United Kingdom white paper sets out a plan of action to spread opportunities more equally across the UK.
In September 2021, RSA Chief Executive Andy Haldane was appointed by the Prime Minister to define and develop the flagship national levelling up strategy – a decade-long moral, social and economic cross-government, cross society programme to spread opportunity and prosperity to all parts of the UK.
In his lecture Andy explored how the Levelling Up in the United Kingdom white paper's ambitious vision and 12 national levelling up missions can now be made a reality in towns and cities in every part of the UK by 2030.
About our Speaker
Andrew Haldane is the Chief Executive of the Royal Society of Arts (RSA).
He was formerly Chief Economist at the Bank of England and a member of the Bank's Monetary Policy Committee.
Among other positions, he is Honorary Professor at the Universities of Nottingham, Manchester and Exeter, Visiting Professor at King's College, London, a Visiting Fellow at Nuffield College, Oxford and a Fellow of the Royal Society and the Academy of Social Sciences. He has authored around 200 articles and 4 books. Andrew is Founder and President of the charity Pro Bono Economics, Vice-Chair of the charity National Numeracy, Co-Chair of the City of London Task-Force on Social Mobility and Chair of the National Numeracy Leadership Council. Andrew was the Permanent Secretary for Levelling Up at the Cabinet Office from September 2021 to March 2022, and as of June 2022, chairs the Levelling Up Advisory Council.
Department

Public Engagement