TEDxQueensUniversityBelfast
What is TEDx?
In the spirit of ideas worth spreading, TED created a program called TEDx. TEDx is a program of local, self-organized events that bring people together to share a TED-like experience.
Our event, TEDxQueensUniversityBelfast, where x = independently organized TED event. At TEDxQueensUniversityBelfast, TED Talks video and live speakers will combine to spark deep discussion and connection in a small group. The TED Conference provides general guidance for the TEDx program, but individual TEDx events, including ours, are self-organized.
The TEDx concept of ideas worth sharing very much aligns with the values of Queen's University Belfast; as our conferences give experts a platform to share innovations and, inspire and encourage new ideas in the international community.
Give Back | Forward
26 FEBRUARY 2021
View our speaker roster and register for the TEDxQueensUniversityBelfast
GIVE BACK | MOVE FORWARD
ADAPT AND CHANGE
03 JUNE 2020
Reflections on the changes taking place around us as a result of the global COVID-19 pandemic.
ADAPT and CHANGE
OUTSiDE | iN
23 MAY 2019
'OUTSIDE | IN' brought together bright minds to give ideas-focused talks, and on a wide range of subjects; fostering learning, inspiration and wonder – and provoking conversations that matter.
OUTSiDE | iN
Corporate Partners
NORTHERN IRELAND BUSINESS PARTNERS
TEDxQueensUniversityBelfast would not be able to take place without the continued support of our partners.
OUR PARTNERS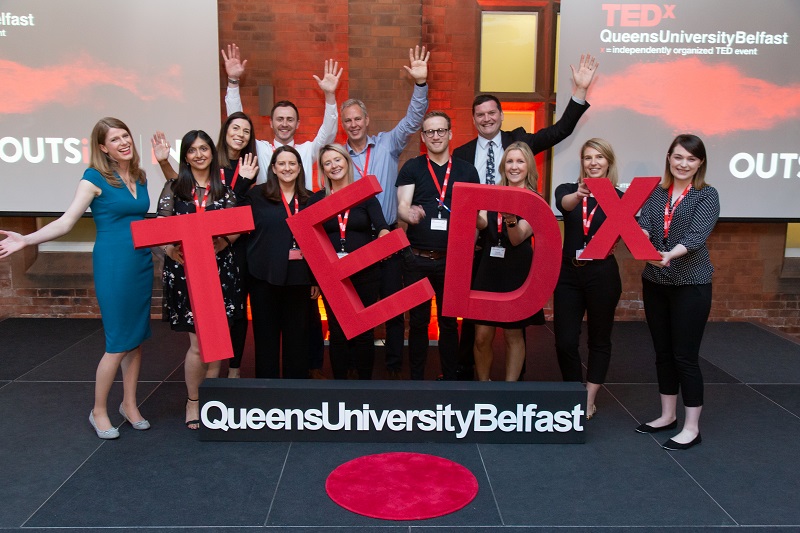 TEDx Organising Team
THE TEAM WHO MAKE IT HAPPEN
We are made up from staff and volunteers right across the University
TEDx TEAM
CONTACT US
WE WOULD LOVE TO HEAR FROM YOU; IF YOU HAVE AN IDEA FOR OUR TEDX CONFERENCE, WISH TO VOLUNTEER OR GIVE FEEDBACK
Please contact us and allow 2-3 working days for the team to get back in touch with you
---