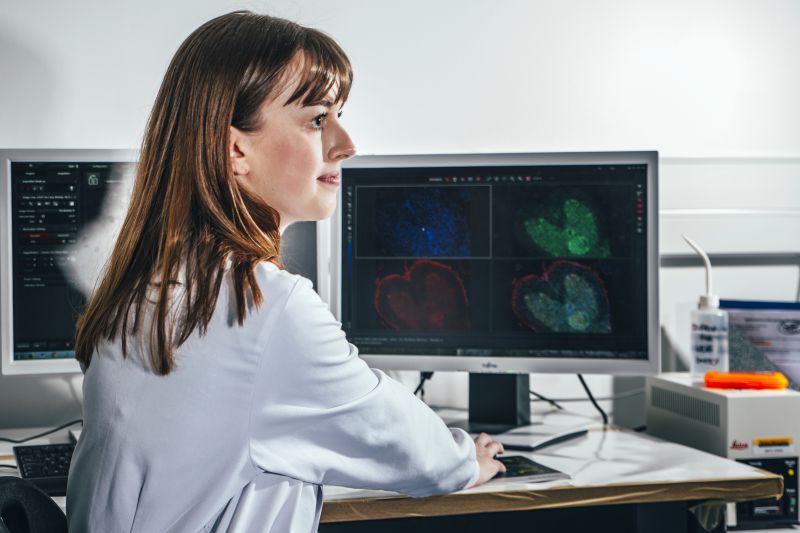 iMPROVING dISEASE dETECTION
Genito-Urinary and Prostate fOCUS gROUP
Prostate cancer is the third most common accounting for 13% of all new cancer diagnoses. Over half a million people are diagnosed with this malignancy every year in the US and Europe combined.
Progression to metastatic disease occurs in around 20-30% of cases and there is a pressing need to improve detection of the disease but also risk stratification at the time of diagnosis to ensure that effective treatment is appropriately targeted.
Major treatment options include radical prostatectomy and radiotherapy and Belfast is internationally recognised as a clinical and translational centre for radiotherapy for prostate cancer.
The award of the Movember/Prostate Cancer UK Centre of Excellence to CCRCB in partnership with Manchester has further catalysed this work.
Our Members
Chair: Dr Ian Mills
Group Members
Research Goals
Our research goals continue to be:
To promote molecularly-stratified approaches that identify high risk patients;
To characterize novel therapeutic strategies and accompanying biomarkers for molecular stratified, high-risk groups;
To identify increasingly effective treatments of advanced castrate-resistant prostate cancer, especially in the context of bone metastasis;
To characterize novel therapeutic strategies and biomarkers of radio-resistant prostate cancers.
Research Focus
One focus has been on the development of a molecular test to improve the stratification of prostate cancers between indolent cases and those likely to fail treatment and progress to metastasis. Professor Richard Kennedy and his team have now developed two signatures, one that predicts response to radiotherapy and other DNA-damaging agents and another which predicts progression to lethal metastatic disease.
A vital component in the development of these signatures is international collaboration with clinical centres worldwide to obtain appropriately annotated samples for test validation. Both tests are now entering this phase and our partners in the Movember Centre Manchester but also beyond that in the rest of Europe are contributing to this to accelerate the ultimate clinical implementation of these findings. Dr Simon McDade is working on some of the molecular drivers for these signatures along with researchers in Professor Kennedy's team. More broadly molecular stratification and improved testing is vital to the delivery of high-quality cancer care and the leading role that Belfast plays in this work has been reflected in the two major national awards, a CRUK Accelerator Award in support of digital pathology and the announcement that Belfast is to be the UK Precision Medicine Catapult Centre for Oncology. These awards will certainly enable these and other tests to rapidly transition from the validation stage to routine clinical practice.
Radiotherapy
Radiotherapy is at the heart of prostate cancer treatment in Belfast and a comprehensive clinical and scientific research focus is on more effective delivery of radiotherapy with enhanced response and minimised toxicity. The year ended with the largest profiling study yet undertaken on responders and non-responders to radiotherapy and data analysis and reporting on this major study will take place in 2016. New forms of radiotherapy, such as Radium-223, also have had dramatic impacts on metastatic disease and there is an active programme to explore the biological basis for the efficacy of Radium-223 and further enhance its' clinical impact. Professor O'Sullivan is leading the next generation of clinical trials of this agent, including the investigator-initiated trial ADDRAD, working closely with Dr Suneil Jain and Dr Phil Turner. An ongoing MRC-funded study on toxicity due to radiotherapy (Professor Karen McCloskey) will improve the monitoring of treatment and the delivery of other forms of radiotherapy is being improved through collaboration between CCRCB and Pharmacy on the utilisation of nanoparticles.
Clinical Trials
From a clinical trials perspective 2015 has been a momentous year for the (Systemic Therapy in Advancing or Metastatic Prostate cancer: Evaluation of Drug Efficacy) STAMPEDE Trial, a multi-arm, multi-stage study bringing together Belfast and other major clinical translational centres across the UK. Major studies by the STAMPEDE groups reported significant survival benefits from combination therapy in locally advanced disease. In the coming year STAMPEDE will initiate trials arms to repurpose metabolic inhibitors beginning with Metformin and this metabolic focus may provide opportunities in the future to test other clinically approved metabolic inhibitors as sensitisers for standard therapies.
Distinct from the STAMPEDE Trial, Belfast also participated in a targeted trial of Olaparib, a PARP inhibitor, reporting significant benefits for patients' who had failed standard therapies and were carrying mutations in DNA-repair genes. The work of Belfast researchers on signatures predicting therapy response will enable additional trials to be designed and undertaken based on molecularly selected companion therapeutics. The Movember Centre and the other multi-centre trials structures provide exciting opportunities to accelerate this important work. The publication of a pre-clinical study showing an enhanced by prostate cancer cells carrying mutations in PTEN to ATM inhibition provides one example of how molecular stratification can inform therapeutic response and potentially trials design in the future (Dr Nuala McCabe). Complementing this study, the molecular pathology team (Professor Manuel Salto-Tellez) reported on a method to sensitively detect PTEN expression in tumour tissue using in situ hybridization and this, and other methodologies, will be implemented to complement other molecular profiling studies on treatment response cohorts which will report in 2016.
In addition to therapeutic strategies targeting DNA-repair pathways, researchers have continued to develop programmes targeting IL8/CXCR signalling (Professor David Waugh), legumain protease (Dr Rich Williams and Dr Paul Mullan) and anti-apoptotic proteins (Dr Dan Longley). In each case these programmes have been supported by molecular profiling and motivated by the desire to use these targets to enhanced response to standard therapies. These programmes are supported by additional grant funding from the Medical Research Council, Prostate Cancer UK and the Wellcome Trust with clear strategies to progress from pre-clinical studies into clinical trials. Much however remains to be learnt about the mediators of treatment resistance in prostate cancer and new programmes are being initiated to assess the contribution of epigenetic factors, the unfolded protein response and the Type I interferon response to multi-treatment resistance prostate cancers (Dr Ian Mills, Dr Melissa Labonte-Wilson, Dr Karl Butterworth).
Members
Information for Focus Group Members