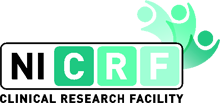 Principal Investigator:
Professor Lorcan McGarvey
Name of the Study:
BAY1902607 /19430 Cough: double-blinded, placebo-controlled, randomised, parallel-group study. Two-way crossover administration of four different doses of BAY1902607 in patients with refractory chronic cough to assess safety, tolerability and efficacy for proof of concept
Why is this Study important?
Chronic cough is an extremely troublesome symptom with no effective treatment. His compound targets airway sensory nerves, which are known to be hypersensitive in patients with chronic cough.
What is the Research question/aim?
This trial is exploring the safety, tolerability and safety of BAY1902607 in Adult Participants with Chronic Cough. This study is a placebo-controlled, two-way crossover study meaning that all participants will receive both the study drug and the placebo. However, the order in which they receive them will be random, and at the time both the participant and study team will be blinded to which they are receiving.
What the Study involves:
The Study involves two treatment periods which each last 25 days. There will be a 2-3 week washout period between the treatment periods.
Who can take part in the Study?
Patients with chronic cough, aged over 18 years
Contact Information:
Professor Lorcan McGarvey
Respiratory Research Office
Ground Floor
Belfast City Hospital
Tower Block
Tel: 028 950 41136
Email: l.mcgarvey@qub.ac.uk
Sharon Carr
NICRF Clinical Trials Practitioner
NICRF
U Floor
Belfast City Hospital
Tower Block
Tel: 02895047647 or 07393798263

‌