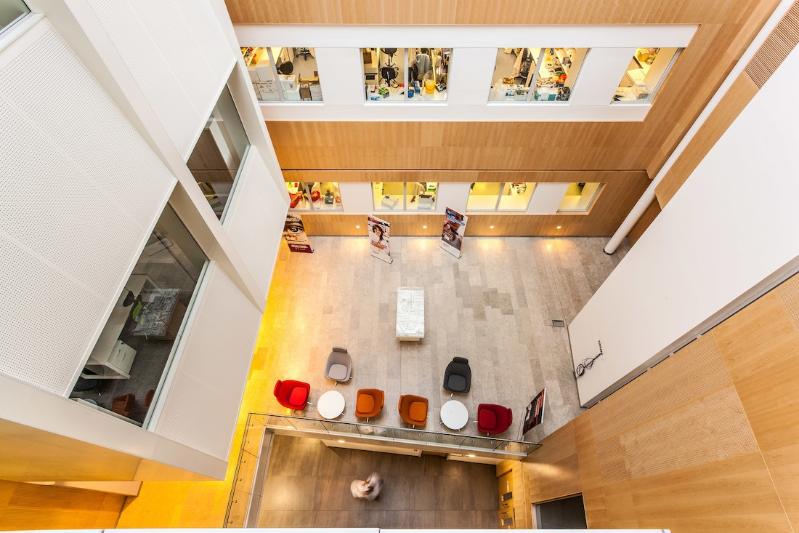 Award Winning Facilities
The new Wellcome-Wolfson Institute for Experimental Medicine
Opened in 2016, the new institute promotes research excellence in Experimental Medicine acting as an integrative hub, linking various research elements and driving the invention and development of novel therapeutic compounds & molecular diagnostic tools through discovery science.
The Wellcome-Wolfson Institute for Experimental Medicine has an internal area of 7,300m², providing accommodation for some 330 members of staff specialising in research into mechanisms of disease which will translate to innovative therapeutics and diagnostics to improve health and manage disease.
A key design feature of the building is the use of a twin skin exterior envelope. The creation of an external cavity improves the thermal performance of the building and allows service ducts to be located in the void. The removal of bulky services from the internal space creates an inward looking style of building with an open floor plate. The full height central feature atrium becomes a focal point and is designed for, meetings, displays and conferences.
The building is set to achieve an environmental BREEAM rating of Excellent, as it incorporates a range of measures which will lower carbon emissions and deliver a more sustainable building:
High insulation and air tightness levels to improve heating efficiency.

Double skin external facade to allow pre heating of fresh air and recovery of heat from extract air.

Use of photovoltaic cells for energy production.

Combined Heat and Power generating engine.

Heat recovery built into all major air handling plant.

Extensive use of high efficiency plant, equipment and lighting.

Glazing specification optimised to reduce solar heat gain.

Extensive sub-metering to support measurement and targeting of energy use.

Waste recycling stations.

Secure bicycle stands and provision of showering facilities.

Rainwater harvesting to facilitate water re-use in building.

Use of the Green Guide to Specification and responsible sourcing of materials.
Completed in August 2015 and in recognition of the quality of the WWIEM building, it has received several awards including:

Construction Employers Federation (Northern Ireland) Health Infrastructure and Project of the Year Awards
Royal Institute of Chartered Surveyors (Northern Ireland) Design through Innovation and Project of the Year Awards
Electrical Services Installation of the Year Award (Northern Ireland)
Mechanical Services Installation of the Year Award (Northern Ireland)