Air Pollution Research at QMS Receives Renewed Funding as part of £12m Investment
Innovative research led by Professor Duncan McVicar investigating the links between air pollution and ill health in Northern Ireland has received renewed funding as part of an initiative to tackle issues of crucial public importance..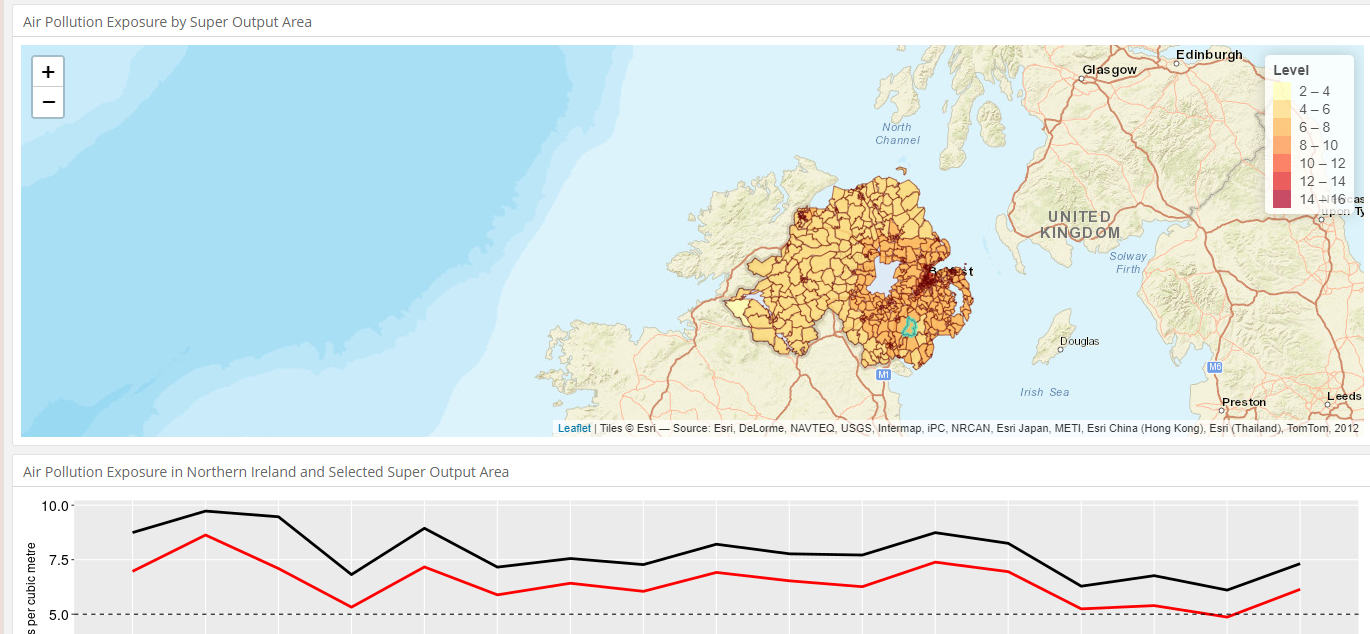 At Queen's Management School, a team made up of Professor Duncan McVicar, Dr Neil Rowland, and Dr Babak Jahanshahi has been researching the links between air pollution and health in Northern Ireland. The team has recently developed an innovative air pollution dashboard which allows the public to input a postcode anywhere in Northern Ireland to see the levels of air pollution in their area.
The dashboard also lets the public view how levels of air pollution have changed over time and whether they exceed the new WHO guideline threshold levels, above which pollution leads to ill health.
Funding for this research was secured through an initiative that has transformed how de-identified administrative data can be safely used to develop evidence on issues of crucial public importance in Northern Ireland, and this funding is set to continue following an investment of almost £12 million.
Administrative Data Northern Ireland (ADR NI) has been awarded £11.7 million as part of the £90 million UK wide Administrative Data Research UK (ADR UK) investment by the Economic and Social Research Council (ESRC), part of UK Research and Innovation (UKRI).
ADR NI is a partnership between Queen's University Belfast and Ulster University, and the Northern Ireland Statistics and Research Agency (NISRA), which is an accredited processor under the Digital Economy Act (DEA). Together they support the acquisition, linking and analysis of administrative data sets, developing cutting-edge research to improve knowledge, policymaking and public service delivery.
The ESRC investment in ADR NI supports fifteen researchers at Queen's University Belfast across the School of Medicine, Dentistry and Biomedical Science, the School of History, Anthropology, Philosophy and Politics, the School of Social Sciences, Education and Social Work, and Queen's Management School – all investigating a range of issues of importance to society.
Professor Duncan McVicar at Queen's Management School, said:
"Renewed funding until 2026 will help us to build on our research on air pollution and health in Northern Ireland and to strengthen links with key policy makers and third sector stakeholders to ensure that they have access to the latest research evidence.
"As researchers, we focus on areas where real potential exists to make a positive difference to the people of Northern Ireland. We want to empower the public and give decision makers the best possible evidence to design interventions to benefit society, including the implementation of a Northern Ireland Clean Air Strategy."
ADR NI aligns its work with Northern Ireland Government strategic priorities as well as addressing other vital issues identified by stakeholders within communities and service provision. As a result, ADR NI has produced significant research grounded in robust public engagement to inform community, policy and service priorities in areas including mental health, early years, education, environmental health, and the Covid-19 pandemic.
The ADR NI team has led the way on opening up datasets on new topics ranging from employment and earnings to farming and air pollution to enable research for policymaking for public benefit. The continued investment in Northern Ireland will ensure progress made to date is continued so that the value of administrative data to provide insight on the key issues facing Northern Ireland is fully realised.
Clear Air Strategy for Northern Ireland – public discussion document 2020
Meet the researchers