CIPD Awards 2022: Best Change Management Initiative Awarded by QMS
The CIPD NI Awards took place on Thursday 6th October 2022 at Titanic Belfast, sponsored by Queen's Management School and a variety of other organisations.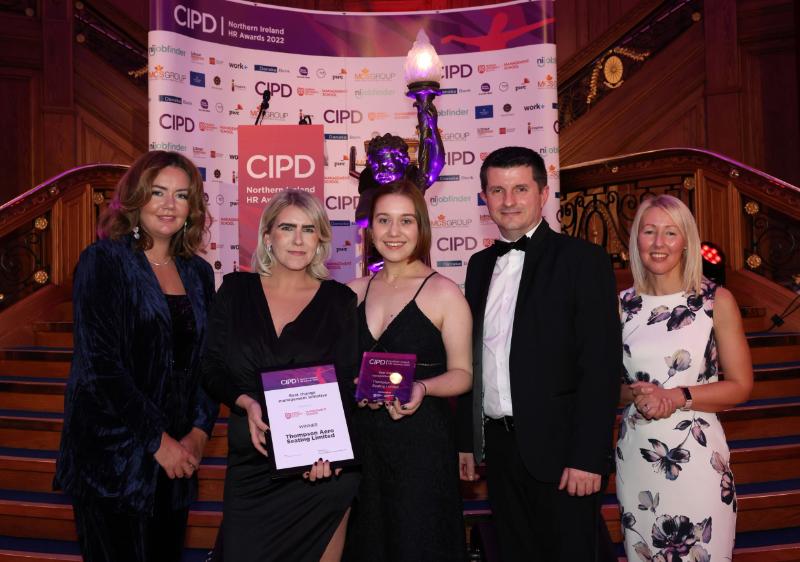 The CIPD Northern Ireland Awards are a night to celebrate the success of individuals, organisations and initiatives that support CIPD's purpose of championing better work and working lives in Northern Ireland.
Returning in 2022 for their tenth year, the CIPD NI Awards took place in Titanic Belfast on Thursday 6th October 2022.
Queen's Management School proudly sponsored the "Best Change Management Initiative" category for Northern Ireland's most prestigious and highly regarded awards for HR professionals.
The winner was chosen by a panel of leading HR and business professionals and academics from a range of organisations across the UK.
And the winner is…
Thompson Aero Seating
Thompson Aero Seating is one of the leading suppliers of Business and First-Class aircraft seating, with a worldwide customer base featuring many of the world's top airlines including Delta, Qantas and SWISS Airlines. The company, which employs around 700 staff across 4 sites located in the Portadown and Banbridge is becoming one of Northern Ireland's most successful and fastest growing businesses.
The judges found Thompson Aero Seating demonstrated the ability to manage a high-level change programme, while working in a very uncertain external environment, making them the winners of this category.
Their HR function was very much driving this change management initiative. Building credibility of the HR function, they balanced reactive requirements with proactive opportunities to improve and embed change and new ways of working. They also demonstrated a high level of commercial understanding and partnership.
Congratulations to the Thompson Aero Seating team and all the fantastic HR professionals and businesses who were nominated for the awards.
Further reading