FinTrU Women in Finance Scholarship Awarded
Queen's Management School was delighted to welcome Claire Brennan, Talent Partner at FinTrU back on campus to meet with the first FinTrU Women in Finance Scholarship recipient, in the FinTrU Trading Room.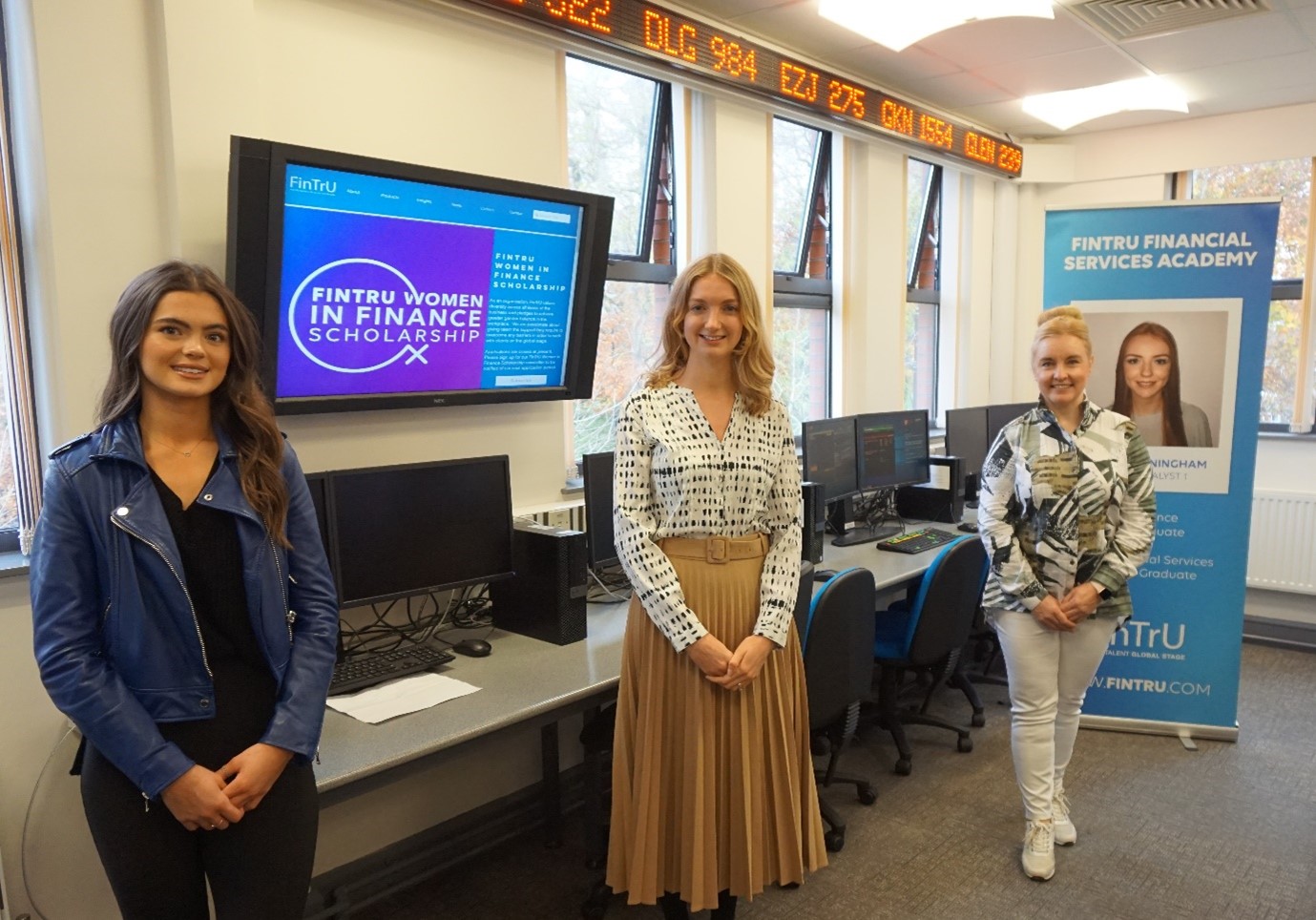 Catherine McCusker, studying BSc Finance, was selected from an extensive pool of applicants and said: "I am delighted to receive the inaugural FinTrU Women in Finance Scholarship. The financial support is a bonus but I'm also looking forward to the careers advice and opportunities that the association with FinTrU will bring. It's also a privilege to be an ambassador for girls and women considering a career in Finance."
It was also an opportunity to celebrate the continued sponsorship of the FinTrU Trading Room, now fully accessible to students who are back on campus.
While students could avail of Bloomberg software during Covid restrictions, the FinTrU Trading Room allows for a hands-on learning experience and collaboration opportunities among students.
Dr Lisa Bradley, Senior Lecturer in Finance, commented:
"The FinTrU Trading Room is an integral part of the offering for students. Students have full access to the room and to Bloomberg software, an important part of teaching. The FinTrU Trading Room is embedded in taught programmes allowing students to relate real world news and market activity to economic and financial theory.
"The facility is also vital for supporting extra-curricular activities such as the CFA Research Challenge and Queen's Student Managed Fund."
FinTrU, now with new global offices in New York, Dublin and Maastricht, has continued to hire graduates and placement students with opportunities increasing each year as they expand their reach.
Claire Brennan, Talent Partner, said:
"We're delighted to continue our sponsorship of the Trading Room here at Queen's and so pleased to see that is now fully accessible to students again. The FinTrU Trading Room is often the first introduction students have to us as a company but we look forward to getting to know them as they continue their studies and are considering placement. With new opportunities coming online all the time we would encourage anyone who is curious to check out our Early Careers webpages https://www.fintru.com/placements or speak to your placement officer."