Queen's Management School celebrate the success of their Placement Programme at award ceremony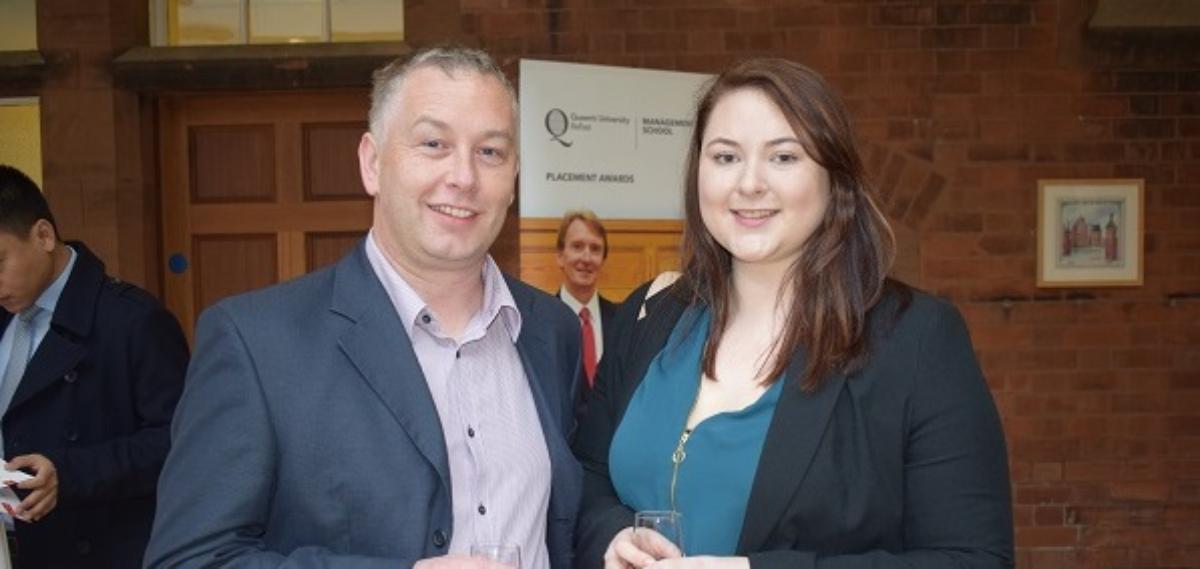 Queesn's Management School Placement Office brought together their stakeholders to celebrate such a successful programme. The Placement Programme has been running for over 25 years. In this time they have seen the programme grow from strength to strength. Over the years they have received outstanding feedback from both employers and students about their experience on placement.
This event gives everyone involved in the placement process an opportunity to formally recognise anyone or any organisation who has embraced the ethos of placement and made an outstanding contribution to the placement process. Everyone involved in this process provides inspiration to future students. Employers in attendance included Grant Thornton, SCOR, BDO, Keysight Technologies, Allianz UK, Allianz Worldwide Care, Morgan Stanley, Polysoude, Natural, Kerr Henderson, VHI, Aviva, First Derivatices, NILGOSC, Funds-Axis, Moy Park, Liberty, Irish Progressive Services and FinTru.
Guest speakers Richard Forrest, Citi and Marcy Murdoch, Training Express both praised the work of the placement office as well as the calibre of the students they recruit for their placement year. Richard added that he plans to take 35 students on to placements at Citi in a domestic, European or international environment, whilst Marcy reiterated the three placement performance phases through which we would expect the students to progress:
students earn respect
students assume increasing responsibility
students become a valued resource within the company
Placement is an integral part of the BSc Finance, BSc Actuarial & Risk Management and Students studying language within the Management School. This programme will continue to grow as we begin to work with BSc Business Management students entering QUB in 2018 and MSC programmes such as MSc in Marketing. The Placement team has grown from initially 1 part time Placement Co-ordinator to a strong team of staff. The recent success of the Placement team has been recognised through the achievement of a QUB Teaching Award.
The main aim of the Placement team is to empower and support students in the development of their employability skills. We encourage students to identify their areas of interest in terms of career and also reflect on their skills and identify areas of development which will aid them throughout the placement process and future career. The inspirational teaching we provide is informed by industry, working closely with employers to develop valuable skills. This partnership is crucial to meet the needs of an ever competitive graduate labour market.
All of this has been made possible through the support of our many employers throughout the globe, our academics colleague's and most importantly the dedication of our students. It has been a privilege to work with many inspirational students over the years many who of are still in contact and return as placement providers.
In 2017 161 students commenced compulsory placement over 70 companies over 7 countries which is a fantastic achievement which will only increase in years to come.
Many thanks to everyone who attended the event, the continued hard work of the students and ongong support from our mentors and employers. Special thanks to our guest speakers, local rugby star Andrew Trimble who presented our awards and 2nd year Actuarial Science and Risk Management student, Emma Thompson for making our delicious QMS cupcakes.