Queen's Student Managed Fund stock pitch at Davy's Belfast office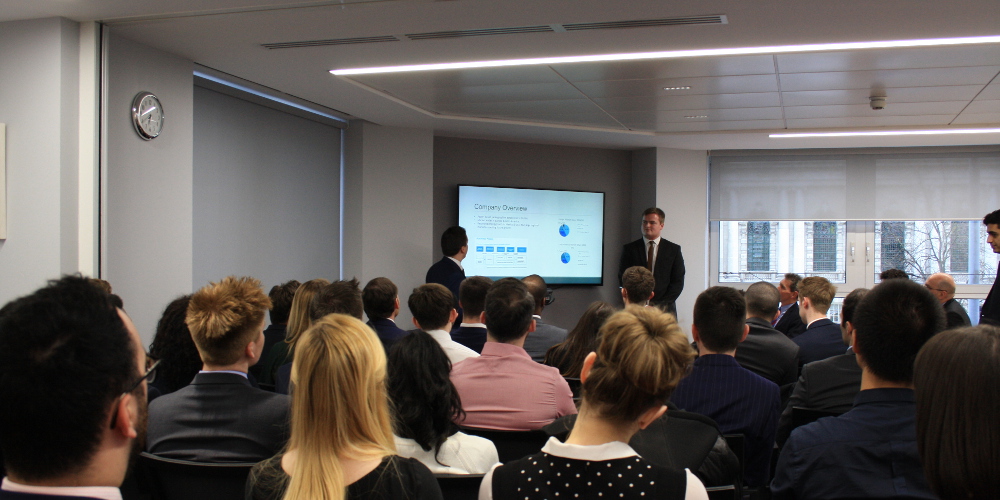 Student engagement with industry is fundamental at Queen's. The annual Davy pitching event has again showcased the exceptional investment management talent that Queen's has to offer. The evening highlighted the extent of student's financial knowledge (many members are from non-finance backgrounds), the professionalism of our students, and the exceptional leadership of the multi-disciplinary student committee lead by Moh Musa.
The Davy annual pitching event brought together the best of the QSMF investment ideas for inclusion in the fund, presented in an industry styled stock pitch. The student committee started and closed the pitches, providing an overview of their respective areas. The stock pitches themselves included 5 stock recommendations and two ETFs (the passive element is new to the Fund), with Davy's specialist panel providing feedback and critique of what the students put before them. The panel included Alan Werlau, senior investment strategist, Gavin Graham, client director, and Ben Banerji, portfolio analyst and a recent alumni of the QSMF.
"The Davy pitching event provided the perfect setting and format to showcase our work at the fund, one year on with real money. Our 11% return since inception, as well as outperforming the market year-to-date, is attributable to the extent and detail of the work put in by QSMF members." Hannah Armstrong - Chief Financial Officer - MSc Finance
"Partaking in the QSMF pitching event has afforded me an insight into professional stock analysis and the way industry professionals think about prospective investments." Otis Osgerby-Lacey - Healthcare Sector Head & Head of Technology ETFs - BSc Chemistry
For more information on the Queen's Student Managed Fund, please click here.