Queen's Students win Irish CFA Research Challenge competition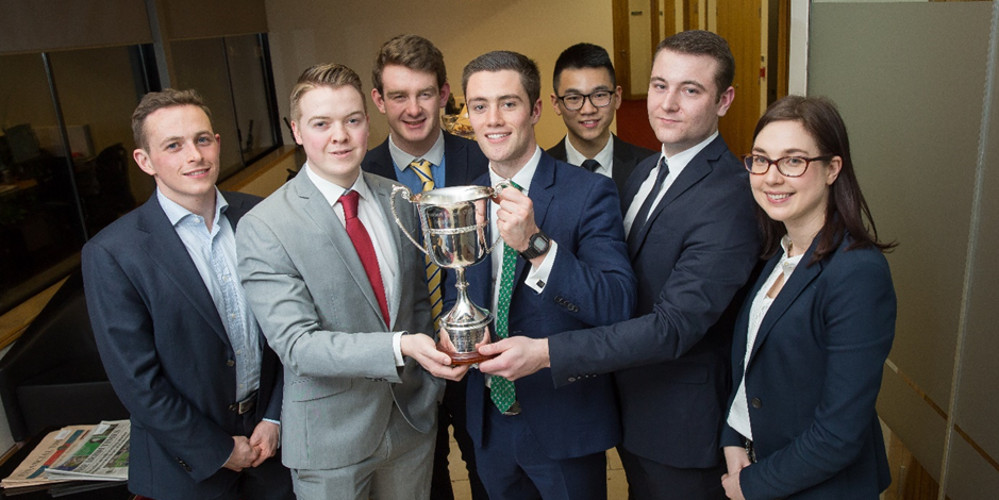 A team of students from Queen's University has won the Irish CFA Research Challenge hosted by the CFA Society Ireland in Dublin. The team is comprised of Zhiye Cao, Josh Grefte, James Hilland, Jamie Mackenzie, and Michael Mullen, who are either students on the Finance programmes within the Management School or are involved in the Queen's Student Managed Fund. The students were guided by faculty mentor, Áine Gallagher and industry mentor David Boyle from GSO Blackstone who is also a Queen's alumnus.
The Research Challenge is a worldwide competition with students undertaking detailed financial and valuation analysis in the form of an equity research report which is then presented to a panel of industry professionals. The competition allows students to put into practice what they learn in the classroom and gain valuable insights into best practice in industry. Students' are able to demonstrate tangible technical and softer skills development to prospective employers with the CFA Institute recognised as the leading global association for investment professionals.
Jamie Mackenzie, team captain commented: "Doing The CFA Research Challenge in my final year allowed me to apply the knowledge I've gained on my degree in a practical way. The process culminated in the chance to present in front of a panel of industry experts in Davy's Dublin office. We were subjected to questioning on our proposal, having to defend and explain our opinions. We were highly commended on our work and won the Irish final beating off competition from five other Irish universities. I've significantly developed my analytical and presentation skills and have been able to form lasting friendships with my fellow team members."
The team will now represent the Management School and Queen's University at the EMEA finals in Prague in April, and we wish them best of luck for the rest of the competition.
Photo left to right: David Boyle (GSO Blackstone, industry mentor), James Hilland, Michael Mullen, Jamie Mackenzie, Zhiye Cao, Josh Grefte, Áine Gallagher (QUB, faculty mentor).