Business students make their pitch at inaugural schools challenge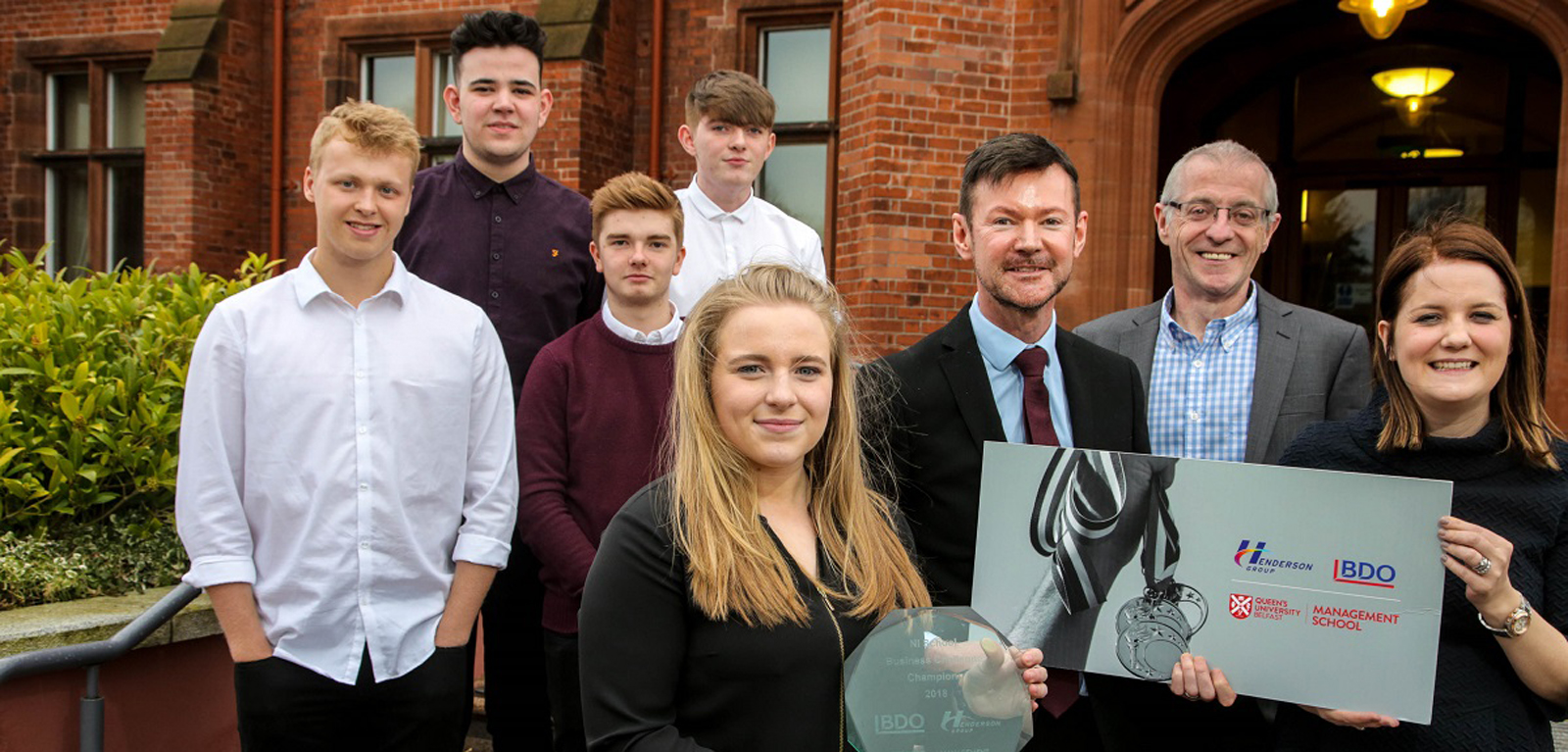 Students from Northern Regional College, today beat off stiff competition to be crowned champions at the first-ever Northern Ireland Business Challenge for Schools.
Hosted by Queen's Management School in collaboration with BDO Northern Ireland and Henderson Group, the competition tasked more than 65 pupils from 10 schools with developing and pitching a business strategy based on a real-life case study.
The intensive event aims to help A–Level Business Studies pupils develop practical work-related skills – including communication, critical thinking and teamwork – by challenging them to consider how organisations can enhance their operations and social responsibilities.
The business challenge complements key strands of the school curriculam and offers a range of top prizes including VIP tickets for a Belfast Giants game, £500 for the top school and a bespoke trophy. The winning team from Northern Regional College was represented by Helen McCallum, Conor Clarke, Ryan Nicholl, Tom Robinson and Alan Neill.
Professor Ciaran Connolly, Queen's Management School commented:
"I would like to thank the teachers for encouraging and supporting their students to participate in this event. All of the students deserve immense credit for the tremendous effort they clearly put into preparing for today and I hope that many decide to come to Queen's University Belfast, especially the Management School, after completing their A-levels."
Laura Jackson, Partner at BDO Northern Ireland commented:
"This is a rewarding and challenging event that gives young people rare access to a real-life project and high calibre coaching from seasoned business professionals. All of the students have shown exceptional teamwork, time management, analytical thinking, presentation and debating skills.
"Our congratulations go to the winners, but all participants deserve a lot of credit. They impressed us with their ability to quickly grasp the problem and develop practical solutions under pressure. We are pleased to be equipping young people with practical knowhow that developing skills for future success."
As part of the event, pupils were challenged to develop a Corporate Social Responsibility plan based on a real scenario provided by Henderson Group. The group's Chief Financial Officer, Ron Whitten commented:
"I was incredibly impressed with the level of skills that were shown by the pupils during this challenge. Corporate Social Responsibility is a huge priority for companies as large as Henderson Group, therefore the next generation of management need to learn how to ensure businesses give back to their employees, their communities and the overall environment.
"It has been a great pleasure to be part of this competition and process, it's safe to say the future of Northern Ireland PLC is in great hands."
Media
Melissa Grant
Recruitment and Events Officer
m.grant@qub.ac.uk