Queen's Management School host NI Business and Human Rights Forum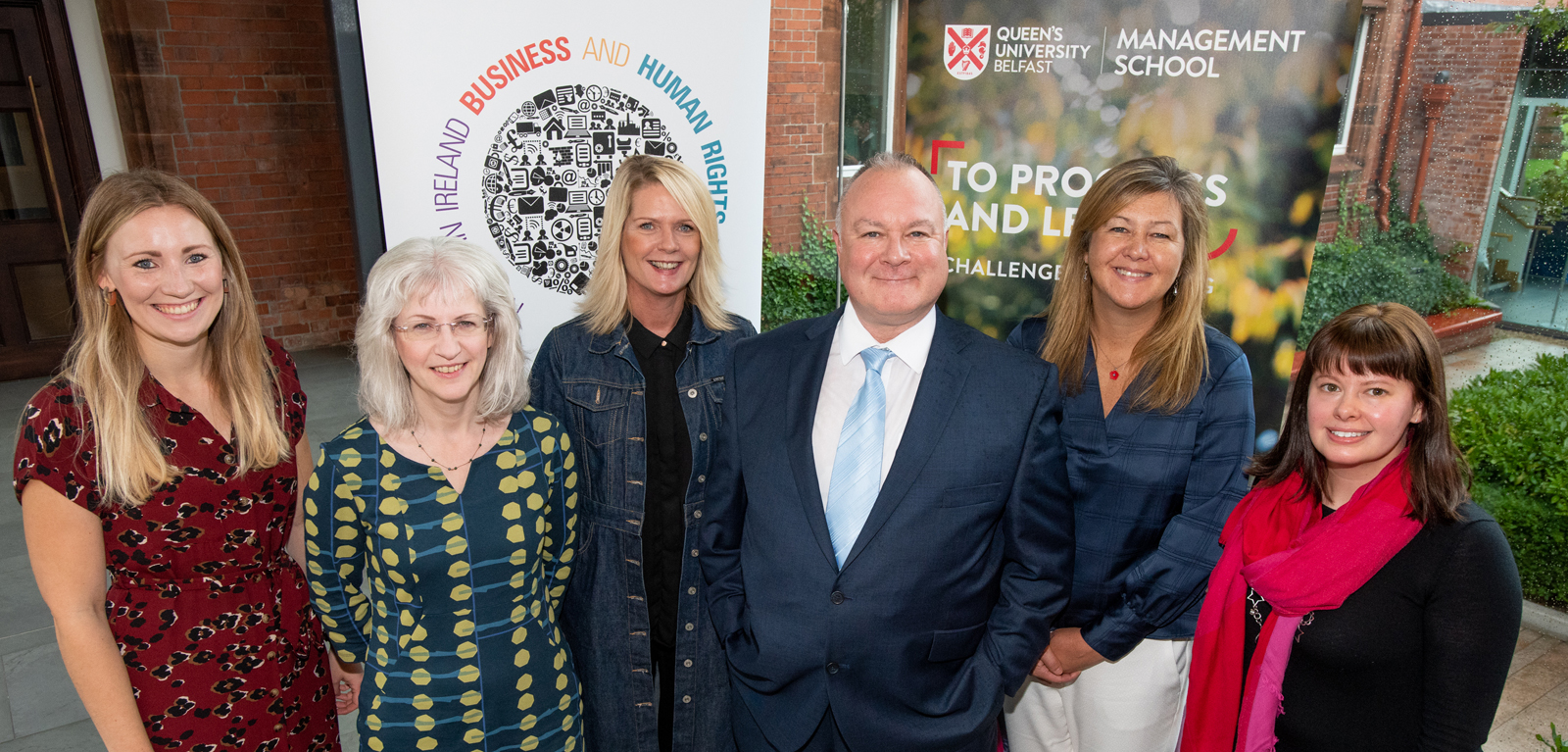 Pictured at the Northern Ireland Business and Human Rights Forum meeting at Queen's Management School are from left: Zara Porter, NIBHRF; Susan Bell, Organised Crime Branch, Department of Justice; Marie Nancarrow, Titanic Denim; Glenn Bradley, NIBHRF; Louise Nicholl, Marks & Spencer; Dr Laura Steele, Queen's Management School
Queen's Management School recently hosted the Northern Ireland Business and Human Rights Forum (NIBHRF) to discuss the opportunities and challenges associated with respecting and protecting human rights in an increasingly more complex and globalised world.
The Forum was established in 2015 as a multi-stakeholder platform which allows government, business, and civil society in Northern Ireland to engage on business and human rights.
The speakers at the meeting included:
Louise Nicholl, Corporate Head of Human Rights, Food Sustainability and Food Packaging at Marks and Spencer.
Susan Bell, Organised Crime Branch of the Department of Justice.
Marie Nancarrow, Founder and Designer of the ethical apparel company, Titanic Denim.
Following the meeting, Louise Nicholl and Glenn Bradley, Chair of NIBHRF and Ethical Trade and Regional Manager of Hardscape, participated in the first Queen's Management School 'Good Business' Podcast. The podcast aims to go beyond the bottom line and examine the ethical, social, and environmental responsibilities of businesses.
Dr Laura Steele, Lecturer and Ethics, Responsibility, and Sustainability Champion within Queen's Management School hosted the podcast. She said: "Queen's Management School has a long history of addressing ethics, social responsibility and sustainability within our teaching, research and engagement activities. The podcast series allow us to bring together industry experts, academics, and other key stakeholders to discuss some of the most pressing issues facing society today.
"Marks and Spencer has been at the vanguard in terms of driving the human rights agenda within business, but they have also been open about the challenges they have sometimes encountered. As a result, Louise Nicholl was an ideal first guest on the podcast. Louise and Glenn's experience and insights make the podcast a must-listen for anyone interested in these issues."
To listen to the 'Good Business' podcast from Queen's Management School, please click below:
QMS Good Business Podcast Episode 1 -
Ethics, Human Rights, and Sustainability at M&S.

(Pictured from left are: Glenn Bradley, NIBHRF; Laura Steele, Queen's Management School; and Louise Nicholl, Marks and Spencer)