New Course: MSc Business Analytics
We hear from Programme Director, Dr Byron Graham to find out more about the new programme.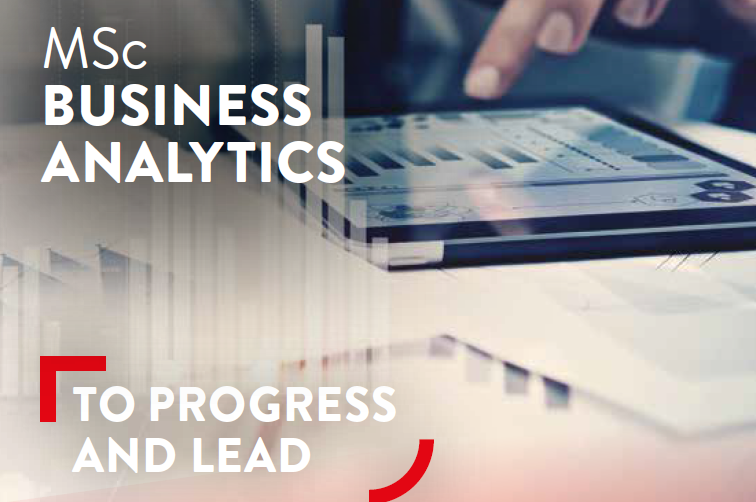 Why have Queen's Management School introduced the MSc Business Analytics to their suite of Business Programmes?
The introduction of the MSc Business Analytics programme is driven by industry demand for graduates with skills in business analytics. The increase in the volume, variety, and velocity of data produced has created opportunities for improved business decision making, as well as the development of data driven products and processes. The increasing automation of tasks across multiple industries creates opportunities for graduates with the analytics skills needed to drive innovation in business. It is important that students capitalise on both the increasing demand for analytics skills as well as the opportunities this creates for businesses.
Graduates will gain skills needed to succeed in a world of big data and automation. The programme focuses on core business analytics skills in the areas of statistics, computing and business. Business analytics has also emerged as a field of research amongst management scholar, which both adds to the richness of the course content as well as providing opportunities for graduates to pursue a research career.
What makes Queen's Management School particularly well-equipped to deliver this unique course?
The management school has multidisciplinary expertise covering the core areas of business analytics, making the programme a natural fit with other programmes offered by the school. The school also has close links to industry. The technical components of the course will be delivered in the schools dedicated computer lab, which has industry leading analytics software.
What are the key skills students will gain from this course?
Business analytics professionals require skills in three areas: computing, statistics, and business. The programme has been designed to provide students with these skills. From a statistical perspective students will learn key statistical concepts using the R programming language. From a computing perspective business analytics broadly encompasses three linked areas: data storage and management, data analytics and machine learning, and a user interface. The computing elements of the programme have been developed to provide students with skills across these three areas. Students will gain experience using the latest data visualisation and analytics tools, and will gain practical experience in data management and storage.
The course has been designed to put the analytics theory, tools and techniques into the context of business problems. Students will therefore study modules which focus on the use of analytics in core business functions such as human resource analytics, marketing analytics. The AI in business and society module focuses on the strategic role that AI plays in business, and the wider societal impact of AI on society.
How will completing this MSc programme improve the graduate's employability?
Most of the top companies have realised the business benefit from the effective use of analytics. Some prominent success stories include Netflix movie recommendations, Linkedin's 'people you may know' feature, Amazons product recommendations. More generally, analytics is now used in a range of areas such as fraud detection, predicting machine failure, recommender systems, and insurance pricing, as well as more advanced examples such as self driving cars and chatbots. Graduates will gain the key skills required to succeed as a business analytics professional. There is currently a global shortage in analytics skills, which graduates from this course will have. Graduates will therefore have excellent employability.
What career opportunities do you expect graduates from this course to have?
Graduates have a range of excellent employment choices. These include working in areas such as business analytics, data science, informatics, and consultancy. Because analytics is a growing area across most industries and across most business functions, it is expected that graduates could seek opportunities in a range of areas. The programme has been designed to provide graduates with experience of the key analytics tools and techniques, as well as domain knowledge in areas such as marketing analytics and human resource analytics.
Are students without a strong technical background suitable for this programme?
The course is suitable for students without a strong technical background. But it is important that students are passionate about the use of analytics by business and the public sector to drive insight for decision making, as well as product and process innovation.
The programme covers introductory statistical and technical topics before moving on to more advanced analytics topics. The programme also includes an induction to provide the introductory statistics and computing knowledge required to undertake the course. The programme will appeal to graduates from outside of the areas of maths and computer science.
How is the MSc Business Analytics at Queen's Management School different to other analytics-related courses offered by other Institutions?
The MSc Business Analytics programme at Queen's Management School provides graduates from outside of maths and computer science with the opportunity to gain the skills needed move into the business analytics area. The course has been specifically designed for students who are passionate about business analytics, but who studied an undergraduate degree in a different area.
In contrast to other courses which can focus more on the statistical and computing side of analytics, the MSc Business Analytics at Queen's Management School focuses on the application of analytics in business. Statistical and computing skills are therefore developed alongside core business skills, creating the well-rounded skillset needed to succeed in a business analytics role.
Are there any scholarships available?
Two awards of £10,000 tuition fee discount available exclusively to International Students enrolling on Queen's Management School's MSc Business Analytics programme. Terms and Conditions apply. Find out more here: https://bit.ly/2J6j2Vo