The future is bright for young entrepreneur Georgia
Georgia Hamill will today (Wednesday 3 July) celebrate graduating from Queen's Management School at Queen's University Belfast.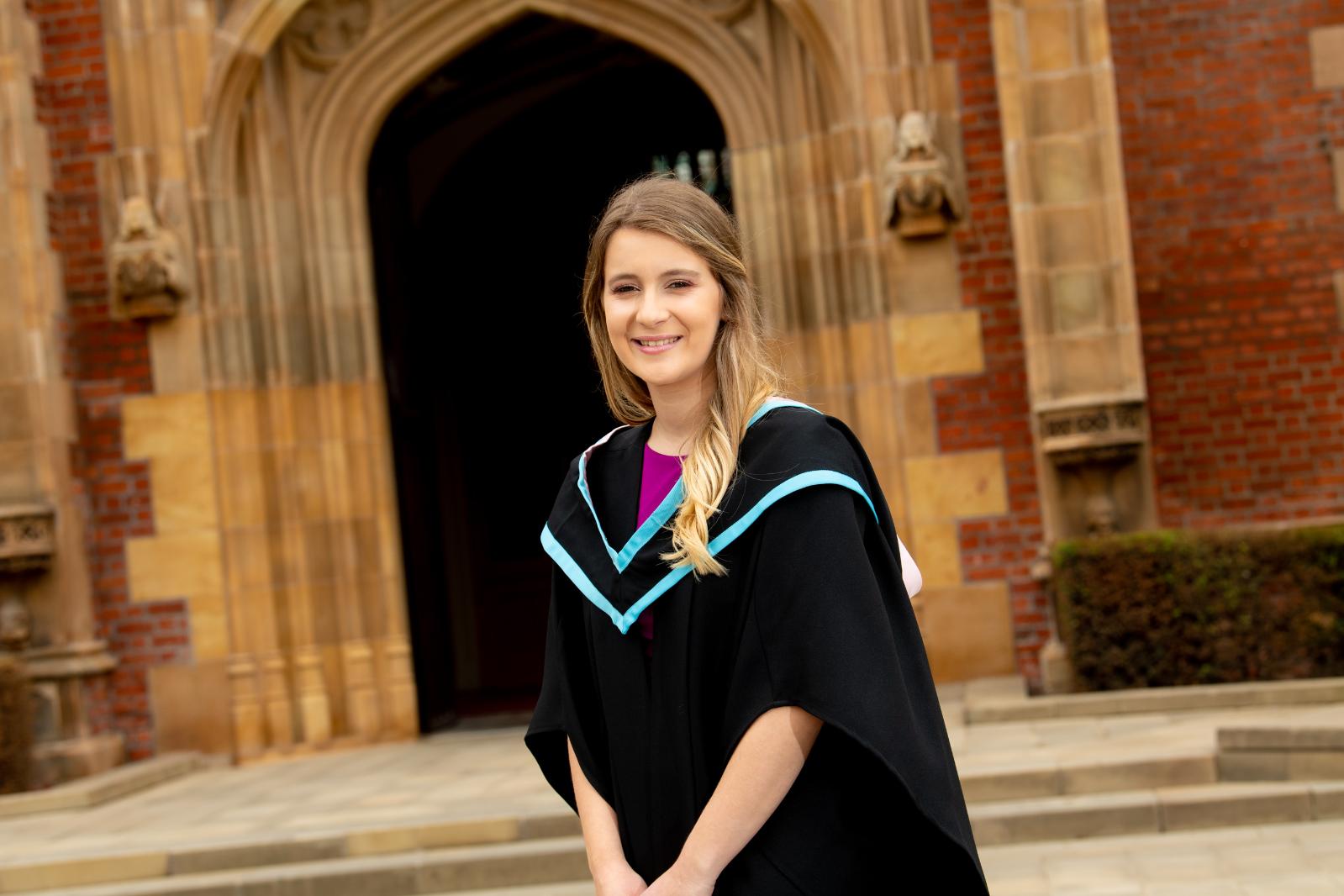 Georgia, aged 21 from Moy in Co. Tyrone, will graduate with a 2:1 in (BSc) Business Management and degree plus from Queen's Management School.
Georgia was selected as one of the top five young entrepreneurs in Northern Ireland when she won an internship with Catalyst Inc. She was also named a CONNECT Young Founder.
During her internship at Catalyst, Georgia took part in the Springboard Accelerator business programme and was mentored by CEO's from Silicon Valley, PWC, Deloitte Digital, and Invest NI to name a few.
Georgia developed a positive mental health app to help reduce the stigma around mental health whilst interning at Catalyst. She said: "Since this internship award, I've been given the chance to partake in professional workshops and pitch to investors where I've successfully gained investment for my app. My aim is to generate traction around normalising mental health subjects and ultimately reduce the stigma which is attached."
Alongside her studies and working on her business ideas, Georgia raised money and volunteered for various charities close to her heart including the Friends of the Cancer Centre, CLIC Sargent and the Northern Ireland Cancer Fund for Children. In 2016, she was awarded a Millennium Volunteering Award.
Speaking about her university experience Georgia said: "I've absolutely loved my time at Queen's, it was such an experience! I've met so many amazing people, made some lifelong friends and my course suited me and my love for business so well.
"Queen's has provided me with exceptional support. I had incredible lecturers who wholeheartedly wanted me to do well and their support and guidance with projects and assignments was second to none. As an entrepreneurial student the lecturers were also there guiding me with their expertise and knowledge as I progressed with my own outside business projects too.
"It's an unbelievable feeling to be graduating with a 2:1 and degree plus, especially from a world renowned university such as Queen's. I am so thankful for everything I have learnt, the world-class teaching I have received and the opportunities that Queen's has provided me with have made my university journey exceed all my expectations."
After graduation, Georgia has a few options open to her. "I have an offer to do my Master's in Marketing at Queen's Management School and a few job offers on the horizon too. A degree from Queen's speaks for itself; it's opening many doors for me, leaving me with many opportunities and big choices to make in the not-so-distant future. I see the world as my oyster," she said.
Media
For media inquiries, please contact the Communications Office, 028 9097 3091 comms.office@qub.ac.uk
Notes to Editors
Photographs to accompany this story are attached/ will be issued after the graduation ceremony