Annual HR Insights Event Takes Place at Queen's Management School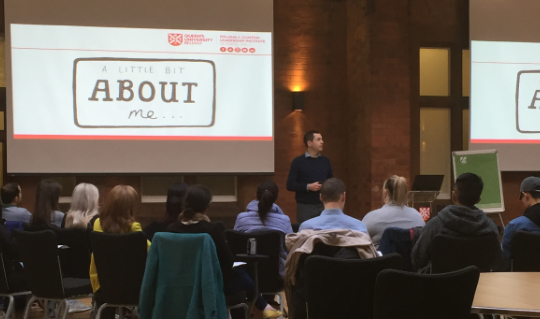 Yesterday, the MSc Human Resource management held its annual HR Insights Event for current Human Resource Management students. This event is an additional feature of the programme and gives students the opportunity to hear from industry professionals, develop skills and reflect on their own plans for a career in HR.
The day began with an introduction from Dr Denise Currie, Programme Director, MSc Human Resource Management.
Denise stresses the importance of events like these for the development of our students.
"This event is an excellent opportunity for our students to learn fundamental skills for HRM, and to acquire a further insight into key activities and emerging issues in HR, that go beyond the content of the programme. It is an opportunity for our students to hear directly from industry professionals, to learn about various leadership journeys, and to be inspired as to how to build their own HRM career. It is also great to have CIPD on board every year to discuss the importance of the professional accreditation in the field of HRM and the benefits of becoming a CIPD member. "
Enda Young, from the William J Clinton Leadership Institute, kicked off this year's event with an introduction to mediation skills and focused on concepts of power, perception and listening. This session finished with an interactive workshop and our students got the chance to critically reflect on their own approach to managing conflict. This was followed by a presentation from Linzi Conway, Key to Success Consultant, on the HR Professional's online presence. It focused on personal branding, online reputation and the power of social media for recruitment, with lots of debate about how to balance employee and self- wellbeing with the expectation of having an effective online presence.
We then introduced Witney Williamson, Team Lead for CIPD Northern Ireland. Witney discussed the benefits of becoming a CIPD member and gave her perspective on what it takes to succeed in HR. We also welcomed HR professionals at various stages of their career to discuss what it takes to succeed in HR. Christina McCloskey, HR specialist in Baker McKenzie and recent graduate from MSc HRM programme gave some excellent advice on how to break into a career in HR with little experience. Denise Woods, Head of HR in Wellington IT discussed her experience and the strategy behind her career decisions that has enabled her to progress to senior positions. We wrapped up this jam-packed event with a talk from special guest, Amanda Braden, Executive HR Director, Invest NI. Amanda spoke about her own personal experience of building a successful HR career across various industries and sectors, and how she became a leader in her field.
Thank you to all of our special guests for presenting and facilitating workshops!