Business students make their mark in NI Business Challenge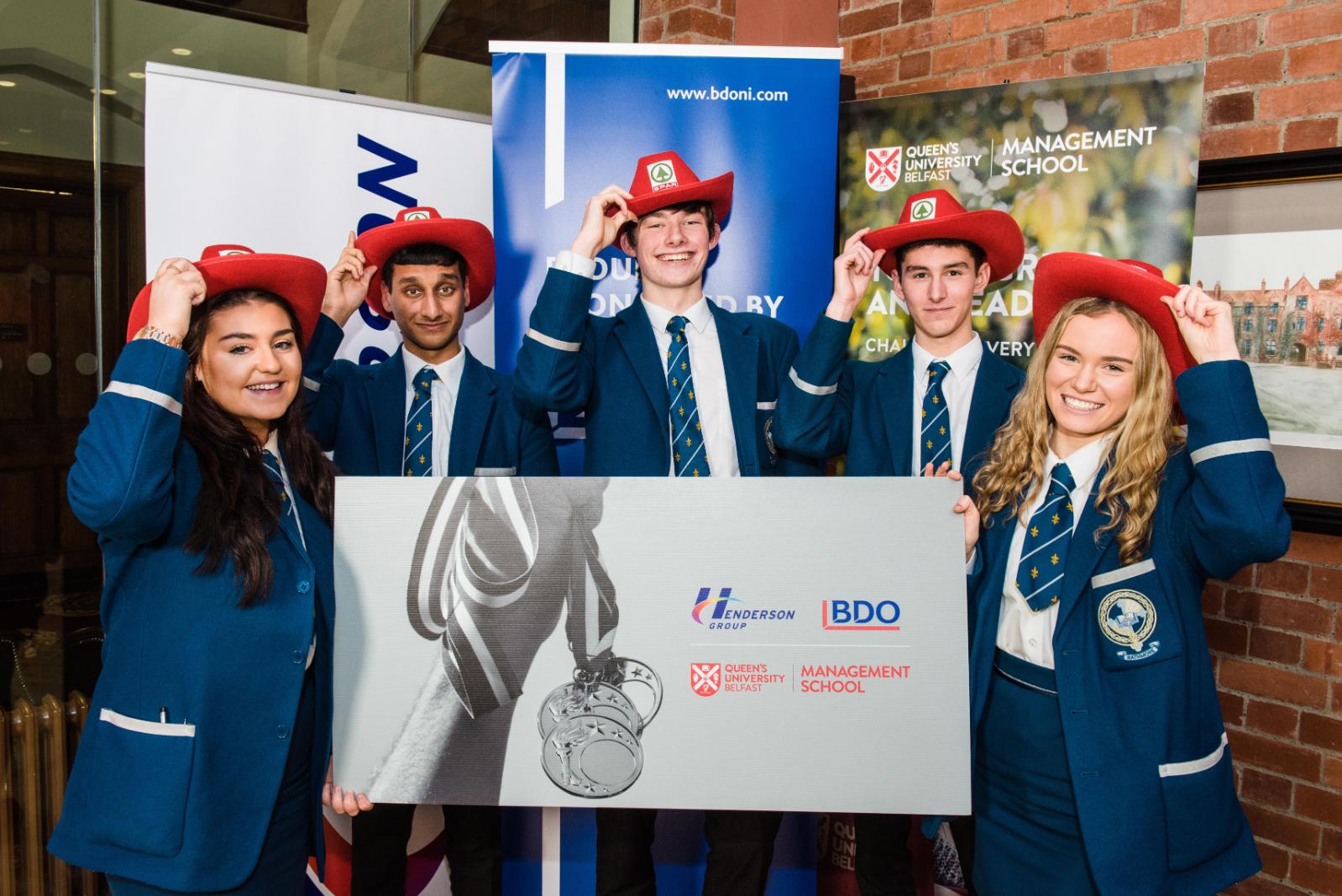 Students from Rathmore Grammar today demonstrated their business aptitude by claiming victory at the competitive Northern Ireland Business Challenge for Schools.
The initiative, now in its second year, is a partnership between BDO Northern Ireland, Queen's Management School and the Henderson Group. This year A-Level Business Studies students from 8 schools across Northern Ireland took part in a range of practical business challenges.
The event is aimed at providing students with first hand practical experience of what it is like to work in a fast-paced business environment, giving them an insight into possible future careers. Participants not only get the chance to compete against other schools but gain much needed knowledge and experience in communication, critical thinking, teamwork and project management.
Laura Jackson, Partner at BDO Northern Ireland said:
"This competition provides our next generation of business leaders with much needed practical knowledge and experience while they are still studying and considering their career prospects. It has the added incentive of being part of their curriculum and they can take what they have learned today back to complement their studies.
"All students took advantage of having seasoned business professionals in the room today, gaining valuable insight into the world of business and how it is evolving. We congratulate Rathmore Grammar on their much-deserved victory in what was an incredibly competitive challenge. All students involved showed a diverse range of skills, which will provide a solid foundation for future success".
This year's event took place at Queen's Management School, Riddell Hall, with a judging panel made up of BDO Northern Ireland, Queen's Management School and Henderson Group. The winning school, Rathmore Grammar not only came away with the trophy but were also awarded VIP tickets for a Belfast Giants game and £500 for their school. The winning team represented by Mary Kate Kelly, Fiona Flynn, Luke Jenkins, Amith Varghese and Calum Hanna.
As part of the event, pupils were tasked to develop a Corporate Social Responsibility plan based on a real scenario provided by Henderson Group. Diane Anton, Financial Controller at Henderson Group said:
"It was a great experience to be part of the Business Challenge and to be able to share real-life working scenarios with the students we met today. Corporate Social Responsibility is more important than ever, particularly in some of the biggest companies and employers in Northern Ireland like the Henderson Group.
"I was so impressed with the level of thinking from the students I met today and know that they will bring a fresh level of expertise to business in Northern Ireland in the future."
Professor Ciaran Connolly, Queen's Management School added:
"I would like to thank the teachers for encouraging and supporting their students to participate in this event. The standard was incredibly high and all of the students should be commended for the quality of their presentations. I hope that it has been a rewarding experience and that many decide to come to Queen's University Belfast, especially to study Accounting, after completing their A-levels."