Professor Nola Hewitt-Dundas, Winner of Public Sector Director of the Year (IOD)
Queen's Management School is delighted that Professor Nola Hewitt-Dundas, has been announced as the winner of the Public Sector Director of the Year in the Institute of Directors NI (IOD) Director of the Year Awards 2020.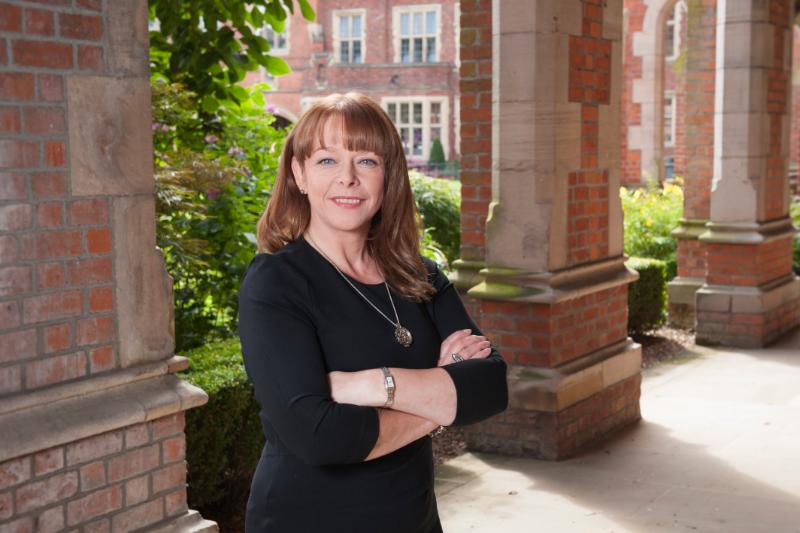 On receiving the award, Professor Hewitt-Dundas acknowledged the exceptional achievements of Queen's Management School (QMS), generating unparalleled pace of growth in student numbers, staffing and revenue over the past few years.
QMS education and research is of an internationally excellent standard as evidenced through our progress to become recognised in the top 1% of business schools globally.
The School is a research informed learning community which, through co-design and co-delivery of the curriculum with stakeholders, is focused on developing leaders that drive economic growth and political stability in Northern Ireland. Indeed, the success of QMS is grounded in a strong mission and strategy: 'To educate and equip leaders to transform local and global businesses and societies through education and research'.
Ethical practice is embedded in our mission and QMS's efforts have been recognised internationally with the School being awarded 'Champion Status' for the International 'Principles of Responsible Management Education' initiative.
QMS has an ambitious vision over next 3 to 5 years, including:
Obtaining international accreditation by 2023, thereby positioning QMS as a leading provider of Business Education and securing our place in the top 1% of Business Schools worldwide.
Developing strategic international partnerships with world-leading Business Schools and corporations. These partnerships will involve collaborative research, student and staff exchanges and enhance the School's reputation.
Providing lifelong learning by supporting learners throughout their career in response to changing skills needs and, through William J Clinton Leadership Institute, delivering an internationally recognised portfolio of executive education which is attractive to global organisations.
Strengthening its alumni community to maintain connections to Queen's and Northern Ireland. This is particularly important in seeking to leverage the connections of international graduates, for the benefit of NI.
Financing and opening of a new building with advanced technology to support student learning and establishing a 'Riddel Hall Campus' for the Management School.
Continuous review and innovation of the curriculum including new multi-disciplinary programmes e.g. business and cyber technology, global food security, and fintech, and working with employers to ensure that graduates are equipped and adaptable in a rapidly evolving workplace.
Further enhancing an entrepreneurial culture through the creation of an incubator facility at Riddel Hall and a programme of initiatives to support student and graduate start-ups.