Success in CFA Research Challenge!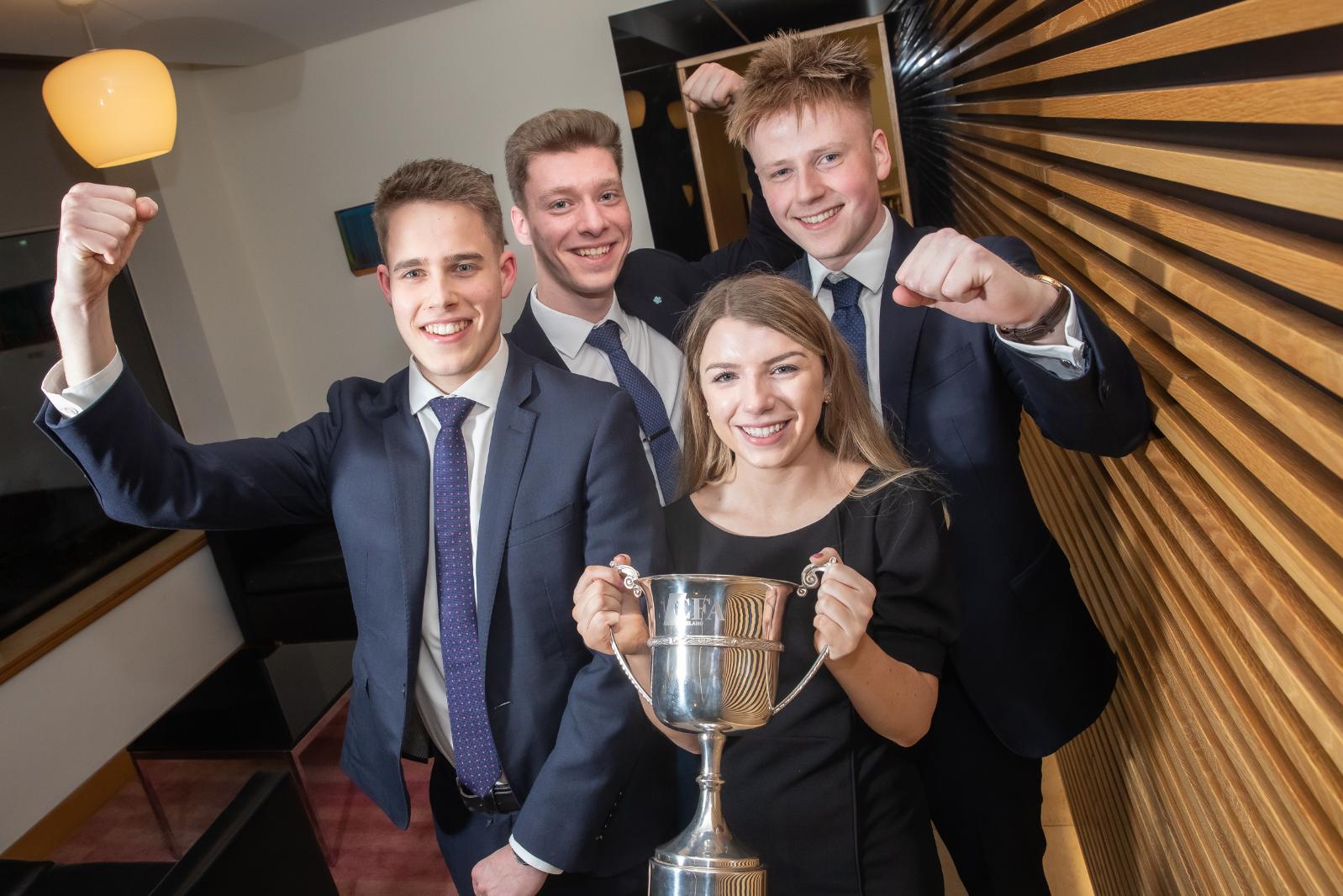 A team of students from Queen's Management School has won the Irish CFA Research Challenge. Hosted by Davy Group in Dublin on 27th February, the team impressed the judging panel with their detailed analyst report and professional presentation outlining their investment thesis on First Derivatives. This is the second time the School has won the Ireland competition.
This year's team of Megan O'Hanlon (BSc Finance), Matthew Bain (BSc Business Economics), Bogdan Golumbeanu (BSc Economics with Finance) and Owen McCaw (BSc Actuarial Science) all play leadership roles in Queen's Student Managed Fund. The students were guided by faculty mentor, Joseph Harrigan, and industry mentor Marie Gillespie, Senior Equity Analyst at Davy.
The Research Challenge is a worldwide competition with students undertaking detailed financial and valuation analysis in the form of an equity research report which is then presented to a panel of industry professionals. The competition allows students to put into practice what they learn in the classroom and gain valuable insights into best practice in industry. Students' are able to demonstrate tangible technical and softer skills development to prospective employers with the CFA Institute recognised as the leading global association for investment professionals.
Megan OHanlon commented: "The CFA Research Challenge was a fantastic learning experience. It was challenging and team work was essential. It's a unique opportunity to combine industry practice and academic knowledge, while competing against some of Ireland's best students. Networking with Ireland's leading financial professionals was richly rewarding."
The team now progresses to represent Queen's Management School at the EMEA finals in Jordan in April, and we wish them best of luck for the rest of the competition.