Queen's Management School Receives Prestigious AMBA Accreditation
Queen's Management School at Queen's University has received accreditation from the Association of MBAs (AMBA), one of the world's leading authorities on post-graduate business education.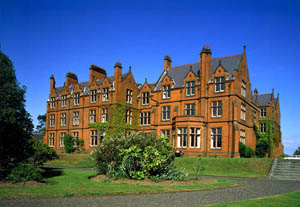 The award demonstrates the school's continued commitment to excellence in management education.
Accreditation from the Association of MBAs (AMBA) represents the highest standard of achievement in post-graduate business education. Its rigorous assessment criteria ensure that only the highest-calibre programmes which demonstrate the best standards in teaching, curriculum, and student interaction achieve Association of MBAs accreditation.
Upon receiving AMBA accreditation, all current MBA students and recent MBA alumni of Queen's Management School are invited to join AMBA's global member community of more than 57,000 students and alumni in more than 150 countries for networking, thought leadership, career development, and a variety of benefits.
Interim Head of Queen's Management School, Professor Patrick McCole, said: "We are absolutely honoured and delighted that our MBA programme has been recognised as a global standard of excellence that propels us into an elite group of world-wide universities that have been accredited by AMBA. It's a recognition of many years of hard work by colleagues and other stakeholders to get to this point and it underlines our vision to be a world-class university; one that not only has a global focus but serves as an anchor university within our region.

"It's a step-change for us in terms of our aspirations, it inspires us to do more, to have greater impact across the spectrum and to forge long lasting, mutually beneficial relationships with other like-minded institutions across the globe. It is also a mechanism for us to further engage in networking opportunities, to build even stronger bonds with our stakeholders, not least our alumni who are making an impact in every corner of the world, and to leverage these connections to bring an even greater transformative student experience into our MBA curriculum. We greatly value this accreditation, and with it and our other recognitions, look forward to reaching even greater heights in our pursuit of excellence."
Members of AMBA's accreditation panel, representing senior management at AMBA-accredited Business Schools globally, commended the strong and collegiate culture at Queen's Management School and said that the staff were seen to be well engaged with the MBA programme.
The panel also mentioned that the school had made swift adaptions to the MBA programme due to the pandemic and that student learning had not been compromised during this time. The new building and other investments in the Business School were also seen to add to student experience.
Commenting on the award, Andrew Main Wilson, Chief Executive of the Association of MBAs and Business Graduates Association (BGA), said: "I am delighted to welcome Queen's Management School to AMBA. AMBA only accredits the top 2 per cent of Business Schools in the world and it is therefore fitting that this school has joined this select network."
Media
Media inquiries to s.devlin@qub.ac.uk